MediaTek looking beyond phone chips
DIVERSIFICATION: The chip designer expects new non-smartphone products to be available next year or in 2025 as it seeks new growth engines to broaden its portfolio
MediaTek Inc (聯發科) yesterday said it expects non-mobile phone chips, such as automotive chips, to drive its growth beyond 2025, as it pursues diversification to create a more balanced portfolio.
The Hsinchu-based chip designer said it has counted on smartphone chips, power management chips and chips for other applications to fuel its growth in the past few years, but it is developing new products to continue growing.
"Our future growth drivers, of course, will be outside of smartphones," MediaTek chairman Rick Tsai (蔡明介) told shareholders at the company's annual general meeting in Hsinchu City.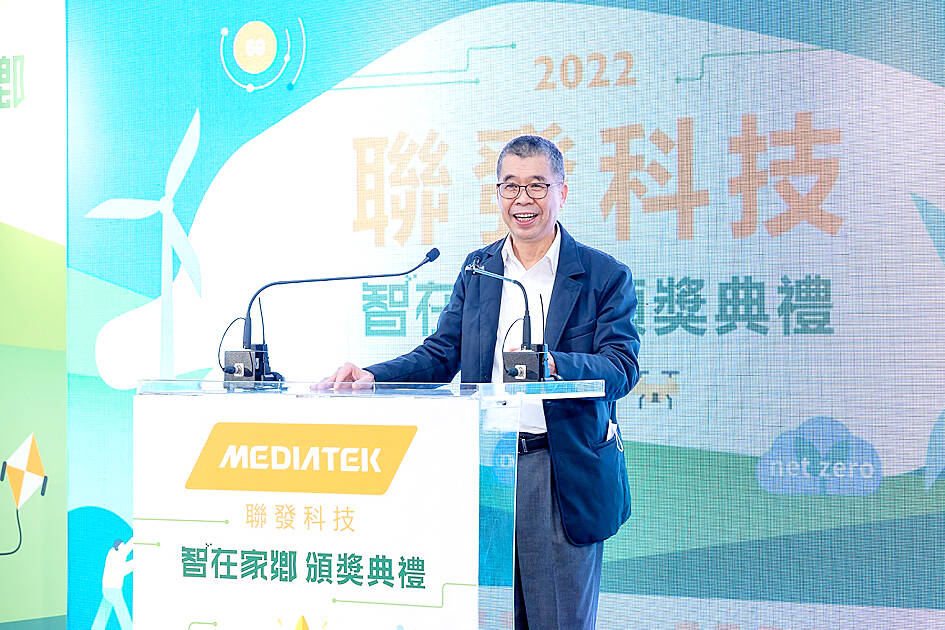 MediaTek Inc chairman Tsai Ming-kai poses for a photograph at an event in Hsinchu City on Dec. 8 last year.
Photo courtesy of MediaTek Inc
"As new products would be available next year at the earliest, or in 2025, they would produce results after 2025. Non-smartphone [chip] products will be very important to drive future growth," he said.
MediaTek, the world's biggest supplier of smartphone chips, on Monday said that it was teaming up with Nvidia Corp to deliver in-vehicle cabin solutions for next-generation vehicles as early as 2026.
Smartphone chips accounted for 46 percent of MediaTek's total revenue in the first quarter, down from 52 percent in the previous quarter, as macroeconomic uncertainty continued to take a toll on consumer demand for electronics.
Customers also held back on giving new orders due to high inventory levels in the supply chain, the company said.
The global smartphone industry would continue to face headwinds this year, but the momentum would gradually pick up next year and in 2025 as the global economy improves, Tsai said.
MediaTek shareholders yesterday approved a proposal to distribute a cash dividend of NT$76 per share, including NT$14 from its capital surplus. Last year, the company posted record-high earnings per share of NT$74.59.
UMC
Separately, United Microelectronics Corp (UMC, 聯電) yesterday said it has not seen signs of a solid pickup in the second half of this year as inventory correction in the chip industry has progressed at a slower-than-expected pace.
"Order visibility is short at about three months. Demand for PCs and smartphones remains sluggish," UMC chief financial officer Liu Chi-tung (劉啟東) told reporters on the sidelines of the chipmaker's annual shareholders' meeting in Hsinchu.
Replenishing demand for automotive chips and chips used in industrial devices peaked last quarter, meaning demand for those two segments would stagnate, Liu said.
Automotive chips made up about 17 percent of the company's overall revenue last quarter.
Capacity utilization of its 12-inch fabs reached 90 percent this quarter, but was lower than average for its for less advanced 8-inch fabs, he said.
UMC last month said average utilization would reach about 72 to 73 percent this quarter.
Asked about reports that UMC was considering building a 12-inch fab in Japan to produce auto chips, Liu said the company would not rule it out if demand is strong in Japan.
Japan and Singapore, where UMC has fabs, top its list if it were to expand abroad, Liu said.
UMC shareholders yesterday approved a proposal to distribute a cash dividend of NT$3.6 per share.
That represented a payout ratio of 50.78 percent — the highest in the company's history — based on its earnings per share of NT$7.09 last year. The company posted a record net profit of NT$87.2 billion (US$2.83 billion) last year.
Comments will be moderated. Keep comments relevant to the article. Remarks containing abusive and obscene language, personal attacks of any kind or promotion will be removed and the user banned. Final decision will be at the discretion of the Taipei Times.