Norway fund to reject all-male boards at Japan firms
Norway's sovereign wealth fund, the world's biggest, is from now on to vote against the nomination of all-male boards in Japanese companies, a senior fund official said yesterday.
In a bid to promote diversity and gender equality, the fund, currently worth more than 15 trillion kroner (US$1.36 trillion), already rejects nominations to boards for companies in Europe and North America that do not include at least two women.
Japan, where the business world has long been male-dominated, had been given a grace period.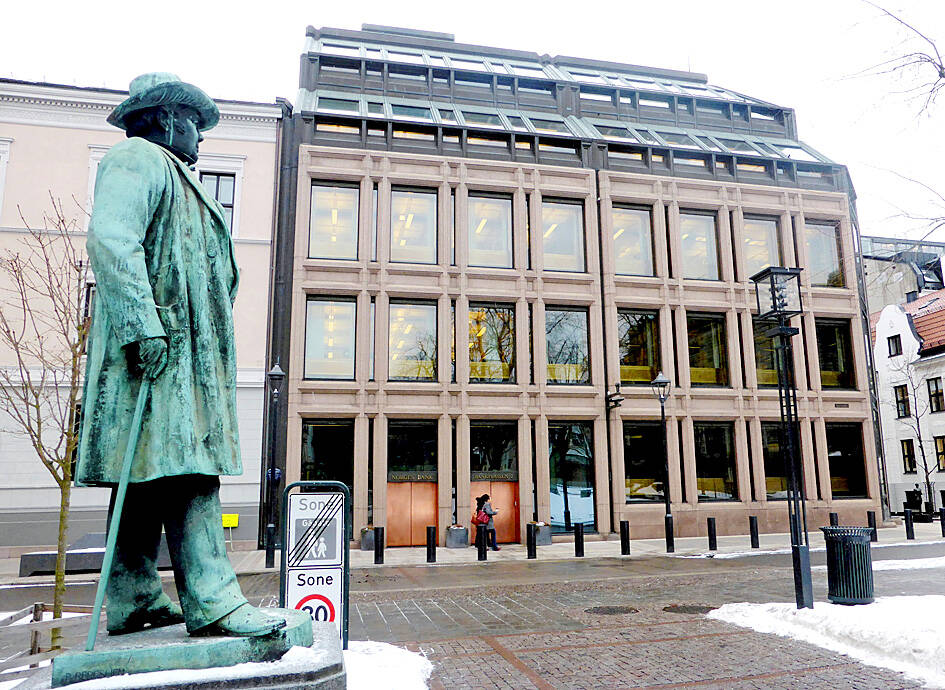 A person walks past the Norwegian central bank, where the country's sovereign wealth fund is based, in Oslo on March 6, 2018.
Photo: Reuters
"Of the developed markets, we hadn't started to vote against companies in Japan, because they were so far behind that we really would have hit a large number of companies," said Carine Smith Ihenacho, head of governance and compliance at the fund.
In 2021, the fund gave Japanese companies "two years to improve," she added.
Women in Japan have high levels of education, but few hold senior positions in the business world and politics.
Business daily the Nikkei said that women hold only about 10 percent of board positions in Japanese companies.
"This year, we said that in [Japanese] companies that don't even have one woman on the board, we'll also start to vote against and we'll make that clear before the voting season" next month, Ihenacho said.
Based on nominations made last year, more than 300 Japanese companies could be affected. In March, the fund voted against the nomination of the chairman of the board of electronics group Canon Corp.
Japan is the second-biggest single recipient of the fund's investments after the US.
The fund held stakes in 1,533 Japanese companies worth a total of about US$57 billion, representing 4.9 percent of all its stockholdings at the end of last year.
Japan, which is to host a G7 meeting on gender equality on June 24-25, has vowed to raise the number of women in board positions to 30 percent by 2030.
That is the same minimum level stipulated in a diversity document published by the fund in 2021.
The fund voted against 171 nominations in the US and Europe last year due to its gender equality policy.
One unusual case was that of lingerie group Victoria's Secret, because of an absence of men on the board.
Comments will be moderated. Keep comments relevant to the article. Remarks containing abusive and obscene language, personal attacks of any kind or promotion will be removed and the user banned. Final decision will be at the discretion of the Taipei Times.