Nvidia diversifying supply chain
GEOPOLITICAL RISKS: The company has a deep collaboration with TSMC, but it is also open to working with Samsung Electronics Co and Intel Corp, Nvidia's CEO said
Nvidia Corp, the world's biggest artificial intelligence (AI) GPU supplier, yesterday said that it is diversifying its supply chain partners in order to enhance supply chain resilience amid geopolitical tensions.
"All of our supply chain is designed for maximum diversity and redundancy so that we can have resilience. Our company is very big and so we have a lot of customers depending on us. And so our supply chain resilience is very important to us. We manufacture in as many places as we can," Nvidia founder and chief executive officer Jensen Huang (黃仁勳) said in response to a reporter's question in Taipei.
"Of course, we qualify Taiwan Semiconductor Manufacturing Co (TSMC, 台積電) and we have worked very deeply with TSMC for a very long time."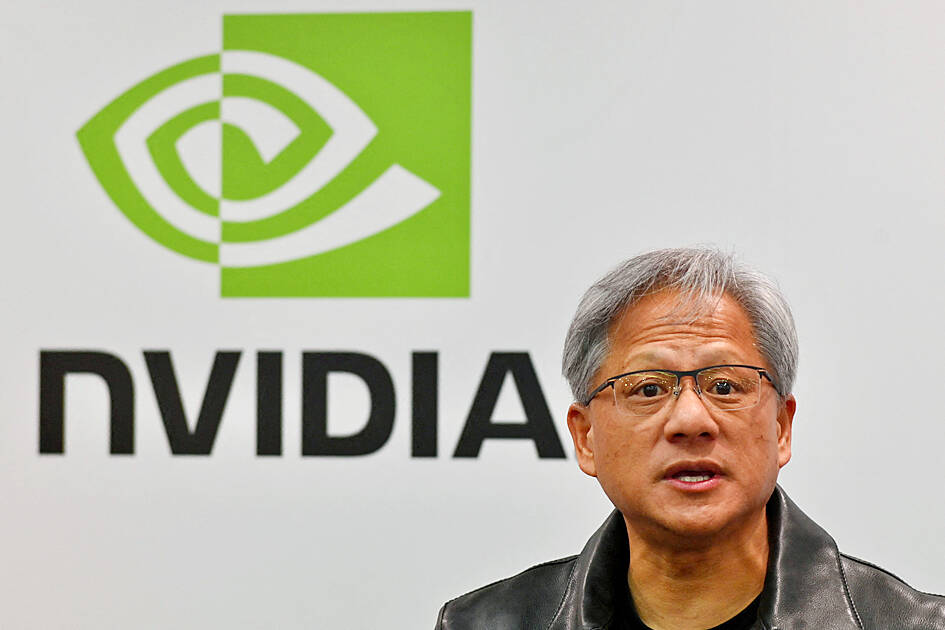 Nvidia Corp chief executive officer Jensen Huang speaks at a news conference at the Computex trade show in Taipei yesterday.
Photo: Sam Yeh, AFP
Nvidia also "manufactures with Samsung, and we're open to manufacturing with Intel," Huang said.
Intel has said in the past that "we're evaluating their process and we've recently received the test chip results of their next generation process and results look good," Huang told reporters.
TSMC makes chips for Nvidia's A100 and H100 GPUs, Huang said.
As demand for the H100 GPU is "very significant," Nvidia has placed large orders on its supply chain globally, he said.
Nvidia, one of TSMC's biggest customers for advanced process technology, adopted TSMC's 4-nanometer technology to build its latest H100 GPU.
TSMC last month said that it has seen growing demand for AI-related applications, which would help digest excessive inventory in the supply chain, which was plagued by sagging demand for smartphones and notebook computers.
When asked about his take on Intel Corp's ambition to catch up with Nvidia, Huang said that "you have to run, not walk."
Intel "is a very good company... This is a company with extraordinary talent. You can never underestimate it," he said.
Some of Nvidia's engineers came from Intel, he added.
Huang said that the US restrictions on advanced semiconductor equipment and technology exports to China might accelerate the development of the AI industry in that nation.
Nvidia would comply with US regulations, he said.
"I think China would use the opportunity to foster local entrepreneurs. That is why there are so many GPU start-ups in China," Huang said.
It is difficult to predict whether China would be able to rise to become a new AI powerhouse and even create its own AI ecosystem, but Chinese entrepreneurs are enthusiastic and they have developed some of the world's advanced technologies such as consumer Internet services, digital payments, electric vehicles and autonomous vehicles, he said.
In China, T-head Semiconductor Co (平頭哥), a chip unit of Alibaba Group Holding Ltd (阿里巴巴), and Shanghai-based Biren Technology Co (壁仞) have launched AI chips made on less advanced 7-nanometer to 12-nanometer technology, market researcher TrendForce Corp (集邦科技) has reported.
T-head and Biren launched their AI chips in the form of application specific integrated circuits, rather than the GPUs offered by Nvidia, AMD and Intel.
Nvidia said that AI has the potential to have profound benefits for diverse industries, from financial services, retail to the automotive industry, but AI is a product or a service that requires regulations to make it safe.
"The technology cannot help people unless it is a product or service," Huang said.
The company is set to became the first chipmaker to achieve a US$1 trillion market capitalization as its blowout revenue forecast underlined the enormous growth potential from AI.
Nvidia shares yesterday rose 4 percent in pre-market trading to US$404.90, giving it an indicative market valuation of US$1 trillion. It is set to be one of five US companies with such a capitalization, joining Alphabet Inc, Apple Inc, Amazon.com Inc and Microsoft Corp.
Only nine companies globally have ever achieved the level.
"The reason Nvidia is seeing so much demand and getting this growth is because it is actually providing the tech needed to service this wave of innovation and utilization," ROBO Global senior research analyst Zeno Mercer said. "It is in pole position right now."
Additional reporting by Bloomberg
Comments will be moderated. Keep comments relevant to the article. Remarks containing abusive and obscene language, personal attacks of any kind or promotion will be removed and the user banned. Final decision will be at the discretion of the Taipei Times.