S Korea would not cash in on China's US chip ban: source
South Korea would avoid capitalizing on China's ban on a US chipmaker, seeing the move by Beijing as an attempt to drive a wedge between Seoul and Washington, a person familiar with the situation said.
The South Korean government would not encourage its memorychip firms to grab market share in China lost by Micron Technology Inc, which has been barred for use in critical industries by Beijing on national security grounds, the person said.
China is the biggest market for South Korea semiconductor firms Samsung Electronics Co and SK Hynix Inc and home to some of their factories. Their operations in China are dependent on licenses granted by Washington, giving the US some leverage over Seoul's decisions on how it balances its economic engagement with the two countries.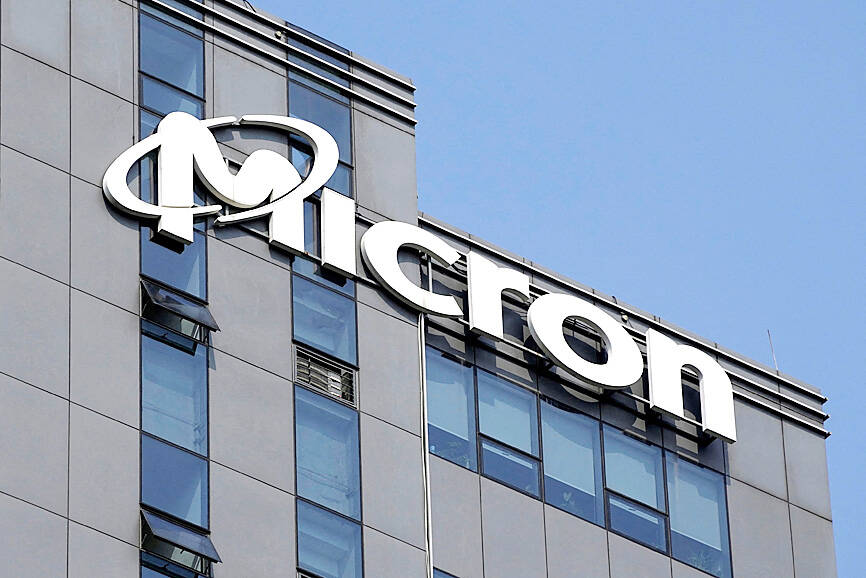 The Micron Technology Inc logo is pictured at its offices in Shanghai on Thursday.
Photo: Reuters
South Korea is wary of taking advantage of the Micron situation, as it sees the US as a key long-term partner for its semiconductor industry and does not want to disrupt that relationship, the person said.
China's Micron decision has drawn South Korea into the US-China battle over technology access and national security.
While Washington is Seoul's top security partner, China is South Korea's biggest trade partner.
"A broader ban of Micron semiconductors puts South Korea in the worst of both worlds," Korea Economic Institute senior director Troy Stangarone said.
If South Korean companies do not help with filling the gap left by Micron, China could penalize them the way it did for Seoul's deployment of a US anti-missile defense system — known as THAAD — on its soil, he said.
South Korea signaled that it would allow its companies to fill the gap left by China's Micron ban, the Financial Times reported earlier this month.
The government in Seoul denied that, saying it had yet to announce any formal position.
It remains unclear whether China would expand its crackdown on US chipmakers or how the US would respond to Beijing's ruling on Micron.
In a statement on Saturday, US Secretary of Commerce Gina Raimondo said that the US was speaking to allies about China's action on Micron.
"We see it as plain and simple economic coercion," she said. "And we won't tolerate it, nor do we think it will be successful."
Comments will be moderated. Keep comments relevant to the article. Remarks containing abusive and obscene language, personal attacks of any kind or promotion will be removed and the user banned. Final decision will be at the discretion of the Taipei Times.