Nvidia 'blowout' forecast sparks AI rally
POWER FORWARD: The US company's bullish revenue projection also lifted the shares of Taiwanese chipmaker TSMC and Japanese equipment supplier Advantest
Nvidia Corp's forecast for surging revenue surprised even the most bullish analysts on Wall Street, propelling the chipmaker to the cusp of a US$1 trillion market capitalization and igniting a global jump in stocks linked to artificial intelligence (AI).
The Santa Clara, California-based company gained as much as 29 percent in extended US trading, on course for a record high, after saying it expects sales to reach about US$11 billion in the three months ending July.
That gain puts Nvidia on track also to rack up the biggest one-day valuation jump in US company history.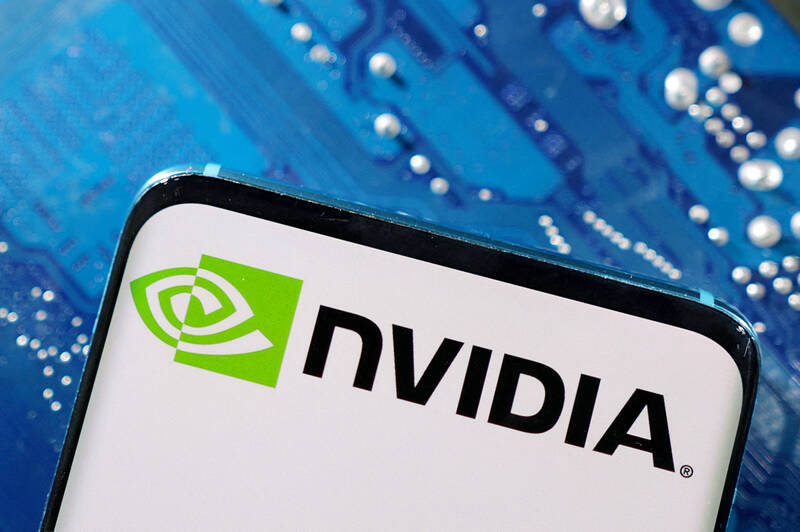 A smartphone showing Nvidia Corp's logo rests against a computer motherboard on March 6.
Photo: Reuters
Nvidia, the biggest supplier of the advanced chips required to train a new generation of AI services, inflamed already lofty expectations for a burgeoning technology.
Its rival chipmaker Advanced Micro Devices Inc jumped 10 percent, while its chip supplier, Taiwan Semiconductor Manufacturing Co (TSMC, 台積電), rose as much as 3.8 percent in Taipei and equipment supplier Advantest Corp surged as much as 20 percent to an all-time high in Tokyo.
ASML Holding NV, which supplies gear to TSMC, gained more than US$6 billion in early trading in Europe. Along with memorychip maker SK Hynix Inc, they collectively gained more than US$260 billion of value in a market otherwise preoccupied with concerns about the US debt limit and China's economic slowdown.
Investors this year have doubled down on wagers that the viral success of OpenAI's ChatGPT and other bots would usher in a new era of spending on the technology that underpins AI.
Nvidia's chips excel at parallel processing, making them well-suited for training software by bombarding it with data.
The market exuberance drove home growing anticipation around the advent of next-generation AI, which executives around the world have variously likened to the emergence of the Internet and the iPhone.
Under chief executive officer and cofounder Jensen Huang (黃仁勳), Nvidia has positioned itself as the top provider of components for training AI software. That has helped it weather a broader slowdown in technology spending.
Investors were looking to Nvidia for evidence that the surge in interest in AI this year is resulting in higher sales of chips that provide the computing power.
The semiconductor manufacturer delivered that with a revenue forecast for the current quarter that dwarfed the average analyst estimate.
"The transformational surge in AI spending is paying off much earlier than expected," Morgan Stanley analyst Joseph Moore wrote in a note.
"We simply have no historical precedent for the magnitude of this step function," he said.
Huang said that the use of the technology is only in its infancy and more tailored products for specific industries are needed.
He has built online services and software tools to help encourage the broader adoption of AI outside of his big customers — cloud providers such as Microsoft Corp and Amazon.com Inc's Amazon Web Services.
"Truly spectacular orders coming through for NVDA's A100 and H100 AI chips," said Amir Anvarzadeh, a strategist at Asymmetric Advisors Ltd in Singapore.
"More importantly for Asian equity investors, they point out that all the orders are being passed on to TSMC," which has "more than adequate" capacity to fill the orders, Anvazadeh said.
Comments will be moderated. Keep comments relevant to the article. Remarks containing abusive and obscene language, personal attacks of any kind or promotion will be removed and the user banned. Final decision will be at the discretion of the Taipei Times.