New Zealand signals tightening cycle done after raising rate to 5.5 percent
New Zealand's central bank yesterday raised interest rates by a quarter-percentage point and unexpectedly signaled that no further policy tightening would be needed to tame inflation, sending the nation's currency tumbling.
The Reserve Bank of New Zealand's (RBNZ) Monetary Policy Committee lifted the official cash rate (OCR) to 5.5 percent from 5.25 percent, as expected by 18 of 21 economists surveyed by Bloomberg.
The central bank's forecasts show the OCR has now peaked, with cuts beginning in the third quarter of next year.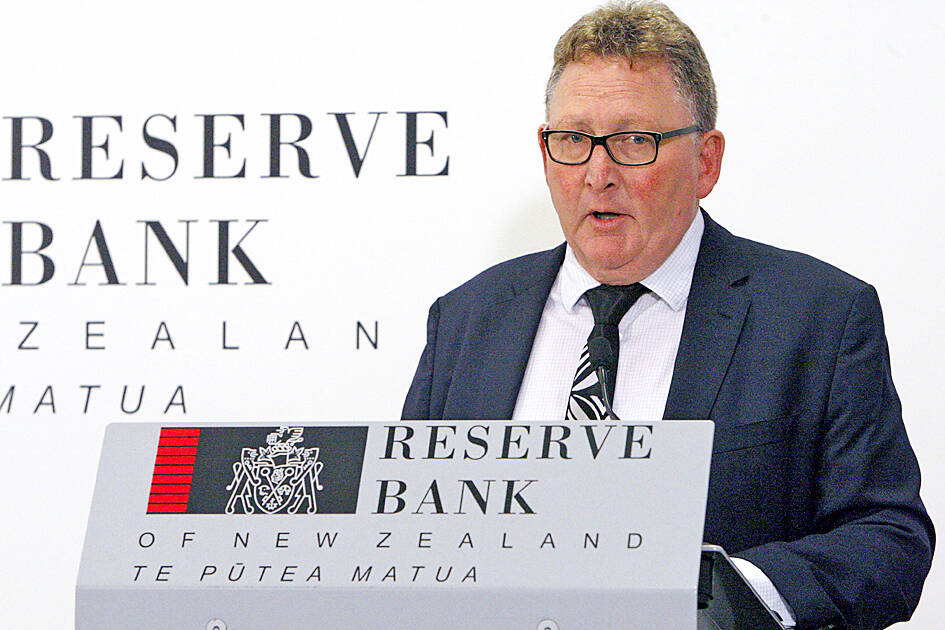 Reserve Bank of New Zealand Governor Adrian Orr speaks to the media in Wellington on May 8.
Photo: AP
The New Zealand dollar dropped as much as 1.3 percent to its lowest since May 2 as traders were surprised by the committee's decision not to keep the door open to further tightening.
The currency bought US$0.6168 at 4:22pm in Wellington. The yield on policy-sensitive two-year bonds dropped the most in six months.
New Zealand has been in the vanguard of global tightening, with its 525 basis points of rate hikes outpacing even the US Federal Reserve.
The RBNZ has been trying to rein in a sharp burst of inflation and yesterday's decision suggests it is now relying on the lagged impact of higher borrowing costs to keep cooling consumer prices.
"The real surprise for the market was the RBNZ effectively declaring 'mission accomplished' on rate hikes," said Prashant Newnaha, senior Asia-Pacific rates strategist at TD Securities in Singapore. "Quite clearly this is a board that is content moving to the sidelines, letting prior rate hikes and expectations of the economy entering recession to naturally drive inflation down."
Still, the bank's forecasts show a shallower economic slowdown, with only a mild recession projected for the second and third quarters of this year.
"The committee is confident that with interest rates remaining at a restrictive level for some time, consumer price inflation will return to within its target range of 1-3 percent per annum," the RBNZ said. "Inflation is expected to continue to decline from its peak and with it measures of inflation expectations."
Inflation slowed to 6.7 percent in the first quarter and the central bank predicts it would return to its target band by the third quarter of next year.
Most economists expected it to keep the door open for a further rate increase if needed, arguing that surging immigration and looser fiscal policy would add to price pressures.
By contrast, the committee's record of the meeting showed members discussed the option of keeping rates unchanged and voted 5-2 in favor of a hike.
Comments will be moderated. Keep comments relevant to the article. Remarks containing abusive and obscene language, personal attacks of any kind or promotion will be removed and the user banned. Final decision will be at the discretion of the Taipei Times.