S Korea asks US to review China chips rule
South Korea has asked Washington to review its criteria for new semiconductor subsidies, concerned over the impact of rules to limit chip investment in countries such as China, a US public filing showed.
In March, the US Department of Commerce proposed rules to prevent China and other countries it deems to be of concern from tapping funds of US$52 billion earmarked for semiconductor manufacturing and research under the Creating Helpful Incentives to Produce Semiconductors (CHIPS) and Science Act.
A leading chipmaker and major investor in the US chip sector, South Korea asked the US to review the rule that prevents recipients of US funding from building new facilities in such countries, beyond 5 percent of existing capacity.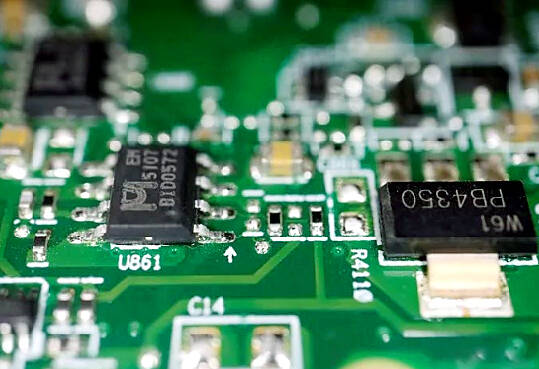 Semiconductor chips are seen on a printed circuit board in this illustration picture taken February 17, 2023.
Photo: Reuters
"The Republic of Korea believes 'guardrail provisions' should not be implemented in a manner that imposes an unreasonable burden on companies investing in the United States," South Korea said, using its official name.
The filing gave no further details, but the South's Yonhap news agency said Seoul had asked to raise the limit to 10 percent.
The South Korean Ministry of Trade, Industry and Energy declined to comment.
Washington has said the incentives aim to help restore the US' leadership in semiconductor manufacturing, boost employment, and ensure economic and national security.
South Korea's Samsung Electronics Co and SK Hynix Inc, the world's top two makers of memory chips, have invested billions of dollars in chip factories in China.
Samsung is building a chip plant in Texas that could cost more than US$25 billion.
In its comments, Samsung sought clarification of the proposed rule to ensure that investments in the US chipmaking sector were "not unduly and unintentionally restricted," a filing showed.
SK Hynix also made comments, but the public version gave no details.
Its parent, SK Group, which plans to invest US$15 billion in the US chip sector, some for an advanced chip packaging factory, has said it is considering applying for funding.
"Potential CHIPS Act funding recipients have numerous existing legacy facilities in China," an industry group, the Semiconductor Industry Association, said.
"It is critical for these companies to be able to protect their past investments in these facilities by ensuring they remain commercially viable," it said.
SK Hynix and Samsung Electronics did not immediately provide comments to Reuters.
The United Auto Workers union has said funding applicants should be ruled ineligible if they did not agree to allow union organizing.
"The US government should not be in the business of funding union-busting employers," it said in a filing on Tuesday.
The commerce department began accepting subsidy applications for leading-edge chip facilities in March. On June 26, it is to open applications for "current-generation, mature-node and back-end" production facilities.
Comments will be moderated. Keep comments relevant to the article. Remarks containing abusive and obscene language, personal attacks of any kind or promotion will be removed and the user banned. Final decision will be at the discretion of the Taipei Times.