Core Pacific starts work on plaza in Taipei
Core Pacific Development Corp (鼎越開發) on Monday launched a pre-sale mixed-use project in downtown Taipei valued at more than NT$2 million (US$64,948) per ping (3.3m2), unfazed by an economic slowdown.
The company, an affiliate of Core Pacific Group (威京總部集團), whose business interests include China Petrochemical Development Corp (中石化) and BES Engineering Corp (中華工程), said its pricing strategy is reasonable and profitable for buyers, as there is robust demand for upscale office space in central locations, but limited supply.
The planned Core Pacific Plaza (京華廣場) in Songshan District (松山) is to feature four office buildings with 19 floors above ground and seven below, Core Pacific Group executive deputy general manager Max Chang (張嘉文) said.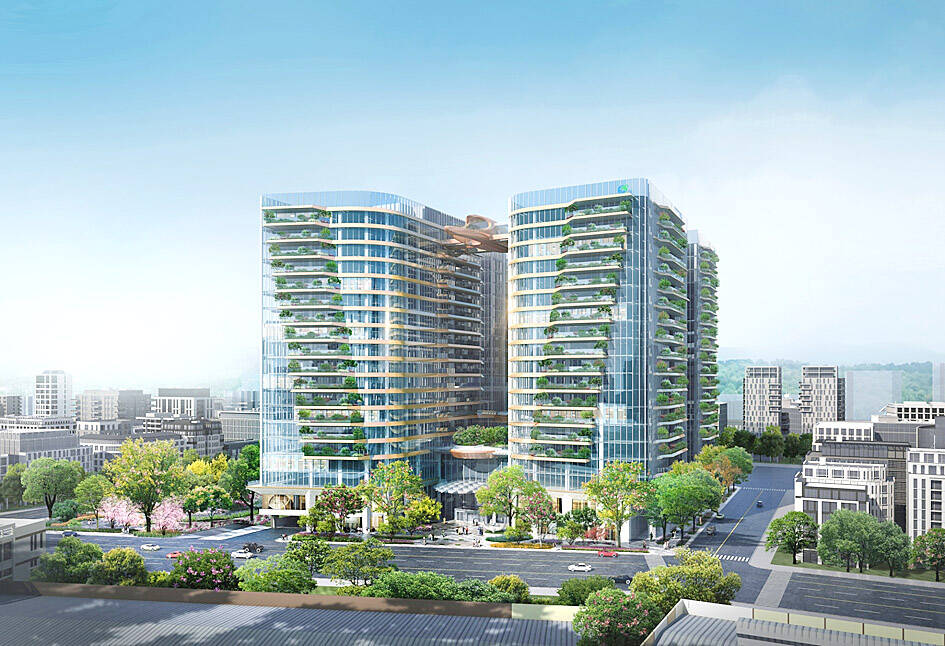 The Core Pacific Plaza is pictured in an illustration.
Photo courtesy of Core Pacific Development Corp
The company intends to sell two buildings and keep another two for rent, allowing it to tap the property management business, Chang said.
Monthly office rents at Taipei Nan Shan Plaza (台北南山廣場) in the neighboring Xinyi District (信義) have reached NT$5,252 per ping and might climb higher, Chang said.
Core Pacific Plaza would prove equally competitive, as it is designed by Taipei 101's architect, and would use the newest construction technologies to boost energy efficiency and meet sustainability requirements, he said.
The company's asking prices might sound expensive today, but could become lower than others, due to its environmental, social and governance (ESG) compliance, as most existing office buildings do not meet ESG standards, Chang said.
Comments will be moderated. Keep comments relevant to the article. Remarks containing abusive and obscene language, personal attacks of any kind or promotion will be removed and the user banned. Final decision will be at the discretion of the Taipei Times.