Inflation to top central bank's agenda
MONETARY POLICY: Central bank governor Yang Chin-long said that his biggest concern is core CPI, as a high reading would suggest sticky inflationary pressures
Core consumer prices would top the list of concerns when the central bank revisits its monetary policy next month, as headline inflation has held steady while core readings continue to rise, Governor Yang Chin-long (楊金龍) said yesterday.
Yang shared his views on inflation and other economic issues while taking questions from lawmakers during a legislative hearing in Taipei, ahead of the central bank's next board meeting on June 15.
Yang said his biggest concern is the core consumer price index (CPI), which advanced 2.72 percent last month, although headline inflation stayed unchanged at 2.35 percent.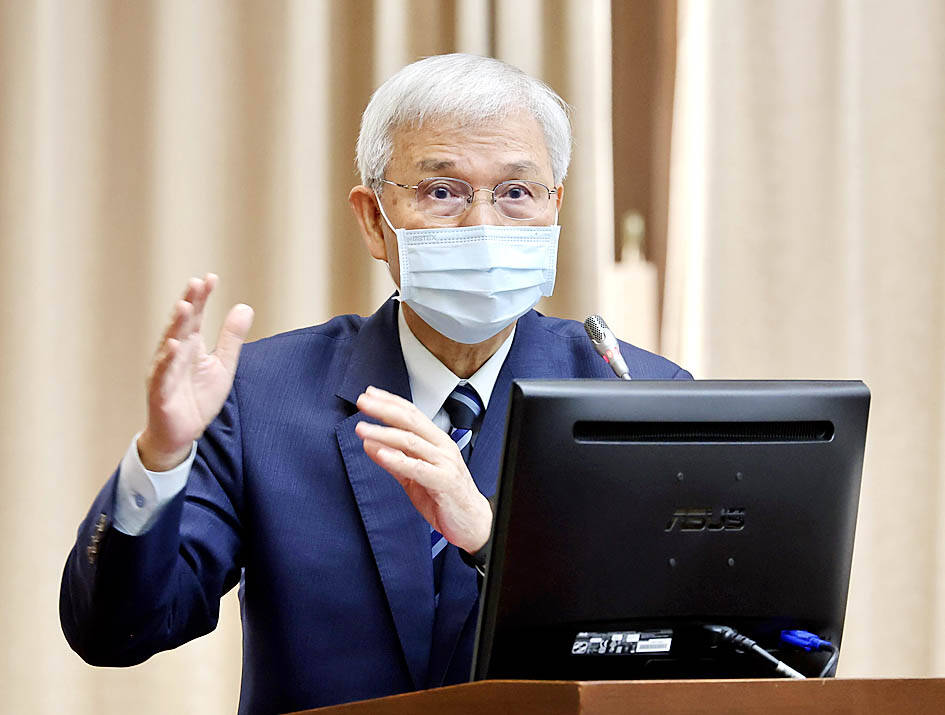 Central bank Governor Yang Chin-long speaks during a legislative session in Taipei yesterday.
Photo: CNA
Higher core CPI readings suggest sticky inflationary pressures ahead, Yang said, as the measure excludes volatile items such as fuel and vegetable prices.
If core CPI climbs higher, the central bank could raise interest rates again to tame inflation, although it would also take the nation's economic health into consideration, he said.
Taiwan's export-oriented economy contracted 3.02 percent during the January-to-March period and is expected to remain soft this and next quarter, as global inflation and monetary tightening slows demand for electronic components, the nation's main export driver.
Taiwan has felt the pinch of economic uncertainty induced by aggressive interest rate hikes in the US and Europe, Yang said, adding that a recovery would take place in the fourth quarter, if not next quarter.
"Much depends on when inventory adjustments will end," Yang said.
National Development Council Minister Kung Ming-hsin (龔明鑫) on Tuesday said that exports continue to disappoint, in line with conservative guidance from major tech firms that inventory corrections would persist into next quarter.
The Directorate-General of Budget Accounting and Statistics is on Friday expected to trim its forecast for Taiwan's GDP growth this year, after exports and private investment fared weaker than expected.
Yang attributed Taiwan's inflationary pressures to conspicuous rises in food, entertainment and travel charges in the wake of the government's removal of border controls and other COVID-19 restrictions.
Dining costs, once risen, have little chance of falling before the year-on-year comparison effect fades, Yang said, responding to comments the central bank has failed to rein in inflation.
Taiwan's inflation is moderate when compared with other countries, he said.
Yang said the US Federal Reserve is widely expected to end its rate hike cycle next month after inflation in the US fell below 5 percent and is expected to drop to the Fed's 2 percent target by 2025.
The chance of further rate hikes is small against that backdrop, he said.
Comments will be moderated. Keep comments relevant to the article. Remarks containing abusive and obscene language, personal attacks of any kind or promotion will be removed and the user banned. Final decision will be at the discretion of the Taipei Times.