Uncertainty holding back foreign investors in China
Foreign companies in China are uncertain about what they are allowed to do following police raids on consulting firms, and want "greater clarity" about how newly expanded national security and other rules would be enforced, a foreign business group said yesterday.
The British Chamber of Commerce in China said a survey of its members found they are more optimistic following December's lifting of anti-virus controls that blocked most travel into and out of China.
It said they want to invest, but are waiting for steps to "restore the trust and certainty" in China amid tension with Europe and Washington and official plans to promote economic self-reliance.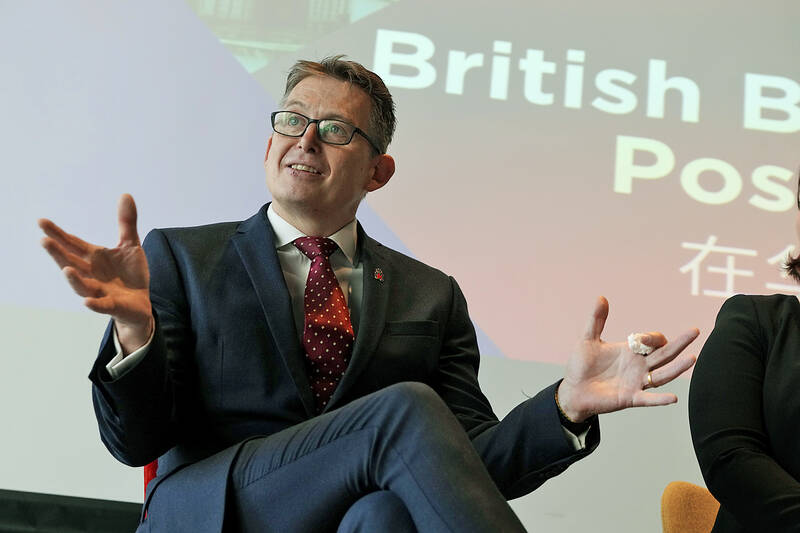 British Chamber of Commerce in China chairman Julian MacCormac speaks at a press launch for a position paper on UK business in China at a hotel in Beijing yesterday.
Photo: AP
"If there is greater clarity and greater certainty, then we believe that companies will commit more to China," chamber chairman Julian MacCormac told a news conference.
About 70 percent of companies "are really waiting to see" how conditions develop before taking action, he said.
Chinese President Xi Jinping's (習近平) government says foreign companies are welcome and is trying to encourage them to invest more.
However, they are uneasy following the expansion of national security and other rules with little explanation, and official plans to create competitors to global suppliers of processor chips and other technology, sometimes using subsidies and market barriers that have strained relations with the EU, Washington and other trading partners.
On Sunday, the government banned use of products from the biggest US maker of memory chips, Micron Technology Inc, in computers that handle sensitive information.
It said Micron had unspecified security flaws, but gave no explanation.
Companies are on edge after police raided offices of two consultancies, Bain & Co and Capvision, and a due diligence firm, Mintz Group. Authorities have given no explanation. They say companies are obliged to obey the law, but have given no indication of possible violations.
The British chamber represents about 650 companies, many of them in finance, consulting and other service industries that might be affected by tighter curbs on what information can be gathered in China and how it can be used and stored.
Yesterday's report included 171 suggestions for Chinese regulators, including "greater clarity" about data restrictions on the auto industry and addressing what it said is unfair treatment of foreign companies in government purchasing.
Sally Xu, director of the chamber's government relations, said member companies that responded to a request for questions ahead of a meeting next week with a Chinese Ministry of Commerce official all asked about the investigations of consultants.
"Our companies are concerned about this," Xu said. "They wonder, where is the line between what we can do and cannot do?"
A survey last month found 76 percent of companies that responded are more optimistic following the end of anti-virus controls that blocked most travel into and out of China, the chamber said.
However, its report said the outlook is clouded by an unpredictable business environment, political tension and "increased talk of self-sufficiency."
"This language around security and self-reliance needs to be balanced against the message of 'welcome to come to China,' because I think there is some nervousness," McCormac said.
"It raises uncertainty about, what's the future like for me as a company in China?" he said.
Comments will be moderated. Keep comments relevant to the article. Remarks containing abusive and obscene language, personal attacks of any kind or promotion will be removed and the user banned. Final decision will be at the discretion of the Taipei Times.