TSMC says talks on potential German fab continue
Taiwan Semiconductor Manufacturing Co (TSMC, 台積電) senior vice president of business development Kevin Zhang (張曉強) told reporters yesterday that talks over a possible plant in Germany are continuing and that the earliest decision would be in August.
"I don't want to get into the politics side of the thing, but I do think that there is a need for us to provide our customers with a diverse supply," Zhang said, adding that Europe is a "very significant geography given the customer base ... [and] the demand."
Zhang did not confirm the size of subsidy or cost of the potential project or which companies might be participating.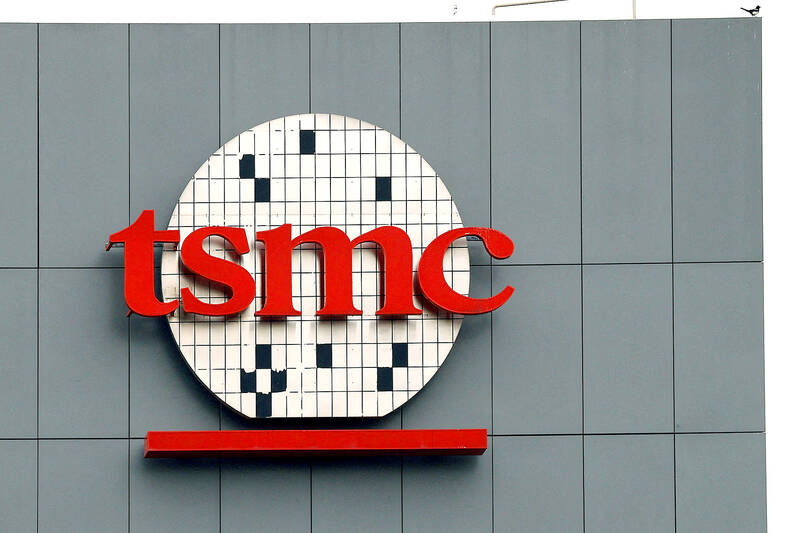 A logo of chip giant Taiwan Semiconductor Manufacruring Co in Tainan is pictured on Dec. 29 last year.
Photo: Ann Wang, Reuters
A spokesperson for the German Ministry for Economic Affairs and Climate Action confirmed that talks with TSMC were ongoing, but did not provide details.
Earlier this month it was reported that the Taiwanese chipmaker was in talks with partners to invest as much as 10 billion euros (US$10.8 billion) to build a chip fab in Germany.
Although semiconductor fabs' costs vary according to capacity, chip type and country, the industry is one of the most capital-intensive, requiring construction of clean rooms and purchase of sophisticated manufacturing tools. Samsung Electronics Co, for example, spent about 60 trillion won (US$45.4 billion) to build two plants in Pyeongtaek, South Korea.
However, China's ban on the use of US-based Micron Technology Inc's chips in certain sectors, announced on Sunday, is a stark reminder of risks facing the global chip industry as it braces for escalating Sino-US trade tensions.
Micron, which makes DRAM and NAND flash memory chips, is the first US chipmaker to be targeted by Beijing after Washington over the past year unveiled a series of export controls to block certain chips and chipmaking technologies being used to advance China's military capabilities.
While the move could benefit Micron's key rivals — South Korea's Samsung and SK Hynix Inc — in the near term, analysts said the growing geopolitical tensions cast a shadow over the industry, as companies need to navigate rising uncertainties that could impact investment and supply chain management.
"It takes huge amounts of pre-emptive investment to be a chipmaker, and it takes five years, 10 years to break even on those investments, so putting predictability into jeopardy makes investments difficult," Korea Semiconductor Industry Association vice chairman Lee Chang-han said. "In the long term, this won't help anybody."
Comments will be moderated. Keep comments relevant to the article. Remarks containing abusive and obscene language, personal attacks of any kind or promotion will be removed and the user banned. Final decision will be at the discretion of the Taipei Times.