Fitch sees modest loan growth, flat profits for banks
The private banking sector might see modest loan growth and flat profitability this year, as monetary tightening at home and abroad help widen interest spread, boosting funding costs, Fitch Ratings Taiwan said yesterday.
"We expect Taiwan's bank operating environment to remain stable," Fitch credit analyst Sophia Chen (陳怡如) said, adding that the economic slowdown reflects subdued external demand for Taiwan's electronics as well as information and communication technology products.
Fitch is projecting economic growth of 2 percent for Taiwan this year, but might trim it next month if major economic barometers fare worse than expected, Chen said.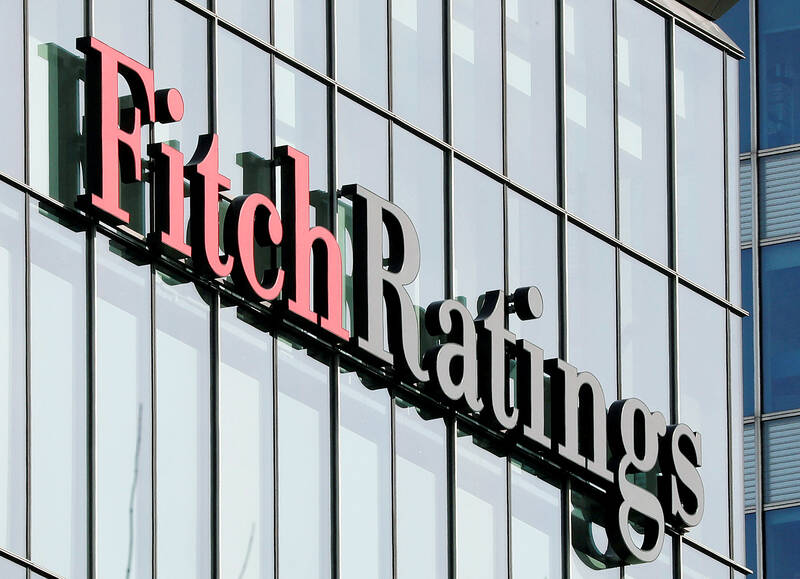 A logo of Fitch Ratings at its offices at Canary Wharf in London is pictured on March 3, 2016.
Photo: Reuters
Taiwan's exports and export orders both fell for an eighth consecutive month last month, slumping 13.3 percent and 18.1 percent respectively from a year earlier, official figures showed.
A recovery could take hold in the fourth quarter, allowing the economy to grow 2.5 percent next year, she said.
The Directorate-General of Budget, Accounting and Statistics in February downgraded its GDP growth forecast to 2.12 percent for this year from the 2.75 percent it predicted in November last year.
It is scheduled to announce an update of its forecast on Friday.
Still, the local banking sector enjoys a stable outlook, backed by loan growth of 5 to 6 percent, continued margin improvement and recovering fees, which might offset a rise in bad loans from relief lending to small and medium-sized enterprises during the COVID-19 pandemic, and overseas operations, Fitch credit analyst Cherry Huang (黃嬿如) said.
Taiwanese banks limit most of their lending in overseas markets to Taiwanese companies, but also take part in syndicated loans and loans to foreign clients, she said.
Foreign borrowers pose higher risks and local lenders have adopted a cautious approach as evidenced by their declining exposure in China, she said.
Bank failures in the US are unlikely to affect Taiwanese banks given their low exposure, Huang said.
The ill-fated Silicon Valley Bank, for one, is a financial partner of tech start-ups, but tech exposure is smaller than 10 percent among Fitch's rated Taiwanese banks, she said.
The ratings agency expects the central bank to hike its policy rate by another 12.5 basis points later this year after raising it by 12.5 basis points in March and 62.5 basis points last year.
The trend has fueled money flows from demand deposits to time deposits, elevating funding costs, Huang said.
Any weakening in borrowers' affordability due to rate increases should be limited, she said, as Taiwan's monetary tightening is modest compared with that in the US and Europe, she said.
Low unemployment and a positive GDP should mitigate potential asset quality deterioration, despite the unwinding of relief loans over the next two years, she said.
Fitch views property assets in Taiwan as resilient, lending key support to the credit profiles of banks that have quite high property-related exposure at 36.7 percent at the end of last year, Chen said.
Comments will be moderated. Keep comments relevant to the article. Remarks containing abusive and obscene language, personal attacks of any kind or promotion will be removed and the user banned. Final decision will be at the discretion of the Taipei Times.