CAL launches sustainable fuel flight for passengers
China Airlines Ltd (CAL, 中華航空) yesterday launched its first passenger flight from Taipei to Singapore using sustainable aviation fuel, as the carrier aims to reduce carbon emissions despite higher costs.
The airline said it used 10 percent sustainable aviation fuel (SAF), which is made from renewable waste and residue materials such as cooking oil, and 90 percent traditional jet fuel for the flight.
As SAF generates 80 percent less carbon emissions than fossil jet fuel, CAL strategic planning department general manger James Chung (鍾人傑) said yesterday's flight reduced carbon emissions by 8 percent.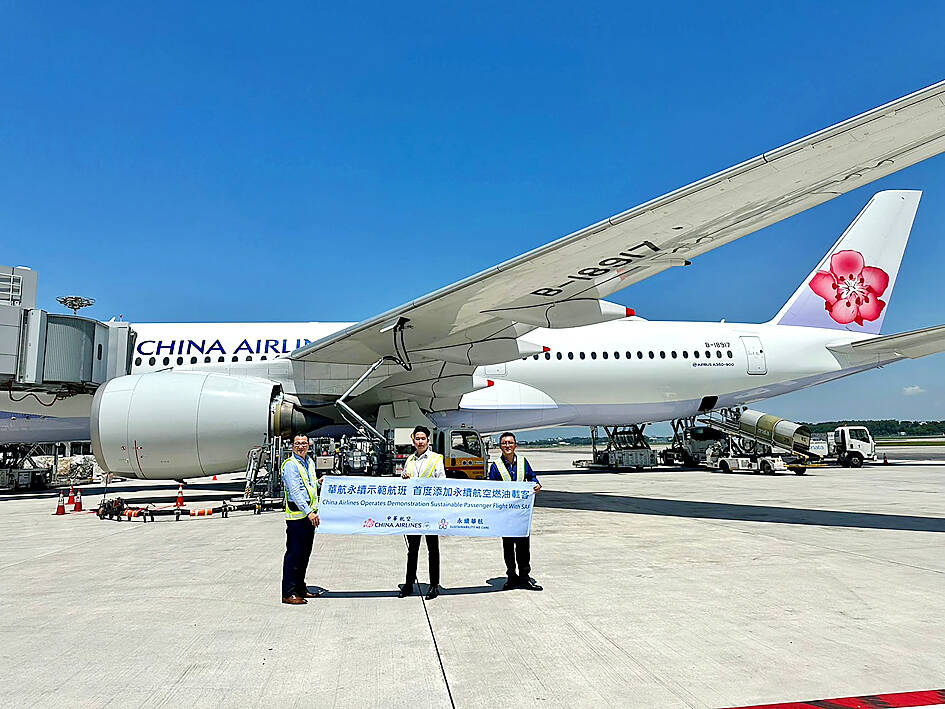 China Airlines Ltd workers hold a banner at Singapore's Changi Airport to celebrate the airline's first passenger flight using sustainable aviation fuel.
Photo courtesy of China Airlines Ltd
The airline has used SAF for cargo flights for several years, but yesterday's flight was its first passenger flight, as the Civil Aeronautics Administration is more cautious about airlines using the fuel than its foreign counterparts, Chung said.
The International Air Transport Association has tested a combination of 50 percent SAF and 50 percent fossil jet fuel, and found that it is safe, he said.
The European Council has mandated that all aviation fuel suppliers provide fuel containing at least 2 percent SAF by 2025, Chung said.
However, it is unlikely that the airline would use 100 percent SAF for passenger flights, as it is double the cost of traditional jet fuel and lacks sufficient domestic supply, he said.
"For a mid-haul flight from Taipei to Singapore, it costs us about US$10,000 more to use the 10 percent SAF, which is not particularly high, but if we use 100 percent SAF, the additional expense would be US$100,000," Chung said.
The extra cost of using SAF would affect ticket prices, he said, adding that the airline would prefer to raise the proportion of SAF gradually.
The government should set up a policy to develop a domestic supply chain of SAF, and make it accessible to all airlines, he said.
Comments will be moderated. Keep comments relevant to the article. Remarks containing abusive and obscene language, personal attacks of any kind or promotion will be removed and the user banned. Final decision will be at the discretion of the Taipei Times.