Nanya shares up after Micron ban
MARKET GAP: If China stops buying chips from US firm Micron, they might turn to competitors such as Nanya and South Korean suppliers, researchers said
Nanya Technology Corp (南亞科技) shares rallied nearly 4 percent during early trading yesterday amid optimism that the nation's biggest DRAM chipmaker would benefit from China's latest ban on purchasing memory chips from Micron Technology Inc.
The restrictions are widely considered a result of an escalating technology dispute between the US and China.
Chinese firms might shift orders to non-US suppliers such as Nanya Technology and South Korean memory chipmakers Samsung Electronics Co and SK Hynix Inc.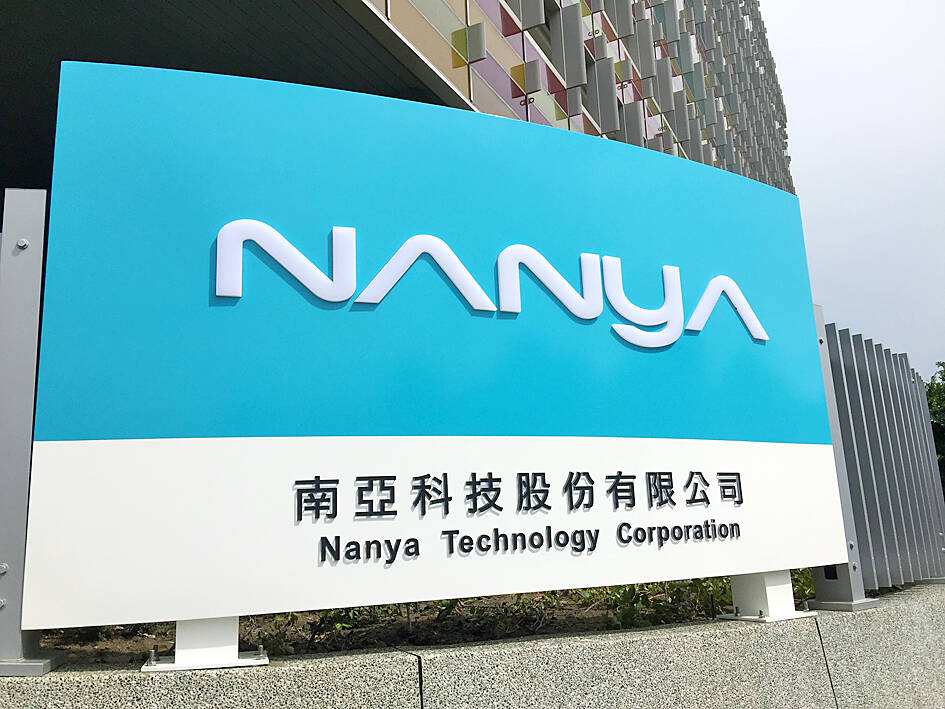 Nanya Technology Corp's logo is pictured in front of the company's headquarters in New Taipei City in an undated photograph.
Photo: Grace Hung, Taipei Times
The Cyberspace Administration of China on Sunday night said that its review found that Micron's memory chips pose serious network security risks to the country's critical infrastructure supply chains, affecting China's national security, the agency said in a statement on its Web site.
To safeguard its national security, Beijing said China's major information and infrastructure operators should stop buying Micron products.
Chinese companies would be barred from using Micron's memory chips in servers and data centers, it said.
"Based on our observation, about 10 percent of Micron's revenue will be affected, if Micron lost all orders of DRAM and NAND memory chips for networking, servers and cloud devices, as well as all local government clients," Taipei-based market researcher TrendForce Corp (集邦科技) said in an e-mail.
"Overall, the restrictions will not lead to any major changes in the landscape of the world's memory chip industry. It will not alter the current supply-demand dynamics," TrendForce said. "Production in China accounts for only a small portion of Micron's total production. Chinese business also makes up a minor part."
If Micron's Chinese clients turn to non-US memory chip suppliers to make up for the shortfall, the cut for each supplier would be minimal, given the small pie, TrendForce said.
"We do not expect any drastic changes to happen to the memory chip industry," it said.
Nanya Technology makes about 60 to 70 percent of its revenue from DRAM chips used in consumer electronics such as televisions, set-top boxes, network devices and vehicles.
Nanya Technology is relatively new to the server DRAM chip business, which only constituted 6 to 8 percent of its revenue last quarter.
Shares of Nanya Technology closed up 0.29 percent at NT$70.10 in Taipei trading yesterday, while shares of Powertech Technology Inc (力成科技), which provides memory chip testing and packaging services in China for Micron, dipped 1.15 percent to NT$94.90.
Comments will be moderated. Keep comments relevant to the article. Remarks containing abusive and obscene language, personal attacks of any kind or promotion will be removed and the user banned. Final decision will be at the discretion of the Taipei Times.