Export orders fall 18 percent on low demand
EIGHT MONTHS OF DECLINE: The best-case scenario for this month would be flat export orders, while a 4.7 percent decrease would be the worst case, the MOEA said
Export orders contracted about 18 percent year-on-year to US$42.5 billion last month, as demand for chips and other electronic components remained sluggish due to prolonged inventory adjustments and faltering consumer spending caused by macroeconomic uncertainty, the Ministry of Economic Affairs (MOEA) said yesterday.
Last month's export orders marked the eighth straight month of decline, with decreases posted across the board. As global economic conditions remain unstable and consumers are cautious about spending on nonessential items, the ministry said it expects export orders to lose further steam this month.
Export orders — measured by product and component shipments to overseas markets over the next one to three months — are this month likely to fall by 23.3 to 26.9 percent annually, reaching US$40.5 billion to US$42.5 billion, the ministry said.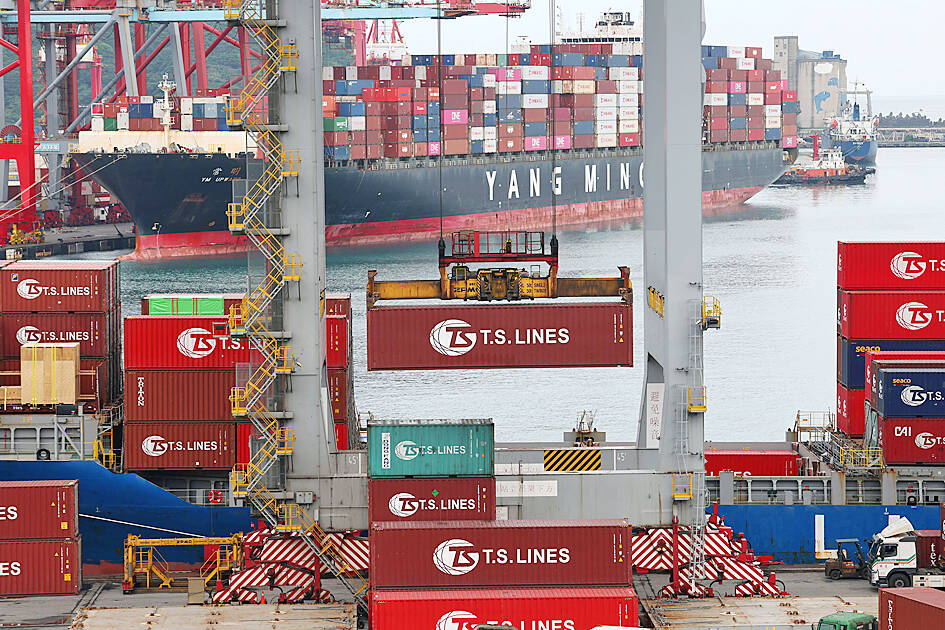 Cargo containers are pictured at the Port of Keelung yesterday.
Photo: CNA
On a monthly basis, the best-case scenario would be flat orders, or there could be a fall of 4.7 percent at worst, the ministry said.
"Market demand is still very weak as customers remain in inventory digestion mode," Department of Statistics Director Huang Yu-ling (黃于玲) said via telephone. "Raw materials and component prices are still hovering at a high level on an annual basis. The prices of flat panels are still lower than the level in the same period of last year."
However, "the seasonal pattern will arrive this year, meaning orders received in the second half will be higher than the first half. That is what we feel now," Huang said.
The ministry expects increased demand for emerging technologies such as high-performance computing, artificial intelligence and automotive electronics, which would drive growth momentum for local exporters.
However, rising external risks, including Russia's invasion of Ukraine, global inflationary pressure and a US-China technology dispute, could hinder the nation's trade growth momentum, it said.
Last month, orders for electronics products — primarily semiconductors — shrank 21.9 percent annually to US$13.93 billion, due to decreased demand for foundry services, memory chips and other electronic components due to inventory corrections, the ministry said.
Orders for information and communication technology products edged down 0.9 percent to US$12.03 billion, due to lower demand for smartphones, graphics cards and other products, it said.
Optoelectronics orders fell 19 percent to US$1.46 billion, as display and camera lens orders declined, while average selling prices of such products also decreased from a year earlier.
Orders for basic metals such as steel fell 26.5 percent to US$2.16 billion, due to weak steel demand and lower product prices, while machine tools orders decreased 21 percent to US$1.64 billion, as the global economic outlook turned sour and affected manufacturers' capital investment plans.
Orders for plastics products fell 36.6 percent to US$1.55 billion, while those for petrochemical products decreased 35.1 percent to US$1.43 billion, as customers digested excess inventory amid weak demand, it said.
Other negative factors included increased supply from global rivals and crude oil price cuts by OPEC, the ministry said.
Comments will be moderated. Keep comments relevant to the article. Remarks containing abusive and obscene language, personal attacks of any kind or promotion will be removed and the user banned. Final decision will be at the discretion of the Taipei Times.