Micron makes chip pledge to Taiwan
REASSURANCE: The company, which installed new equipment in its Taichung plant, said that it would produce 1-gamma nanometers node DRAMs in Taiwan in 2025
US-based memorychip supplier Micron Technology Inc on Friday said that it would start producing its most advanced DRAM exclusively in Taiwan in 2025.
Micron said that it would mass produce chips using its advanced 1-gamma process node DRAM in Taiwan, ahead of any other production site worldwide.
The company installed cutting-edge extreme ultraviolet (EUV) lithography production equipment in its A3 fab in Taichung last year.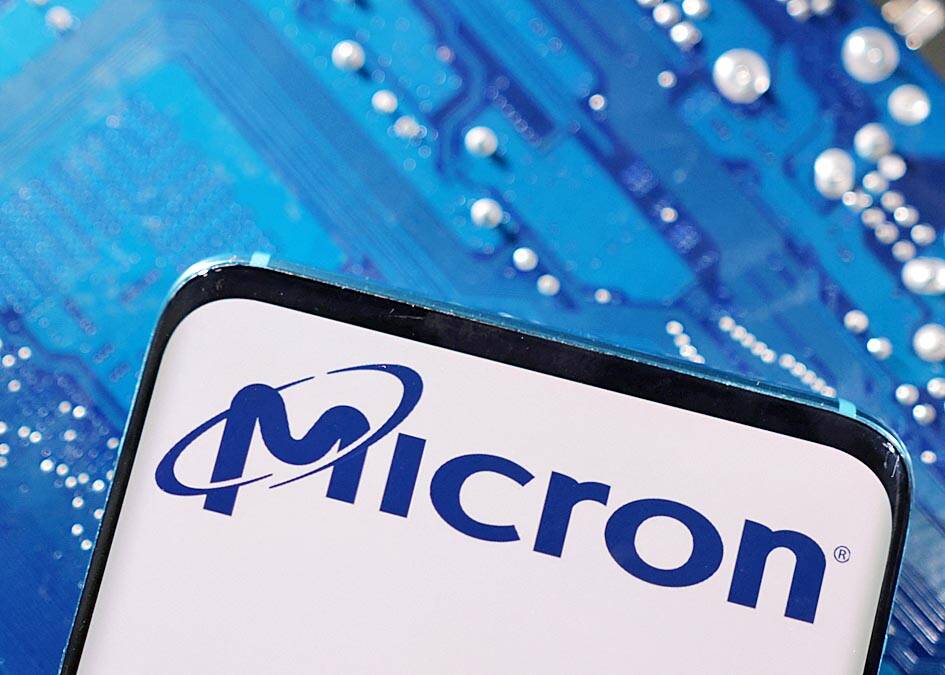 The Micron Technology Inc logo is displayed on a smartphone on March 6.
Photo: Reuters
The 1-gamma process — its third-generation 10 nanometer-class node — was jointly developed by Micron's research and development (R&D) teams in Taiwan and Japan.
Micron on Thursday said it would invest up to US$3.6 billion in Japan.
A Ministry of Economic Affairs official said that Micron had informed the ministry of its investment plan in Japan before it was announced.
Micron's R&D program in Taiwan remains unchanged and would continue as planned, the official said.
The statements from Micron and the ministry apparently aim to ease concerns over the company's future in Taiwan.
Micron announced its Japanese investment plan after Japanese Prime Minister Fumio Kishida met with executives from seven semiconductor companies, including Micron and Taiwan Semiconductor Manufacturing Co (台積電). The others were Applied Materials Inc, IBM Corp, Samsung Electronics Co, Intel Corp and Belgian semiconductor research group Interuniversity Microelectronics Centre.
The plan would include additional investment over the next few years in Micron's factory in Hiroshima Prefecture, the company said.
According to a report from Nikkei Asia, the Hiroshima plant produces advanced DRAM chips and the US chipmaker plans to install a state-of-the-art production line there, with Tokyo's backing.
That could include EUV lithography production equipment, needed for the mass production of the 1-gamma process, which Micron said it would install in Japan, without specifying whether it would be used at the Hiroshima facility.
EUV refers to a soft X-ray technology, which has a wavelength of 13.5 nanometers.
Micron is the largest foreign employer and foreign direct investor in Taiwan, with more than 10,000 workers in its fabs in Taichung and Taoyuan.
Micron has said it would continue to recruit highly skilled personnel in the years ahead.
The Taoyuan factory is from Micron's acquisition of Taiwanese DRAM maker Inotera Memories Inc (華亞科技) in 2016, while the Taichung factory is from the acquisition of another local DRAM maker, Rexchip Electronics Corp (瑞晶電子), in 2012.
Comments will be moderated. Keep comments relevant to the article. Remarks containing abusive and obscene language, personal attacks of any kind or promotion will be removed and the user banned. Final decision will be at the discretion of the Taipei Times.