Foreign tourist arrivals rise 40 percent since October
Foreign tourist arrivals have risen 40 percent since Taiwan removed border controls in October last year, led by travelers from South Korea, Japan and Southeast Asia, travel e-commerce platform KKday said yesterday.
South Koreans topped the ranking of inbound tourists, followed by travelers from Japan, Hong Kong, Macau, Singapore and Malaysia, KKday said.
The findings were in line with Taiwan's bid to attract 6 million foreign tourists this year and return to pre-COVID-19-pandemic levels next year.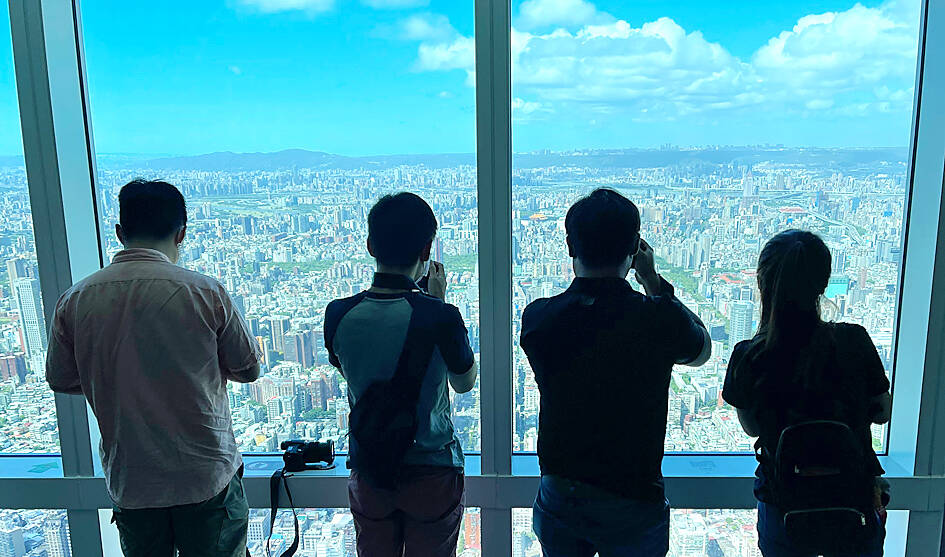 People look through a window in the Taipei 101 Observatory on Oct. 10, 2021.
Photo: CNA
As of Sunday, 1.85 million tourists had arrived in Taiwan this year, the Ministry of Transportation and Communications told a legislative hearing yesterday.
That number might reach 2 million by the end of this month after Taiwan downgraded COVID-19 and made travel into the country easier, it added.
The ministry has offered NT$5,000 worth of travel subsidies for 500,000 free independent tours and 90,000 group tours to attract foreign visitors, it said.
It was closely monitoring the target and would introduce more stimulus measures, if necessary.
The bulk of foreign tourists, 70 percent, visited Taipei and New Taipei City, followed by Taichung, Kaohsiung and Tainan, KKday said.
The destination survey showed that the Taipei 101 Observatory and the National Palace Museum were the top two tourist attractions, followed by New Taipei City's Jioufen Township (九份), Hualien County's Taroko Gorge (太魯閣) and the Alishan National Forest Recreation Area (阿里山國家森林遊樂區) in Chiayi County, it said.
Nantou County's mountainous areas and beaches in Pingtung County's Kenting National Park (墾丁國家公園) also ranked high.
Inbound tourists' travel focus differs based on nationality, with South Koreans seeking out Taiwanese cuisine, while Japanese travelers consider Jioufen a must-visit destination, KKday said.
Tourists from Hong Kong and Macau like to travel as much as possible during their visits, but those from Singapore top the list for spending, it said.
Transportation is among the most in-demand services among foreign tourists, as they need high-speed rail tickets, car rentals and one-day or multiday tours to reach New Taipei City's coastal areas, Nantou County's Cingjing Farm (清境農場), Taroko Gorge or Alishan, KKday said.
Unique experiences, hot springs, lighting sky lanterns and do-it-yourself bakery activities also rank high on the itinerary of foreign tourists, it said.
Comments will be moderated. Keep comments relevant to the article. Remarks containing abusive and obscene language, personal attacks of any kind or promotion will be removed and the user banned. Final decision will be at the discretion of the Taipei Times.