China limits overseas access to data
Beijing curtailed access by overseas firms to Chinese data sources in part due to a series of reports written by US research institutions that alarmed officials, the Wall Street Journal reported, citing people with knowledge of the matter.
Senior officials grew concerned about research by US think tanks based on public local data sources that focused on sensitive issues such as collaboration between the military and private organizations, the Journal reported.
Those reports came from sources such as the Center for Security and Emerging Technology at Georgetown University and the Center for a New American Security, which was cofounded by US National Security Council Indo-Pacific Coordinator Kurt Campbell, the newspaper said.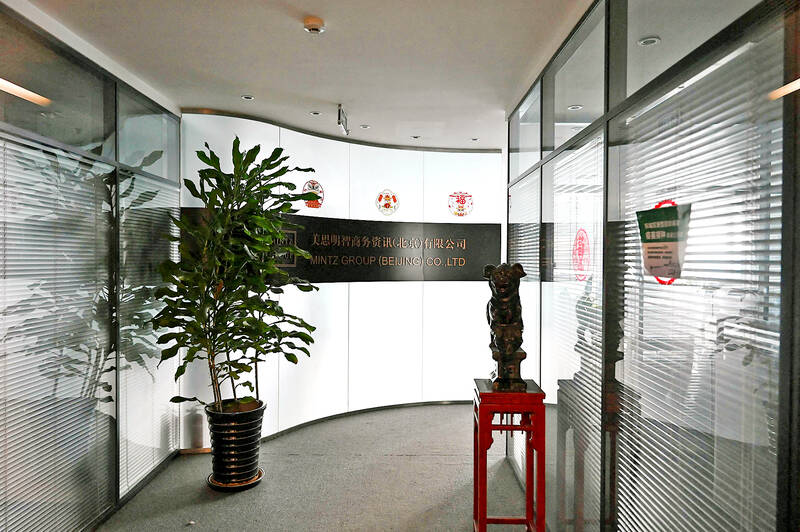 The Beijing office of Mintz Group is shuttered on March 24.
Photo: AFP
Beijing is moving to tighten its grip on sensitive data as tensions with Washington mount. Despite the administration's push to encourage investment into China this year, investors continue to grapple with a lack of transparency and information across swaths of the world's second-largest economy.
Think tanks, research houses and consultancies seeking information on China's economy have long relied on domestic sources to dive deeper into specific issues and industries.
However, Chinese services such as Wind Information Co (萬得資訊) in recent months stopped providing detailed data on the nation's companies to overseas clients.
That coincided with a clampdown on foreign firms that regularly gather information on businesses in the country. Consultancies in particular are under the microscope, with Beijing in recent weeks targeting the local offices of Bain & Co, Mintz Group and Capvision, media reported.
The government last month passed a counter-espionage law that expanded the list of activities that could be considered spying.
"By taking crucial data off the table, public discourse on China will drift further from the truth. It's a reckless move by China to limit access to the data," said Dakota Cary, a China-focused consultant at Krebs Stamos Group. "The US-China relationship will be made worse by this decision."
The Cyberspace Administration of China (CAC), the country's powerful Internet overseer, notified data providers in March to restrict overseas access to sensitive information such as patents and statistics, the Journal reported, citing people who have consulted with Chinese authorities.
Organizations received notices in March warning about upcoming restrictions on services including the popular academic database China National Knowledge Infrastructure, the University of California, Berkeley said in an online notice.
"Many content types that were previously viewed as mundane have now been flagged by the Chinese authorities to be subject to government review," the university's library said.
"The duration of such suspensions is not yet known, but we have been told that access will resume upon CAC determining that Chinese publishers have addressed their requirements for the review of the affected content types," it said.
One report that caught Beijing's eye was a policy brief published by the Center for Security and Emerging Technology in June last year, titled "Silicon Twist," the Journal said.
That report focused on the military's access to US-designed chips intended to train artificial intelligence models. The authors said they analyzed thousands of purchasing records to draw their conclusions, and described steps that the US government could take to cut off that access.
Another, from the same center, zeroed in on how Beijing employed programs to track and recruit talent from around the globe to boost its strategic goals, the Journal reported.
The think tank had relied on sources including China National Knowledge Infrastructure, Center for Security and Emerging Technology spokeswoman Lynne Weil said.
However, it had no insight into what might have triggered information curbs, she said.
Chinese data has gradually become less available, Grow Investment Group (思睿對沖基金) chief economist Hao Hong (洪灝) told Bloomberg Television yesterday.
"People learn to get around the issue by using different data sources, but at the end of the day it's becoming harder to analyze what's going on in China," he said.
Comments will be moderated. Keep comments relevant to the article. Remarks containing abusive and obscene language, personal attacks of any kind or promotion will be removed and the user banned. Final decision will be at the discretion of the Taipei Times.