Bhutan, Bitdeer plan green crypto fund of US$500m
Bhutan and Singapore-based Bitdeer Technologies Group (比特小鹿) have announced plans to raise US$500 million to establish cryptocurrency mining operations that use the Himalayan kingdom's plentiful hydropower.
Huge amounts of electricity are needed to power the vast computer farms that mine for cryptocurrency, leading to heavy criticism of its effect on the climate and efforts to find greener mining options.
Soaring energy costs have also squeezed crypto firms, leading to the birth of several initiatives to find cheaper and more sustainable ways to power their operations in a notoriously risky and volatile industry.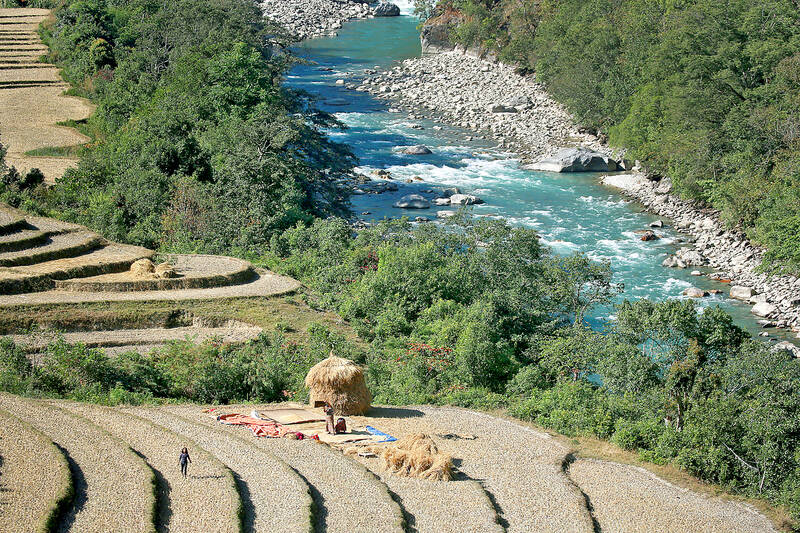 Waters flow through the Punakha Valley, Bhutan, on Dec. 13, 2017.
Photo: Reuters
The initiative announced on Wednesday by the Bhutan government's investment arm Druk Holding & Investments Ltd and NASDAQ-listed crypto-mining firm Bitdeer includes the construction of data centers and investment in renewable energy such as hydropower and hydrogen.
"The partnership with Bitdeer to launch a carbon-free digital asset mining datacenter represents an investment in a more connected and sustainable domestic economy," Druk CEO Ujjwal Deep Dahal said in a joint statement with Bitdeer.
Bhutan, sandwiched between India and China, is carbon-negative and its constitution mandates that 60 percent of the country remains forested.
It has an abundant supply of hydropower and exports electricity to India, but has ramped up efforts to expand revenue sources and diversify its economy.
Druk and Bitdeer, which already runs data centers in Norway and the US, said they expect to begin raising funds for the initiative by the end of this month.
Bitdeer is owned by Chinese crypto billionaire Jihan Wu (吳忌寒), and began trading on the NASDAQ last month.
Dozens of companies last year united under the umbrella of the Crypto Climate Accord, pledging to achieve carbon neutrality by 2030.
Two US firms — Block Inc and Blockstream Corp — are preparing to launch a fully solar-powered bitcoin mine next month.
Comments will be moderated. Keep comments relevant to the article. Remarks containing abusive and obscene language, personal attacks of any kind or promotion will be removed and the user banned. Final decision will be at the discretion of the Taipei Times.