Chinese EV dominance hastens end of gasoline engine era
Now dominant in their home market, Chinese electric vehicle companies are closing in on their fossil-fueled predecessors and beginning to set their sights on overseas markets
This year's Auto Shanghai show signaled the end of the internal combustion engine era in China, as domestic electric vehicle (EV) brands drive change across the sector and leave foreign companies in the dust, analysts and industry insiders said.
Government support for EVs and growing interest from a vast consumer base has assured Chinese companies' dominance of their home market, the world's largest — and they are now beginning to set their sights overseas.
Shanghai has shown that Chinese brands "can compete with all of the legacy automakers in every way — performance, quality, comfort, there's nothing they can't do," EV specialist Elliot Richards said, jokingly adding that he had seen "a lot of worried-looking German men wandering around."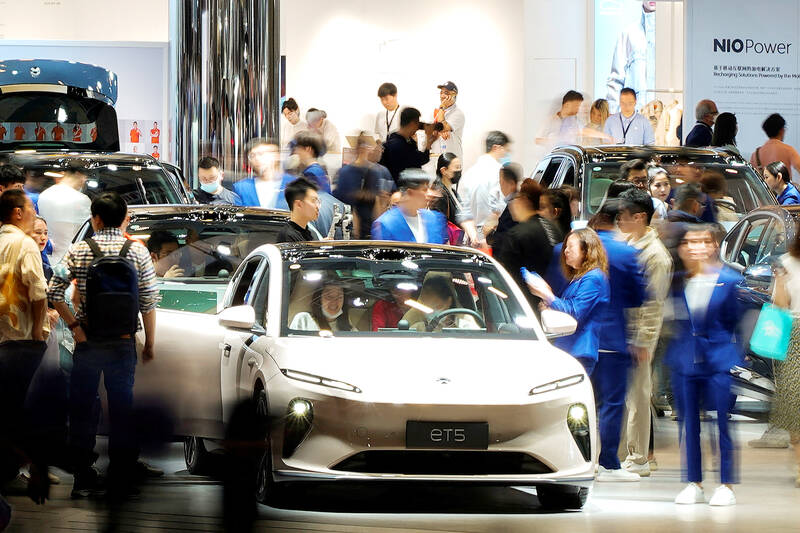 People visit at the Nio Inc booth at the Auto Shanghai show in China on Wednesday.
Photo: Reuters
"I think this show marks the end of the internal combustion engine and the beginning of the EV era," he said.
EV companies are well aware that they are closing in on their fossil-fueled predecessors.
"We regard high-end petrol vehicles such as Mercedes-Benz, BMW and Audi as our main competitors," said William Li (李斌), CEO of the "Chinese Tesla" Nio Inc (蔚來汽車).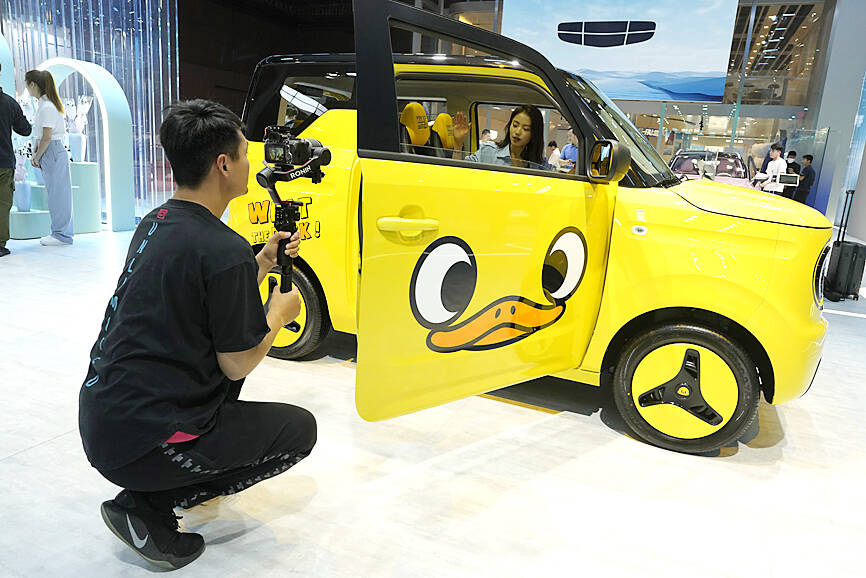 People take pictures of a yellow variant of Geely Holding Group Co's electric Panda Mini during the Auto Shanghai show in China on Wednesday.
Photo: AP
EVs last year made up one-quarter of vehicle sales in the country, a year-on-year increase of 94 percent, the China Association of Automobile Manufacturers said.
CHINA BOOM
Despite a downturn across the global auto sector, Li said he thought that the market share of EVs in China could increase to more than 40 percent this year.
In Shanghai, dozens of new models were on display from new and legacy automakers alike.
"The future is very much here now," said Mike Johnstone, vice president, commercial at Lotus Cars Ltd.
"There's a lot of proliferation of electrified products [in China], and it's changing the entire market," he said.
'HEAD START'
China has dedicated huge resources to the industry.
"They skipped developing petrol engines, because they can't compete with the rest of the world," Richards said. "So they thought: '[With EVs] we can get a head start in front of everyone else.'"
The country began investing heavily in associated technology from the early 2000s.
"It's ingrained in the nature of the country's economic system: The Chinese government is very good at focusing resources on the industries it wants to grow," journalist Zeyi Yang wrote in the MIT Technology Review.
Central and local authorities have poured billions of US dollars into subsidies and tax breaks, and allocated public transport contracts to EV companies.
The supporting infrastructure was built too; the government says there are now more than 5.8 million charging piles in China.
Guangdong Province alone has about three times as many public chargers as the whole of the US, Bloomberg data showed.
"In general, there are still a lot of preferential policies ... for the production and sale of electric vehicles," said Li, using as an example the waiving of expensive license plate fees in some cities.
Those policies have applied to foreign brands, too. That tactic helped lure industry leader Tesla Inc to Chinese shores, bolstering the sector's reputation and sparking further competition.
Nowadays, more than 94 brands offer more than 300 models in the Chinese market — "the most vibrant globally," Counterpoint Research says.
COST MATTERS
Some are smashing the cash barrier that put EVs beyond the means of the average consumer. In Shanghai, China's Geely Holding Group Co (吉利控股集團) exhibited its boxy Panda Mini — including a bright yellow one with the phrase "What the duck" emblazoned on its side. The cheaper versions cost about US$5,800.
Homegrown technology could drive prices down even further. Battery giant Contemporary Amperex Technology Co Ltd (CATL, 寧德時代新) has developed a cell that uses sodium instead of lithium ions, the former both more abundant and cheaper than the latter.
Just before the show opened, CATL announced those batteries would be incorporated into Chery Automobile Co Ltd's (奇瑞汽車) vehicles.
RIPPLE OVERSEAS
All this is being watched closely by foreign competitors.
Brands within the Chinese market are "setting the benchmark now" for others, Johnstone said.
Chinese EV companies have already begun to make inroads abroad. The biggest of them, BYD Co (比亞迪), set up shop in Norway then expanded onward, and others are following.
The technological sophistication of Chinese-made EVs is combating old stereotypes around quality that foreign consumers might harbor, Zeekr Intelligent Technology Co (極氪智能) Europe CEO Spiros Fotinos said.
"Consumers are seeing a lot of innovative safety technologies, with driver assist systems that are really cutting edge," he said.
NOT A SURE THING
However, Richards said that Chinese automakers' success in the West is not "a done deal," as they would have to adapt to the market.
"Karaoke machines in cars, for example — very popular in China, not so popular in Europe," he said.
Johnstone said automakers with "heritage and history" that welcomed in the electric era would remain competitive.
"Brands that have been around for a number of years ... will continue to live in the future as well," he said.
Comments will be moderated. Keep comments relevant to the article. Remarks containing abusive and obscene language, personal attacks of any kind or promotion will be removed and the user banned. Final decision will be at the discretion of the Taipei Times.