AUO to upgrade LCD fab in Taoyuan
LONGTAN PLANS: Chief executive officer Frank Ko said that the plant would produce microLEDs as part of its deployment of next-generation display technologies
LCD panel maker AUO Corp (友達) yesterday said it plans to convert an older-generation LCD fab in Taoyuan's Longtan District (龍潭) into a microLED panel production site in preparation for rapid uptake of the new display technology in 2025.
The Longtan plant, dubbed Fab 5A, makes notebook computer panels, AUO said, adding that it would allocate 8.5-generation production capacity for notebook computer panels.
"MicroLED technology is highly linked to the front-end process of LCD technology, so we are preparing to upgrade an existing plant to produce the next-generation display technology," AUO chief executive officer Frank Ko (柯富仁) told a media briefing in Taipei.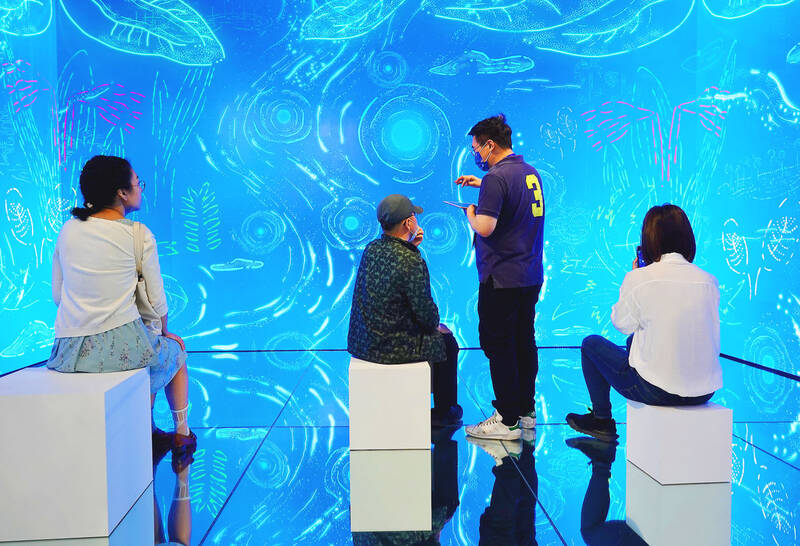 People sit in a booth surrounded by Innolux Corp microLED screens on the first day of the Touch Taiwan trade show in Taipei yesterday. The technology provides seamless and immersive experiences. The event ends tomorrow at Hall 1 of the Taipei Nangang Exhibition Center.
Photo: CNA
"The 5A fab and other factories in Longtan would be part of our future deployment of next-generation display technology," Ko said.
AUO started converting its production lines in Longtan about two years ago.
The company's microLED technology is to enter mass production in the second half of this year, it said.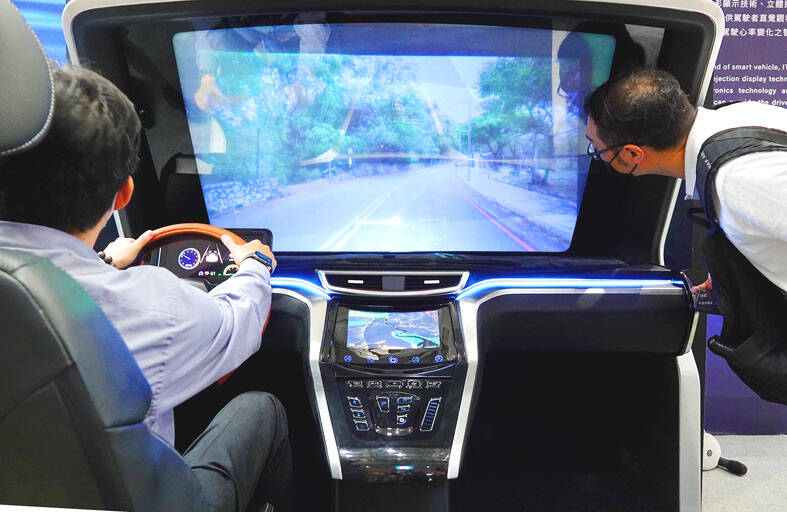 A man tests a smart automotive display at the Touch Taiwan trade show at Hall 1 of the Taipei Nangang Exhibition Center yesterday.
Photo: CNA
That would make it one of two panel makers in the world capable of producing microLED panels this year, joining Samsung Electronics Co of South Korea.
AUO's first microLED panels would be 1.39-inch panels used in smartwatches, it said.
Bigger panels used in TVs and public information displays would be available next year, it said.
The microLED panels would also be used in vehicle displays such as central information displays and smart cockpits, with mass production scheduled for 2025 or 2026 due to longer certification periods, AUO said.
As more companies join the microLED supply chain, AUO expects manufacturing costs to drop 50 percent every two years, a rule similar to Moore's law in the semiconductor industry, AUO chairman Paul Peng (彭?浪) said.
Fairchild Semiconductor International Inc and Intel Corp founder Gordon Moore in 1965 said that the number of transistors in an IC doubles about every two years.
AUO said it estimates that the manufacturing cost of microLED panels would reach a sweet spot in 2025.
Mini LED panels remain much more pricey than their LCD counterparts, it said.
AUO allocates about 30 percent of its 2,000 research engineers for the development of the next-generation display technology to deliver higher resolution and better color performance than LCD technology, it said.
Separately, Innolux Corp (群創) said it is working with customers to develop microLED panels, without saying when it is to deliver its first such product.
The company said it is considering converting a 5.5-generation LCD fab to a microLED panel production base.
Other options include using the capacity to produce niche products, displays used in 5G or 6G devices or antenna for communicating with low Earth orbit satellites, Innolux said.
The 5.5-generation fab is entering a "green" idle state as the company phases out some commodity products, Innolux chairman Jim Hung (洪進揚) said.
The company is adjusting its manufacturing capacity for products with better margins and has transformed a 3.5-generation fab into a production site for advanced chip packaging technology, the company said.
Innolux also uses a 4-generation LCD manufacturing fab to produce X-ray sensors and a 4.5-generation fab to make e-paper displays, the company added.
The company said it expects to launch a project with Vedanta Group in June after receiving Indian government approval for subsidies.
Innolux has signed an agreement with Vedanta to help the Mumbai-based firm build a flat-panel production line in India and help license its intellectual property.
Comments will be moderated. Keep comments relevant to the article. Remarks containing abusive and obscene language, personal attacks of any kind or promotion will be removed and the user banned. Final decision will be at the discretion of the Taipei Times.