CPI rises 2.35% on food, entertainment increases
WAITING TO FALL: Egg prices soared 26.52 percent last month, but are expected to gradually stabilize as the market adjusts to an increase in imports, an official said,
The consumer price index (CPI) last month rose 2.35 percent from a year earlier, easing from a 2.43 percent increase in February and driven mainly by more expensive food and entertainment, the Directorate-General of Budget, Accounting and Statistics (DGBAS) said yesterday.
The latest CPI data suggest that inflationary pressure remained high, especially for frequently purchased items whose prices rose 6.12 percent, the agency's monthly report showed.
"Inflationary pressures would remain tight in the near term and average people would feel the pinch more distinctly," DGBAS official Tsao Chih-hung (曹志弘) said.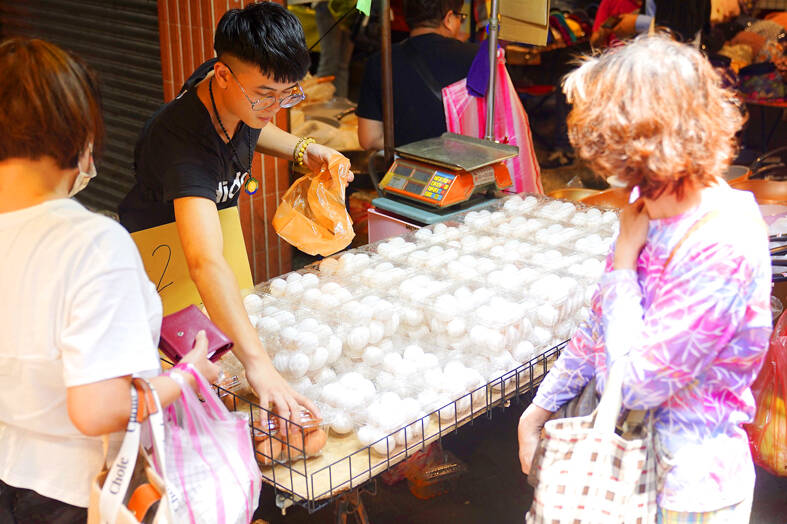 A worker packages eggs for customers at a market in Taipei's Beitou District yesterday.
Photo: CNA
Food prices, the largest CPI component, grew 4.86 percent, as egg prices soared 26.52 percent, gaining by double percentage points for 17 months in a row, Tsao said.
Increased feeding costs pushed up egg prices, which are expected to gradually stabilize with egg imports, but the market needs time to adapt to the changes, he said.
Similar reasons contributed to a 5.75 percent increase in meat prices, he said.
Cooking oil and fruit prices rose 9.56 and 11.8 percent respectively, while the cost of dining out increased 4.08 percent after falling below the 4 percent mark in the previous two months, Tsao said.
Education and entertainment, another major CPI driver, gained 2.79 percent as recreational costs rose 6.46 percent after authorities further eased COVID-19 restrictions, the report said.
Shelter costs increased 2.3 percent as landlords raised rents, and as home repair and improvement became more expensive, it said.
Transportation and telecommunication costs declined 0.78 percent after international fuel prices fell 6.74 percent, it said.
Falling energy and raw material prices would help mitigate inflationary pressures this quarter, but rapid, steep easing is unlikely, Tsao said.
Core CPI expanded 2.55 percent, faster than the headline value after stripping volatile items, it said.
The producer price index (PPI), which measures price changes from a seller's perspective, gained 0.05 percent, after prices for exports and imports softened whether measured by the US dollar or the local currency, it said.
For the first quarter, the CPI registered a 2.62 percent increase, while the PPI rose 3.4 percent, it said.
Comments will be moderated. Keep comments relevant to the article. Remarks containing abusive and obscene language, personal attacks of any kind or promotion will be removed and the user banned. Final decision will be at the discretion of the Taipei Times.