S Korea to boost supply chain cooperation with India
South Korea plans on strengthening cooperation with India as Seoul attempts to align with a US-led push to diversify the global supply chain away from China.
"In the era of economic security, it is essential to strengthen supply chain and science and technology cooperation with India," said South Korean Minister of Foreign Affairs Park Jin, who was on a two-day visit to India that began on Friday.
Park said India shares universal values such as democracy, possesses enormous growth potential and is a crucial partner for South Korea, the South Koran Ministry of Foreign Affairs said in a statement yesterday.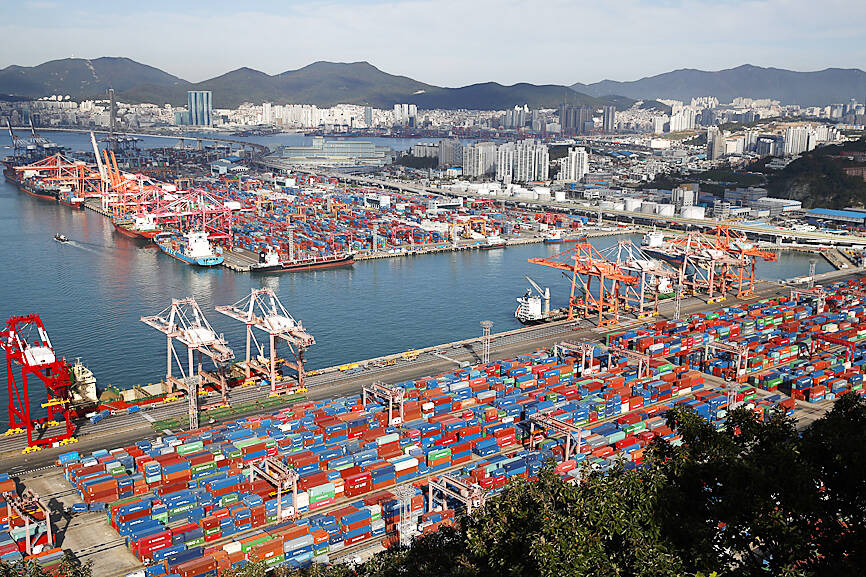 Containers are pictured at the Busan Container Terminal in South Korea on Sept. 23 last year.
Photo: EPA-EFE
"Business entrepreneurs who are investing and operating in India must play a crucial role in realizing this," Park told business leaders in Chennai.
In response, delegates highlighted the importance of fostering stronger human and cultural exchanges between the two countries to boost economic cooperation.
US President Joe Biden's administration has been seeking help from allies, including South Korea, in reducing the global supply chain's dependence on China, while also imposing sweeping curbs on the sale of advanced semiconductor equipment.
India has been one of the beneficiaries in the broader shift, as companies such as Apple Inc increase manufacturing capacity in the South Asian nation.
Separately, US Secretary of Commerce Gina Raimondo called on European governments to work with the US to fight climate change and counter Chinese clout, the latest sign that Washington hopes allies follow its lead in passing a landmark climate bill.
The US passage of the Inflation Reduction Act rankled European leaders, who complained that it was an unfair subsidy. The Biden administration has sought to soothe that angst, while signaling that Europe should match them rather than start a trade fight.
"We need to work together, and I think whether it's the IRA or the chips initiative, there's opportunities for European companies and opportunities for us to work together to meet the moment with climate change and our global competition with China," Raimondo told Bloomberg Television on Friday. "So, initial hurt feelings, maybe. But there's a lot of good work to do together."
She said the US approach to China is to protect US technology and national security, while promoting exports of certain goods.
She also said the US is not looking to make all semiconductor chips on its own soil, but must rely less on Asia.
"Nobody thinks that we should be making everything that we need in America," she said. "The fact that we buy 90-plus percent of our leading-edge chips from Taiwan is also unsustainable and, quite frankly, almost dangerous."
Comments will be moderated. Keep comments relevant to the article. Remarks containing abusive and obscene language, personal attacks of any kind or promotion will be removed and the user banned. Final decision will be at the discretion of the Taipei Times.