Microsoft threatens restrictions on rival AI
Microsoft Corp has threatened to cut off access to its Internet search data, which it licenses to rival search engines, if they do not stop using it as the basis for their own artificial intelligence (AI) chat products, people familiar with the dispute have said.
The software maker licenses the data in its Bing search index — a map of the Internet that can be quickly scanned in real time — to other companies that offer Web search, such as Apollo Global Management Inc's Yahoo and DuckDuckGo.
Last month, Microsoft integrated a cousin of ChatGPT, OpenAI's AI-powered chat technology, into Bing.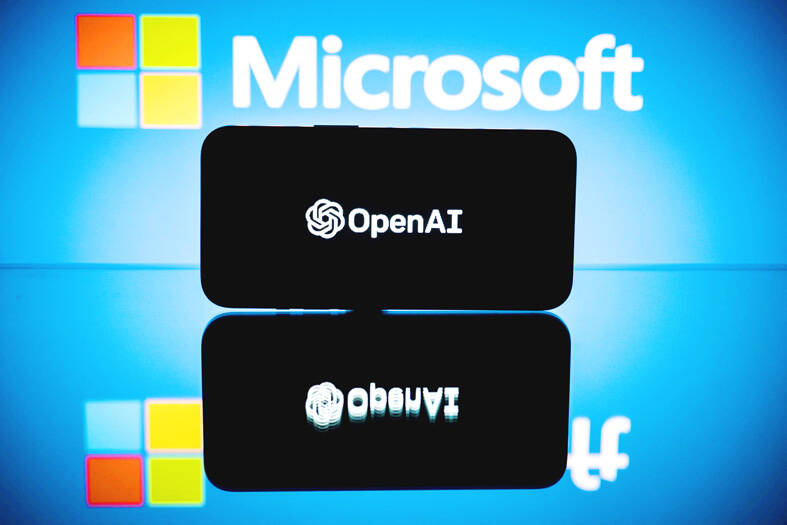 Screens displaying the logos of Microsoft Corp and OpenAI are pictured in Toulouse, France, on Jan. 23.
Photo: AFP
Rivals quickly moved to roll out their own AI chatbots as hype built around the technology. Last week, Alphabet Inc's Google publicly released Bard, its conversational AI product. DuckDuckGo, a search engine that emphasizes privacy, introduced DuckAssist, a feature that uses AI to summarize answers to search queries. You.com and Neeva Inc — two newer search engines that debuted in 2021 — have also debuted AI-powered search services, YouChat and NeevaAI.
These search chatbots aim to combine the conversational skills of ChatGPT with the information provided by a conventional search engine. DuckDuckGo, You.com and Neeva's regular search engines all use Bing to provide some of their information, because indexing the entire Web is costly — it requires servers to store data and a constant crawl of the Internet to incorporate updates. It would be similarly complex and pricey to get together that data for a search chatbot.
Microsoft has told at least two customers that using its Bing search index to feed their AI chat tools violates the terms of their contract, said the people, who spoke anonymously because they were discussing a confidential dispute.
The Redmond, Washington-based technology company said it may terminate the licenses providing access to its search index, the people said.
"We've been in touch with partners who are out of compliance as we continue to consistently enforce our terms across the board," Microsoft said in a statement. "We'll continue to work with them directly and provide any information needed to find a path forward."
If they were cut off from Microsoft's index, smaller search engines would have a hard time finding an alternative. Microsoft and Google are the only two companies that index the entire Web, and Google's limitations on the use of its index have led nearly all other search engines to use Bing.
Comments will be moderated. Keep comments relevant to the article. Remarks containing abusive and obscene language, personal attacks of any kind or promotion will be removed and the user banned. Final decision will be at the discretion of the Taipei Times.