TikTok trial offers no resolution
UNCONVINCING: The US Congress questioned whether the company's Chinese owners pose a national security risk and how the app might influence young users
TikTok chief executive officer Shou Chew (周受資), confronted with an unforgiving, distrustful US Congress, tried to give answers in his testimony on Thursday that avoided offending either the US government or China.
However, his evasiveness left Congress unsatisfied, with representatives hungrier than ever to punish TikTok for ties to its parent company ByteDance Ltd (字節跳動), based in Beijing. He did not bring his company any closer to a resolution.
Politically, TikTok is in a tougher spot. Its executives had been discussing divesting from ByteDance to resolve US national security concerns, people familiar with the matter told Bloomberg.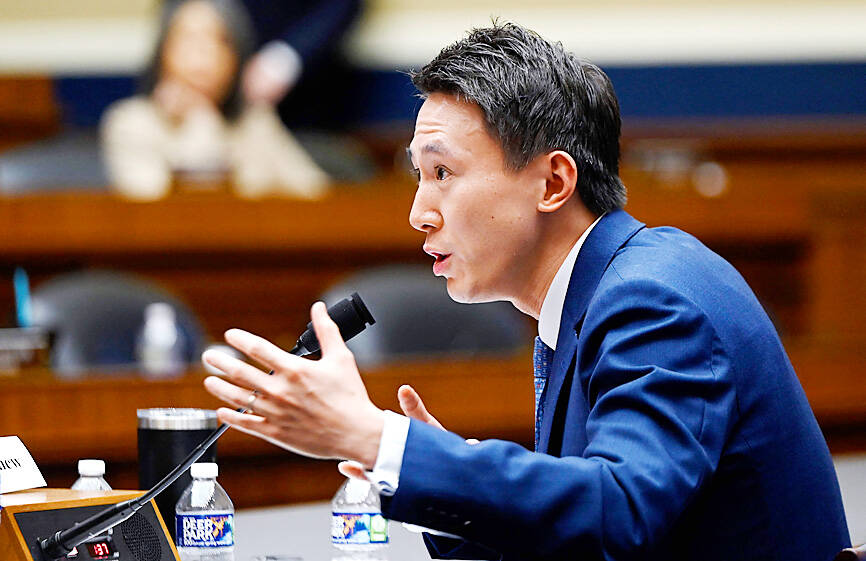 TikTok chief executive officer Shou Chew testifies before the US House of Representatives' Energy and Commerce Committee in Washington on Thursday.
Photo: AFP
However, China this week said that it would firmly oppose a forced sale.
The US has to decide whether to restrict TikTok, which would be politically unpopular, or accept TikTok's promises that its US data is safely guarded and that its US users would not be manipulated by the Chinese Communist Party — something many members of Congress have said they would have a hard time believing.
Chew did not say anything to alleviate concerns about sensitive TikTok data eventually reaching the Chinese government, CFRA Research senior equity analyst Angelo Zino said.
That could leave TikTok in limbo among the legislature — heavily criticized, but not yet banned — and increase pressure on national security officials and US President Joe Biden's Administration to come to a resolution.
Legislators and regulators have two main areas of concern, which were on display on Thursday: whether TikTok's ownership by a Chinese tech company presents national security risks and how users — especially young ones — could be influenced by the videos they see on the app.
Lawmakers have already introduced four bills that aim to ban the app over the national security risks posed by its Chinese ownership, one of which has support from the White House.
However, there is only a 35 percent to 45 percent chance a ban would happen, "with 2024 being an election year and politicians needing to tread carefully to ban a platform that is extremely popular," Zino said.
Chew fruitlessly tried to broaden the conversation to be about all social media companies — not just TikTok. He said that he supports comprehensive data legislation, saying that US social media companies "don't have a great track record" on privacy, and that dangerous content for kids is an industrywide issue.
However, lawmakers did not buy Chew's appeal.
Georgia Representative Buddy Carter summed it up neatly when Chew invoked "industrywide" arguments: "We're talking about TikTok," Carter said.
Chew declined to answer questions about whether he supports the US First Amendment, repeating that he was in Congress to answer questions about TikTok. He said the app supports "free expression" and that it has committed to promoting free speech.
"Does TikTok support genocide?" asked Republican August Pfluger of Texas, referring to the Uighur minority.
"No," Chew said.
Behind Chew in the audience for the hearing sat multiple TikTok influencers, supporting the app's presence in the US because of how critical it has become for their lives and work.
"I understand what the Congress people are arguing toward today, and certainly want to hear their perspectives and learn more about any potential dangers," said Vitus Spehar, whose "UnderTheDeskNews" account has 3 million followers on TikTok. "But I think that my personal experience is, this is our community. This is where we've survived the pandemic together."
Comments will be moderated. Keep comments relevant to the article. Remarks containing abusive and obscene language, personal attacks of any kind or promotion will be removed and the user banned. Final decision will be at the discretion of the Taipei Times.