Hua Nan looking to grow profit despite challenges
State-run Hua Nan Financial Holding Co (華南金控) is seeking to grow its profit this year despite economic challenges and pressure on interest margin amid rising costs, top-ranking officials said yesterday.
The bank-focused conglomerate gave the cautious guidance after its net profit last year grew a fractional 0.6 percent to NT$17.31 billion (US$565.82 million), as interest rate hikes locally and abroad bolstered interest income by 19 percent, offsetting declines in fee income and other operations. The results translated into earnings per share of NT$1.27.
"The group forecasts loan growth of 20 to 30 percent in the next three years, but will adopt a low-key approach this year amid economic uncertainty and unfavorable operating conditions," Hua Nan president Robert Li (李耀卿) said after an investors' conference in Taipei.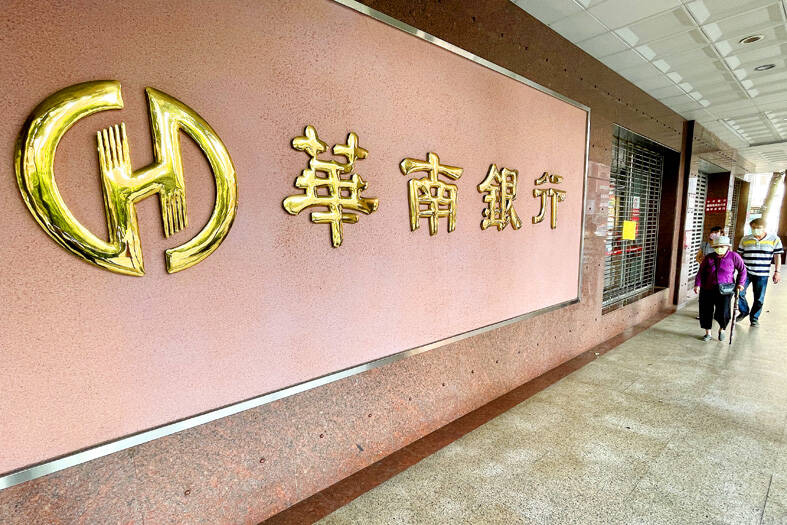 Hua Nan Commercial Bank signage is pictured at its Nanmen branch in Taipei's Zhongzheng District on April 24 last year.
Photo: George Tsorng, Taipei Times
Net interest margin, a critical profitability gauge for banking institutions, gained 26 basis points to 1.52 in December last year, benefiting main subsidiary Hua Nan Commercial Bank (華南銀行) and driving more than 90 percent of profit.
The interest margin is to experience pressure this year as funding costs climb and monetary tightening stays in place, Li said.
Hua Nan Bank has unsecured debts of A$20 million (US$13.42 million) issued by the ill-fated Credit Suisse Group AG, but not so-called "additional tier 1" debt that the Swiss lender said on Sunday would be written down to zero as part of its rescue by UBS Group AG.
Hua Nan Bank said it is holding onto the Credit Suisse debt and would monitor the situation before making a decision, the bank said, suggesting that provision costs this year are likely to remain similar to last year's.
The bank plans to put greater focus on debt recovery after being less stringent on the matter during the COVID-19 pandemic, it said.
The bank is pursuing a 5 percent increase in mortgage operations by courting urban renewal and newly completed residential projects, it said, adding that inrate hikes and unfavorable policies are reducing property transactions.
Hua Nan Bank does not provide a growth target for corporate banking, although it said it would adjust its loan structure and focus on operations that generate better returns without weakening its asset quality, executive vice president Rudy Chang (張炳輝) said.
Market volatility is expected to weigh on fee income and wealth management business after sales of fund and structured debt products last year shrank 36.7 percent, the bank said.
Affiliated South China Insurance Co (華南產險) is one of the few property firms in Taiwan that managed to stay in the black last year, given effective risk controls regarding pandemic insurance policies.
Hua Nan Financial cash and stock dividends issued though its portfolios also took a hit from bond value corrections, the company said, adding that its board of directors is to discuss the issue in May.
Comments will be moderated. Keep comments relevant to the article. Remarks containing abusive and obscene language, personal attacks of any kind or promotion will be removed and the user banned. Final decision will be at the discretion of the Taipei Times.