Central bank policy to address inflation
HIGH CPI GROWTH: Inflation weighs more on policy as the consumer price index has swelled to concerning levels for 19 months in a row, deputy governor said
The central bank is to focus on inflation in an upcoming quarterly policy meeting, as the public has been affected by rising prices, bank Deputy Governor Yen Tzung-ta (嚴宗大) said at a meeting of the legislature's Finance Committee in Taipei yesterday.
Yen said the bank considers three factors — economic growth, financial stabilization and inflation — when it adjusts its monetary policy.
Inflation has weighed more in the central bank's consideration, as the consumer price index (CPI) has risen by more than 2 percent — an alert level set by the central bank — for 19 months in a row, Yen said.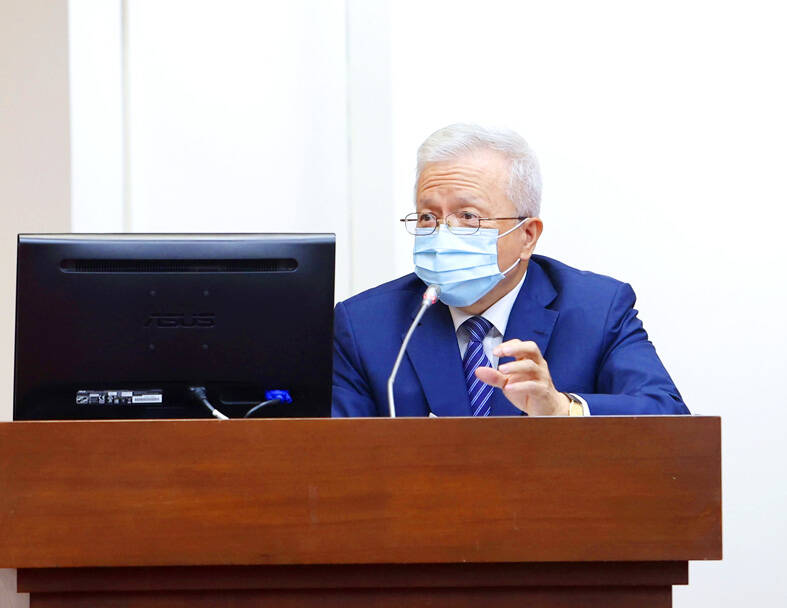 Central bank Deputy Governor Yen Tzung-ta attends a meeting of the legislature's Finance Committee in Taipei yesterday.
Photo: CNA
Such a long period of high growth in the CPI has boosted public expectation that it is likely to continue to rise, Yen said.
Taiwan's CPI rose by 2.74 percent over the first two months of this year compared with the same period last year, and by 2.43 percent last month alone, the Directorate-General of Budget, Accounting and Statistics (DGBAS) said.
Inflation could rise further, as the government decided last week to raise electricity rates by an average of 11 percent starting on Saturday next week.
The power tariff hike is expected to result in an increase of 0.204 percentage points to the CPI, the DGBAS said.
The central bank has scheduled its next quarterly policy meeting for Thursday.
Market analysts have said the central bank might leave key interest rates unchanged to boost the economy at a time when Taiwan's exports have been affected by weakening global demand.
Taiwan's outbound shipments last month fell 17.1 percent year-on-year to US$31.05 billion, marking the sixth consecutive month of annual decline.
The central bank since March last year has raised rates by 62.5 basis points in an effort to combat inflation.
In the last policy meeting held in December last year, the central bank estimated the nation's GDP would grow 2.53 percent this year by taking into account Taiwan's weaker export performance.
Yen said the central bank would announce an update of its forecast after Thursday's meeting.
Responding to the recent failures of Silicon Valley Bank and Signature Bank in the US, Yen said the US Federal Reserve might slow its pace of hikes in the current rate hike cycle, which is likely to stabilize global financial markets.
The Fed is to begin a two-day policy meeting starting today.
Comments will be moderated. Keep comments relevant to the article. Remarks containing abusive and obscene language, personal attacks of any kind or promotion will be removed and the user banned. Final decision will be at the discretion of the Taipei Times.