UBS pressed in Credit Suisse takeover
SIGNIFICANT OBSTACLES: Talks that should take months are occurring in days as pressure mounts from abroad, with US$6 billion and 10,000 jobs at stake, sources said
UBS AG was up against the clock yesterday in talks to finalize a mammoth takeover of its troubled rival, Credit Suisse Group AG and reassure investors before the markets reopen.
UBS, Switzerland's largest bank, was urged by authorities finalize a deal to avoid a wave of panic on the markets today.
The Swiss nation's two largest banks were in urgent negotiations this weekend with the country's banking and regulatory authorities, several media outlets reported.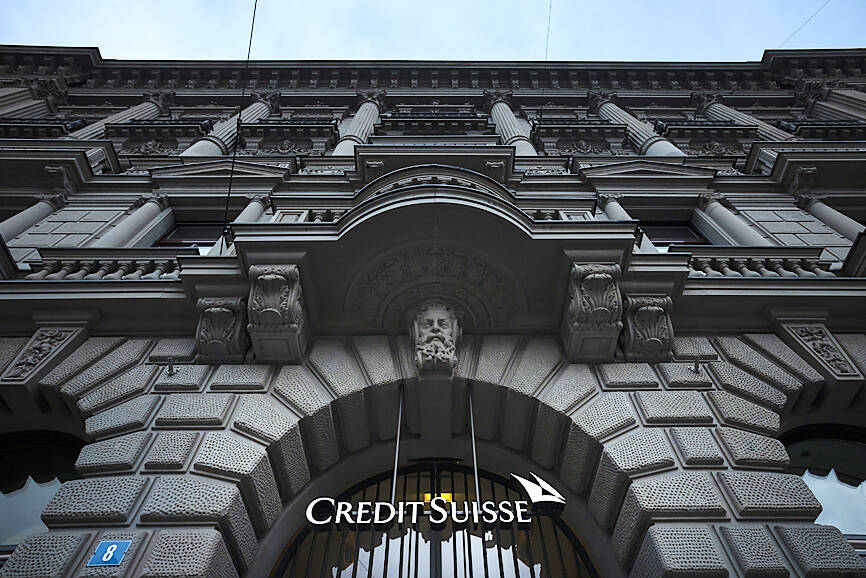 The Credit Suisse logo is displayed at the entrance of the bank's headquarters in Zurich, Switzerland, yesterday.
Photo: EPA-EFE
The generally well-informed tabloid Blick said UBS was about to purchase Credit Suisse in a deal to be finalized during an exceptional meeting in Bern, Switzerland, bringing together the Swiss government and the banks' executives.
A merger of this scale, involving swallowing up all or part of a bank arousing growing investor unease, would normally take months. UBS has only had a few days.
However, Swiss authorities told Blick they had no choice and pushed UBS into overcoming its reluctance due to the enormous pressure exerted by Switzerland's major economic and financial partners, fearing for their own financial centers.
"Everything points to a Swiss solution this Sunday, and when the stock market opens on Monday, Credit Suisse could be a thing of the past," the newspaper said, referring to yesterday's meeting.
UBS is seeking government guarantees of about US$6 billion for a potential takeover of Credit Suisse, a person with knowledge of the discussions said on Saturday.
The guarantees would cover the cost of winding down parts of Credit Suisse and potential litigation charges, the source said.
A second person confirmed this without specifying the US$6 billion figure.
Talks to resolve the crisis of confidence in Credit Suisse are encountering significant obstacles, and 10,000 jobs might need to be cut if the two banks combine, the first source said.
The SonntagsZeitung newspaper called it "the merger of the century."
"The unthinkable becomes true: Credit Suisse is about to be taken over by UBS," the weekly said.
The government, the financial market authority and the Swiss National Bank (SNB) "see no other option," it said.
"The pressure from abroad had become too great — and the fear that the reeling Credit Suisse could trigger a global financial crisis," it said.
Like UBS, Credit Suisse is one of 30 banks globally deemed to be Global Systemically Important Banks — of such importance to the international banking system that they are deemed too big to fail.
However, market movement suggested the bank was perceived as a weak link in the chain.
"We are now awaiting a definitive and structural solution to the problems of this bank," French Minister of Finance Bruno Le Maire told Le Parisien. "We remain extremely vigilant."
The Financial Times said that Credit Suisse customers withdrew 10 billion Swiss francs (US$10.83 billion) in deposits in a single day late last week — a measure of how far trust in the bank has fallen.
After a turbulent week on the stock market, which forced the SNB to step in with a US$54 billion lifeline, Credit Suisse was worth about US$8.7 billion by Friday evening — precious little for a bank considered one of 30 key institutions worldwide.
Amid fears of contagion after the collapse of two banks in the US, Credit Suisse shares closed down 8 percent on Friday at 1.86 Swiss francs as the Zurich-based lender struggled to retain investor confidence.
Credit Suisse has been plagued by a series of scandals in recent years. Shares were worth SF12.78 in February 2021.
The bank suffered a net loss of US$7.9 billion last year and expects a "substantial" pre-tax loss this year.
The notion of Switzerland's largest banks joining forces has cropped up over the years, but has generally been dismissed due to competition issues and risks to the Swiss financial system's stability.
"Credit Suisse management, even if forced to do so by the authorities, would only choose [this option] if they have no other solution," said David Benamou, chief investment officer of Paris-based Axiom Alternative Investments.
Comments will be moderated. Keep comments relevant to the article. Remarks containing abusive and obscene language, personal attacks of any kind or promotion will be removed and the user banned. Final decision will be at the discretion of the Taipei Times.