Japan to ease South Korea chip material export rules
Shares of South Korean electronics makers yesterday surged after Japan said it would roll back export restrictions of key semiconductor materials, laying to rest concern about the fragility of an important link in the tech supply chain.
SK Hynix Inc jumped as much as 7.3 percent, the biggest intraday rise in more than two months. Samsung Electronics Co rose more than 2 percent and LG Electronics Inc gained as much as 1.7 percent
Japan said it plans to ease licensing requirements on fluorinated polyimide, hydrogen fluoride and photoresists — all essential ingredients for the manufacture of displays and semiconductors that go into gadgets, including Apple Inc iPhones. The announcement was made during the first formal summit between the two nations' leaders held on Japanese soil in more than a decade.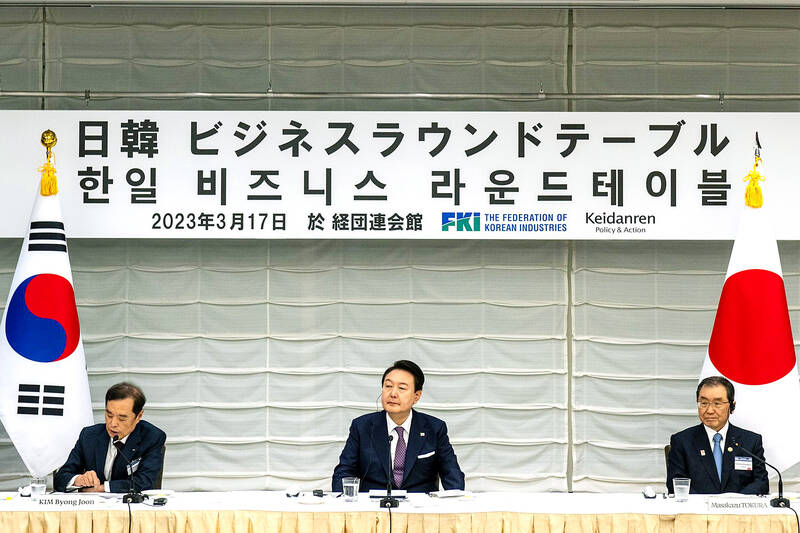 From left, Federation of Korean Industries acting chairman Kim Byong-joon, South Korean President Yoon Suk-yeol and Japan Business Federation chairman Masakazu Tokura attend a Japan-South Korea business roundtable meeting in Tokyo yesterday.
Photo: Bloomberg
Japan began requiring licenses to export the compounds to South Korean firms in 2019 amid a dispute over compensation for Korean workers forced to work in Japanese mines and factories during its 1910-1945 colonial rule.
The curbs roiled South Korea's biggest firms, prompting Seoul to file a complaint with the WTO. While the restrictions did little to affect shipments of the materials, they were perceived as a threat to hurt Seoul economically, and helped drive the two US allies further apart.
A breakthrough came last week after South Korean President Yoon Suk-yeol said South Korean firms, rather than Japanese ones, would finance a foundation set up to address the forced labor dispute.
South Korea has also said it would drop its WTO complaint.
However, the thaw has just begun. Japan has not decided when it would ease the export restrictions. Nor has it decided whether to categorize South Korea a most-favored trading partner again, Japanese Minister of Economy, Trade and Industry Yasutoshi Nishimura told reporters yesterday.
The three materials that had most concerned Seoul are controlled almost wholly by Japanese companies, such as JSR Corp, Shin-Etsu Chemical Co and Tokyo Ohka Kogyo Co.
Tokyo had expressed concerns about Seoul's export controls when it tightened exports on the three chemical products. At the time, some politicians claimed that there were unauthorized reshipments of the chemicals to other countries, but Seoul disputed the allegations.
South Korea's export controls have since improved, Japanese trade ministry officials said.
Comments will be moderated. Keep comments relevant to the article. Remarks containing abusive and obscene language, personal attacks of any kind or promotion will be removed and the user banned. Final decision will be at the discretion of the Taipei Times.