Taiwan aims to launch generative AI this year
Taiwan is working to launch its own version of a generative artificial intelligence (AI) in the form of a "shared model" by the end of this year, National Science and Technology Council Minister Wu Tsung-tsong (吳政忠) said on Wednesday.
Instead of a comprehensive system similar to OpenAI's ChatGPT, Taiwan's model is likely to target special areas such as finance and processing of confidential government data, Wu told a meeting of the legislature's Education and Culture Committee in Taipei.
The decision was made because Taiwan has a limited budget for technology development of NT$132.7 billion (US$4.34 billion) per year, while OpenAI has already invested US$10 billion in the field, he said.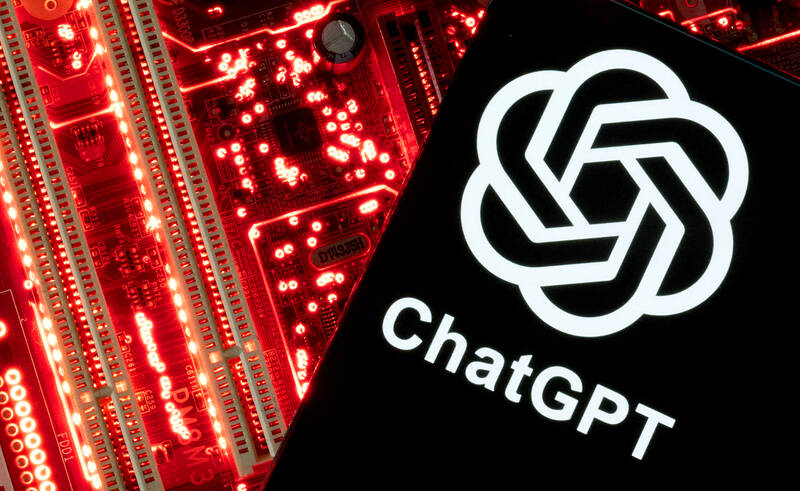 A smartphone displaying a ChatGPT logo is placed next to a computer motherboard on Feb. 23.
Photo: Reuters
Wu was responding to lawmakers' questions about Taiwan's progress in developing its own generative AI amid excitement over ChatGPT, which outputs natural text based on prompts from users.
The council is collaborating with local experts and businesses to build and edit a mega database before looking for international support to complete the advanced AI system, Wu said.
Asked about the economic impact of generative AI — as it is expected to be deployed across sectors — Wu said that "AI will not replace human beings, but people who do not take advantage of AI will be replaced by those who do."
While industry insiders expressed similar optimism about the prospects of AI, some said it was a bad idea for Taiwan to develop its own version of ChatGPT.
It would be a waste of money to create something similar to the OpenAI invention, said Sega Cheng (程世嘉), chief executive officer of AI company iKala Interactive Media Inc (愛卡拉).
Taiwan should instead develop related applications, Cheng said.
It takes practical experience and skills to develop an AI, and the government should serve as a facilitator, bringing stakeholders together to discuss the future rather than being the sole decisionmaker, he said.
Cheng urged manufacturers and other businesses to introduce advanced AI systems immediately to provide value-added services.
"AI is no longer optional, but should rather be treated as basic infrastructure," he said.
Comments will be moderated. Keep comments relevant to the article. Remarks containing abusive and obscene language, personal attacks of any kind or promotion will be removed and the user banned. Final decision will be at the discretion of the Taipei Times.