Qualcomm opens Hsinchu center
US-based mobile chip designer Qualcomm Inc yesterday opened a manufacturing engineering and testing center in Hsinchu, expanding its presence in Taiwan.
Qualcomm also expects to accelerate its purchases in Taiwan, which already rose to NT$240 billion (US$7.9 billion) last year, up from NT$90 billion five years earlier, and should hit NT$300 billion next year.
The center is to provide services for the supply chain in the semiconductor industry, Roawen Chen (陳若文), senior vice president and chief supply chain and operations officer of Qualcomm, said at the facility's inauguration ceremony.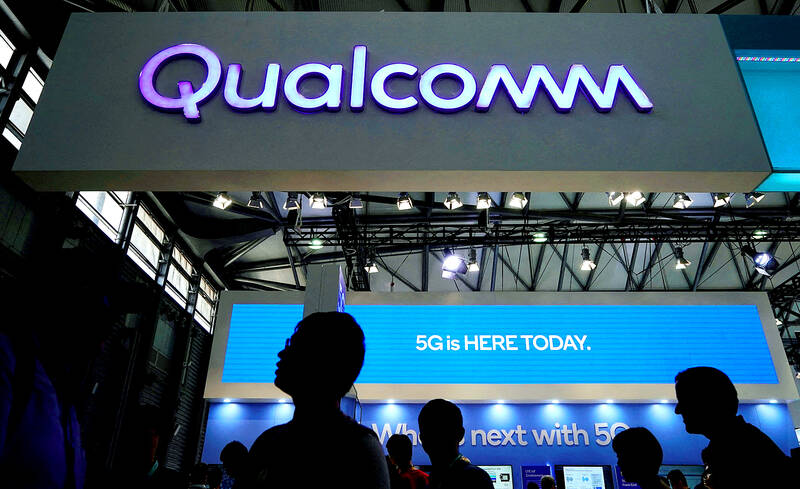 A Qualcomm sign is pictured at the Mobile World Congress in Shanghai, China, on June 28, 2019.
Photo: Reuters
It is Qualcomm's largest and most advanced engineering testing center outside of the company's headquarters in the US, Chen said.
Qualcomm's ties with Taiwan would further be strengthened when it becomes the first client of Taiwan Semiconductor Manufacturing Co's (TSMC, 台積電) 4-nanometer fab in Phoenix, Arizona, he said.
The TSMC fab is under construction and expected to start production next year.
When Qualcomm first invested in Taiwan two decades ago, it had only two employees — a hardware engineer and a salesperson — as the company worked with HTC Corp (宏達電) to develop personal digital assistants, he said.
Qualcomm now has a combined workforce of 1,700 in Taipei and Hsinchu, and has invested NT$43 billion in Taiwan to grow with the local semiconductor ecosystem, Chen said.
Last year, it generated about NT$70 billion in production value for Taiwan's information and communications technology industry, he said, citing a report by the Taiwan Institute of Economic Research (台灣經濟研究院).
Guests attending the inauguration ceremony included American Institute in Taiwan Director Sandra Oudkirk; Cliff Hou (侯永清), senior vice president of Europe and Asia sales and corporate research at TSMC, and ASE Technology Holding Co (日月光投控) chief operating officer Tien Wu (吳田玉).
Comments will be moderated. Keep comments relevant to the article. Remarks containing abusive and obscene language, personal attacks of any kind or promotion will be removed and the user banned. Final decision will be at the discretion of the Taipei Times.