Credit Suisse secures US$54bn lifeline
Credit Suisse Group AG shares soared by at least 30 percent in premarket trading yesterday after the company secured a US$54 billion lifeline from the Swiss National Bank to shore up liquidity and investor confidence that sent its stock to record lows the previous day.
Shares of Switzerland's second-largest lender were indicated at 2.18 Swiss francs, up 26 percent from Wednesday's close.
The stock fell by as much as 30 percent the previous day after Credit Suisse's largest backer said it could not offer any more financial assistance for regulatory reasons.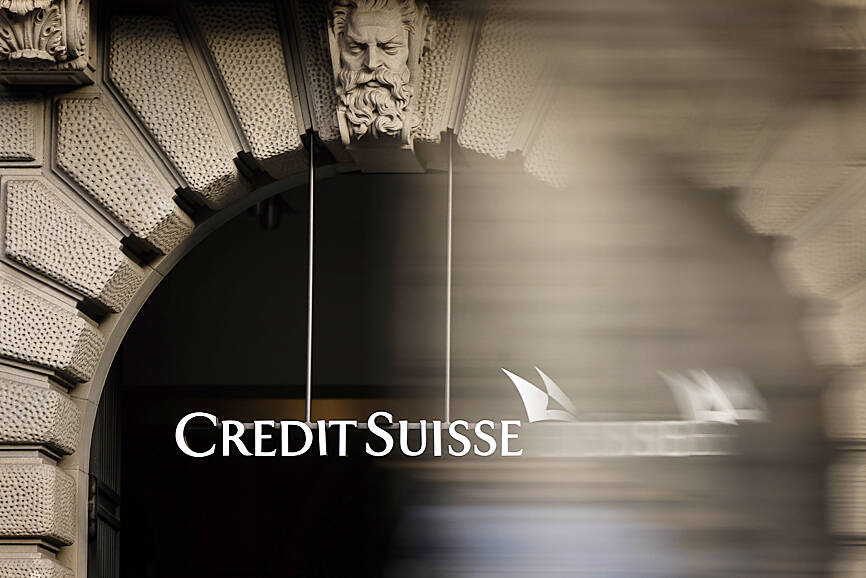 The logo of Credit Suisse is pictured at its headquarters in Zurich, Switzerland, on Oct. 27 last year.
Photo: EPA
The Swiss bank's announcement overnight helped stem heavy selling in financial markets in Asian morning trade yesterday.
Credit Suisse is to exercise an option to borrow from the Swiss central bank up to SF50 billion (US$53.8 billion), it said yesterday in a statement.
That followed assurances from Swiss authorities on Wednesday that Credit Suisse met "the capital and liquidity requirements imposed on systemically important banks," and that it could access central bank liquidity if needed.
Credit Suisse is making a tender offer to buy back up to SF3 billion of US dollar and euro-denominated debt, the statement said.
Meanwhile, the bank's top shareholder said "everything is fine" and the bank is not likely to seek more capital, the day after his comments helped spark the biggest-ever slump in the stock.
"These measures demonstrate decisive action to strengthen Credit Suisse as we continue our strategic transformation," Credit Suisse chief executive officer Ulrich Koerner said in the statement. "My team and I are resolved to move forward rapidly to deliver a simpler and more focused bank built around client needs."
Credit Suisse has been battered over the past several years by a series of blowups, scandals, leadership overhaul and legal issues.
The company's SF7.3 billion loss last year wiped out the previous decade's worth of profits, and the bank's second strategy pivot in as many years has failed to win over investors or halt client outflows.
Koerner told his staff yesterday to focus on facts as he pledged to rapidly move ahead with a plan to streamline operations.
The bank would continue to focus on the transformation of Credit Suisse from a position of strength, he said in a staff memo, citing an improved liquidity coverage ratio and recent capital raisings.
It had been a difficult week for the whole banking sector following the collapse of two US banks, Koerner said, adding that the delay of Credit Suisse's annual report had also "led to further attention on Credit Suisse."
The cost of insuring against the risk of default on Credit Suisse bonds blew out to distressed levels on Wednesday, while banking shares around the world, which had already been pummeled by the collapse of two regional US lenders in the past week, tumbled.
However, stock futures pointed to a sharply higher open for European equity markets yesterday.
The loan from the Swiss National Bank would not be enough to soothe investor concerns, JPMorgan Chase & Co analysts said.
"Status quo was no longer an option," which means a takeover for Credit Suisse is the most likely outcome, especially by larger Swiss rival UBS Group AG, they said.
The Swiss government, central bank and the Swiss Financial Market Supervisory Authority were in contact to discuss ways to stabilize Credit Suisse, Bloomberg reported earlier.
Ideas floated — beyond the public show of support — included a separation of the bank's Swiss unit and a long-shot orchestrated tie-up with UBS, people familiar with the matter said, adding that it is unclear which, if any, of these steps would actually be executed.
Additional reporting by Bloomberg
Comments will be moderated. Keep comments relevant to the article. Remarks containing abusive and obscene language, personal attacks of any kind or promotion will be removed and the user banned. Final decision will be at the discretion of the Taipei Times.