Inflation negates gains in average wage: DGBAS
SMALLER WORKFORCE: Total employee numbers dipped as exporters took a hit from a global economic slowdown and some service sectors cut temporary staff
The average monthly wage in January increased 2.3 percent year-on-year to NT$45,376 (US$1,483), but an inflation of 3.05 percent more than wiped out the gains, the Directorate-General of Budget, Accounting and Statistics (DGBAS) said yesterday.
Meanwhile, the total number of workers in the service and industrial sectors shrank by 0.3 percent, or 25,000 people, to 8.17 million, as exporters took a hit from a global economic slowdown and some service operators shed temporary staffers, the statistics agency said in a report.
"The monthly wage [adjusted for inflation] shrank by another 0.72 percent in January, as faster inflation induced by the Lunar New Year eroded the benefits of wage growth," DGBAS Census Department Deputy Director Chen Hui-hsin (陳惠欣) said.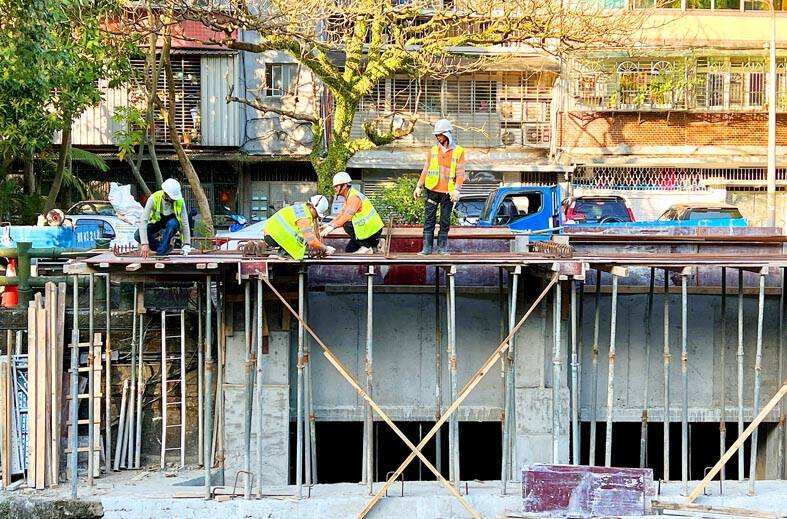 People work at a construction site in Taipei yesterday.
Photo: CNA
Against an unfavorable backdrop, manufacturers downsized their payroll by 14,000 people to cope with tepid business and save on operating costs, Chen said.
Overtime work totaled 13.4 hours in January, dropping by a milder 1.9 hours from the same time last year compared with a retreat of 2.9 hours in December, she said.
The agency is closely monitoring market changes, Chen said, adding that the latest data are not worrying.
Seasonal resignations, which tend to pick up after the Lunar New Year holiday, also contributed to the decline in employee numbers, Chen said.
The accession rate — the number of new employees added to payrolls — grew by 0.18 percentage points to 2.18 percent, while the exit rate accelerated by 0.54 percentage points to 2.48 percent, meaning more people pulled out than joined the workforce, the report said.
Total average monthly wage — including performance-based commissions, bonuses and overtime pay — was also affected by surging inflation, growing a modest 1.52 percent to NT$107,736, despite the support of year-end bonuses, it found.
Financial holding companies offered the highest average total monthly compensation of NT$509,746, followed by shipping companies at NT$284,823, banks at NT$281,829 and telecoms at NT$25,141, it said.
Year-end bonuses and other perks averaged NT$62,360 in January, the agency said.
By contrast, service providers focused on domestic demand, such as travel agencies, offered a relatively low overall wage of NT$51,649, while hotels and restaurants paid NT$50,404, it said.
Comments will be moderated. Keep comments relevant to the article. Remarks containing abusive and obscene language, personal attacks of any kind or promotion will be removed and the user banned. Final decision will be at the discretion of the Taipei Times.