TSMC mulling German fab feasibility
DRESDEN TECH HUB: A Europe plant would buffer the firm from geopolitical risks and better serve EU clients, sources said, although no decision has been made, TSMC said
Taiwan Semiconductor Manufacturing Co (TSMC, 台積電) is studying the feasibility of a fab in Europe, the chipmaker said in response to a Taiwanese media report stating that it is planning to build a plant in Dresden, Germany.
The Chinese-language Commercial Times reported yesterday that the company has chosen the German semiconductor hub of Dresden for a fab, with production slated to start in 2025.
The report said the investment in Germany would meet strong European demand for TSMC's specialty processes and mitigate potential geopolitical barriers.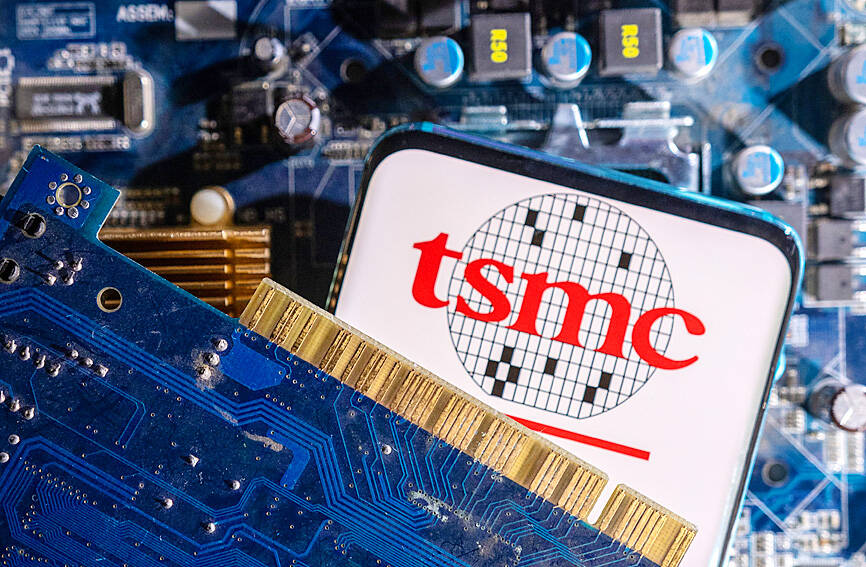 A Taiwan Semiconductor Manufacturing Co logo is shown in an illustration made on Monday last week.
Photo: Reuters
Citing sources from within TSMC's supply chain, the report said the proposed fab would make use of Dresden's comprehensive semiconductor ecosystem and better serve its EU clients.
Major international semiconductor firms including Infineon Technologies AG, Robert Bosch GmbH, GlobalFoundries Inc, X-Fab Silicon Foundries SE and NXP Semiconductors NV have run fabs in Dresden, while semiconductor equipment suppliers, including Applied Materials Inc, ASML Holding NV and Siltronic AG have also established production bases in the city.
TSMC is building fabs in Arizona to manufacture chips using 4-nanometer (nm) and 3nm processes, with mass production scheduled to begin next year.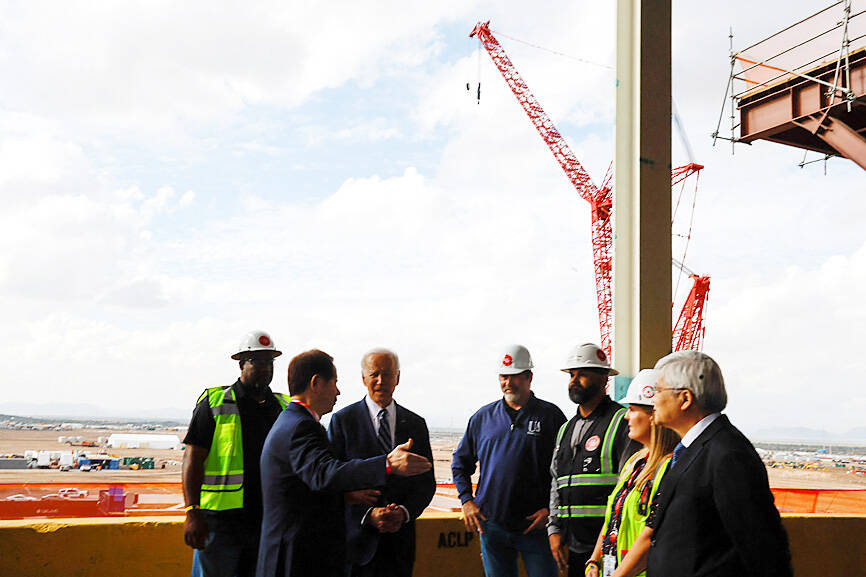 US President Joe Biden speaks with Taiwan Semiconductor Manufacturing Co chairman Mark Liu on Dec. 6 last year during a visit to a chip plant being constucted in Phoenix, Arizona.
Photo: Reuters
It is also building a plant in Japan that is to use the company's 12nm, 16nm and 22nm processes, as well as 28nm specialty technology, with commercial production expected to start next year.
TSMC last week said it considers clients' needs and available government support when choosing locations for new ventures.
It is considering building a fab in Germany to develop chips used in automotive electronics and specialty processes, TSMC said, adding that a second fab in Japan is also being discussed.
The company is assessing plans for a German plant and no decision has been made, TSMC spokeswoman Nina Kao (高孟華) said.
However, an editorial published yesterday by Taiwan's Central News Agency (CNA) said that the EU should not get a Taiwanese semiconductor plant if the European Commission does not engage in trade talks with Taipei.
The EU seeks chip investments to safeguard its supply chain, but without help from the likes of TSMC and Intel Corp, the EU could find it difficult to secure advanced chipmaking capabilities, the editorial said.
"The EU wants Taiwan to set up chip plants, but for Taiwan there is no need to do so from a corporate perspective," CNA wrote. "If the EU only wants chips from Taiwan but shies away from talking diplomacy, will Taiwan, with its global strategic assets, be this naive?"
Tensions between Beijing and Taipei have escalated as the US asserts its power to counter China's influence in the region.
Taiwan's dominant role in the global market for advanced chips is boosting its strategic position, while the country has been aggressively seeking to deepen trade and other relations with the West.
The CNA editorial also criticized an EU official for saying that the 27-member bloc did not need a bilateral investment agreement with Taiwan.
European External Action Service Asia Pacific managing director Gunnar Wiegand on Wednesday last week said that stable conditions and a well-functioning legal system in Taiwan meant it was "rational" for the EU not to seek such an agreement.
Comments will be moderated. Keep comments relevant to the article. Remarks containing abusive and obscene language, personal attacks of any kind or promotion will be removed and the user banned. Final decision will be at the discretion of the Taipei Times.