Bankers urge Silicon Valley Bank buyout
DOMINO EFFECT FEARED: The collapse of start-up-focused SVB could affect its regional peers, some executives said, calling on financial authorities to protect unisured deposits
Some financial industry executives and investors were on Saturday growing increasingly concerned that the collapse of Silicon Valley Bank (SVB) could have a domino effect on other US regional banks if regulators did not find a buyer over the weekend to protect uninsured deposits.
Start-up-focused lender SVB Financial Group on Friday became the largest bank to fail since the 2008 global financial crisis, roiling markets and leaving billions of US dollars belonging to companies and investors stranded.
The Federal Deposit Insurance Corp (FDIC), which was appointed receiver, was trying to find another bank over the weekend that was willing to merge with Silicon Valley Bank, people familiar with the matter said on Friday.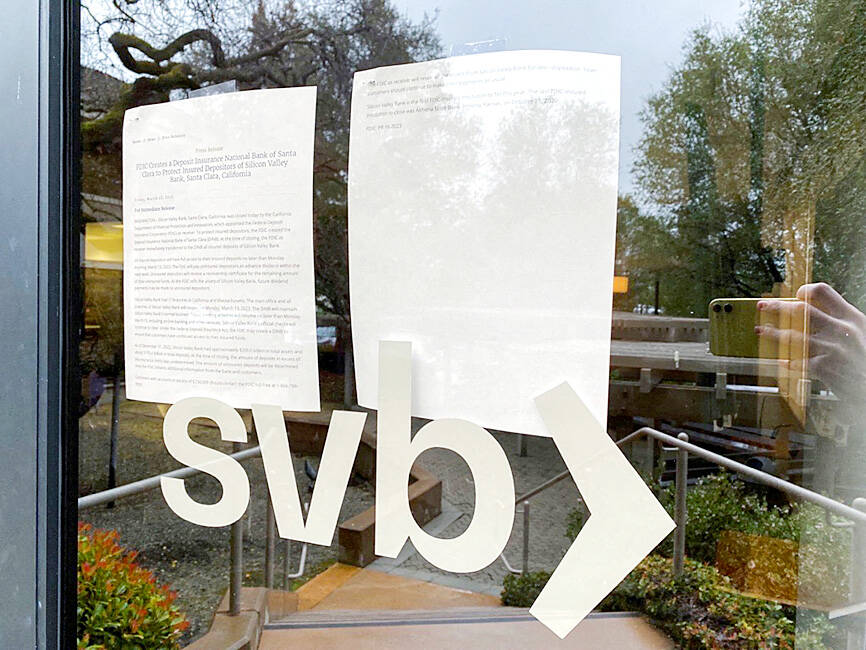 Notifications on Friday inform Silicon Valley Bank clients that the branch of the bank in Menlo Park, California, is to remain closed for the day.
Photo: Reuters
Reuters was unable to determine whether a deal was forthcoming.
Some industry executives said such a deal would be sizeable for any bank, and would likely require regulators to give special guarantees and make other allowances for any buyer.
With US$209 billion in assets, the Santa Clara, California-based lender was the 16th largest US bank, making the list of potential buyers who could pull off a deal over the weekend relatively short, they said on condition of anonymity because the situation is in flux.
The US Federal Reserve and FDIC were weighing the creation of a fund that would allow regulators to backstop more deposits at banks that run into trouble, Bloomberg reported.
Regulators discussed the new special vehicle in talks with bank executives and hoped such a measure would reassure depositors and help contain any panic, the report said.
However, it was not clear whether regulators would have political support to throw a lifeline to the bank, which catered to Silicon Valley start-ups and investors.
The Fed and FDIC did not immediately respond to requests for comment.
The White House on Saturday said US President Joe Biden had spoken with California Governor Gavin Newsom about the bank and efforts to address the situation.
"Everyone is working with FDIC to stabilize the situation as quickly as possible," Newsom said on Saturday.
Some analysts and prominent investors warned that without a resolution by today, other banks could come under pressure if people worried about their deposits.
"The good news is it is unlikely an SVB-style bankruptcy will extend to the large banks," risk and financial advisory firm Kroll LLC said in a research note.
However, small community banks could face issues, Kroll said, adding that the risk is "much higher if uninsured depositors of SVB aren't made whole and have to take a haircut on their deposits."
SVB had an unusually high level of deposits that were not covered by FDIC guarantees, which are capped at US$250,000.
Billionaire hedge fund manager Bill Ackman wrote on Twitter that failure to protect all depositors could lead to the withdrawal of uninsured deposits from other institutions as well.
"These withdrawals will drain liquidity from community, regional and other banks, and begin the destruction of these important institutions," Ackman said.
Hayman Capital Management chief investment officer Kyle Bass said that the Fed needed to "arrange a marriage" for SVB before markets open in Asia today.
"And they've got to assure depositors that they will be paid in full because of this merger, and restore stability in the banking system," he added.
Some banks could look to pre-emptively raise capital to fortify their balance sheets, industry executives said.
However, some experts see the fallout from the SVP collapse as limited.
"We do not see this as the start of a broader threat to the safety and soundness of the banking system," TD Cowen Inc analyst Jaret Seiberg said on Friday. "Silicon Valley had a unique business model that was less dependent on retail deposits than a traditional bank."
Comments will be moderated. Keep comments relevant to the article. Remarks containing abusive and obscene language, personal attacks of any kind or promotion will be removed and the user banned. Final decision will be at the discretion of the Taipei Times.