Syrians risk their lives for 'treat dipped in blood'
More than 130 truffle hunters have been killed so far this season, mostly in ambushes by militants or in landmine blasts, but the valuable delicacy can sell for up to US$25 per kilogram in a country where the average monthly wage is about US$18
At a Syrian market, bags are brimming with desert truffles, a seasonal delicacy that people risk their lives to collect, braving Islamic State group attacks and landmines.
"It's a treat dipped in blood," said vendor Mohammed Salha, 31, showing off truffles he spent a week collecting near his village in the central province of Hama.
"Every day I leave my house not knowing whether I will come back to my wife and daughter," he said, dark circles lining his eyes.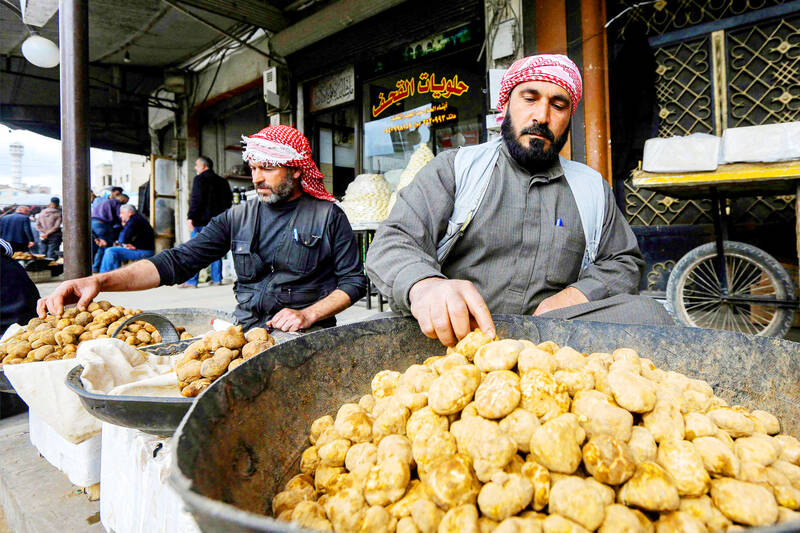 A merchant sorts through desert truffles at a market stall in Hama, Syria, on Monday.
Photo: AFP
"We risk our lives ... but we don't care anymore, we want to feed our children," he said.
Between February and April every year, hundreds of impoverished Syrians search for the money-spinning delicacy in the vast Syrian Desert, or Badia — a known hideout for militants that is also littered with landmines.
So far this season, more than 130 truffle hunters have been killed, mostly in ambushes by militants or in landmine blasts, the Syrian Observatory for Human Rights war monitor said.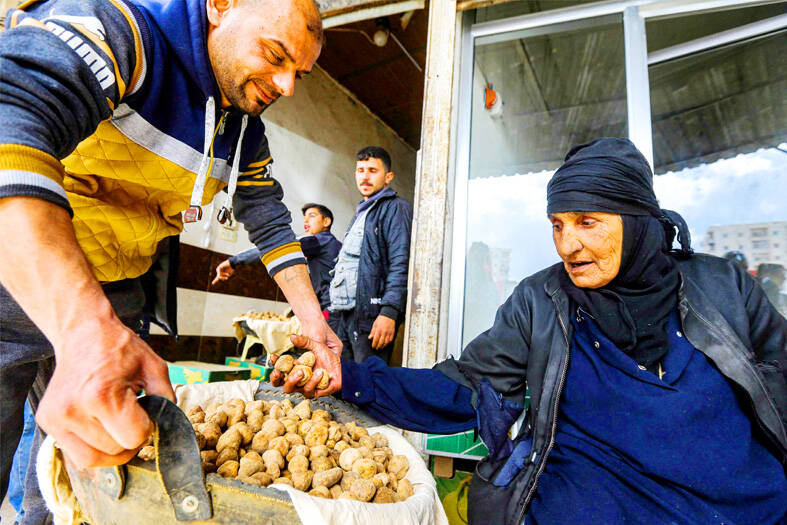 A merchant assists a woman as she sorts through truffles at a market in Hama, Syria, on Monday.
Photo: AFP
Known for their high quality, Syria's desert truffles fetch high prices in a country battered by 12 years of war and a crushing economic crisis.
At the market in the city of Hama, truffles can sell for up to US$25 per kilogram depending on their size and grade. In Syria the average monthly wage is about US$18.
"We make big profits during the two months of the truffle season, but we risk our lives," Salha said.
Truffles big and small bulged from baskets, trays and hessian bags, some propped up on plastic crates or sitting on the footpath.
"Auction. Auction," yelled one of dozens of vendors as wholesale buyers crowded around to bid for a 50kg lot.
Seller Omar al-Boush opened the auction at the equivalent of US$4.50 per kilogram in Syrian pounds — and the price had soon almost doubled.
"We have types of truffles suited to people with middle class incomes," he said.
"Some families prefer to buy truffles instead of meat," al-Boush said, placing large white truffles on his stall.
Different types of truffles are collected in the desert, which stretches across central Syria to the eastern border with Iraq.
The black truffle found in desert areas of Hama and Aleppo provinces fetches the highest prices, Sellers said.
Jamaleddine Dakak, a wholesaler from Damascus, said some traders buy high-quality truffles and export them to neighboring Iraq and Lebanon, while others are reportedly smuggled to rich Gulf countries through Jordan.
Sitting behind a stall, vendor Yusuf Safaf said he bought his truffles from Bedouin who came to Hama in the mornings — some with "blood on their clothes."
"Some have lost family members while collecting truffles — but they keep doing it ... because they have no choice," he said.
"There are landmines, bandits and vast stretches" where the Islamic State is present, Safaf said, adding "People sacrifice their lives... just to support themselves."
Foragers take the risk despite repeated warnings in the Syrian media.
In one report earlier this month, a military source warned people against hunting for truffles "as some areas have not yet been declared safe" from landmines and Islamic State fighters.
Jihad al-Abdullah lost his leg when a mine exploded as he was driving to collect truffles east of Hama.
He now gets around on crutches, yet he said he still sometimes goes out foraging and has spent much of this season selling truffles his brothers have collected.
"I have nothing to lose after I lost my leg," said Abdullah, stretched out on the ground near his stall. "I continue my work to make a daily living. The rest is up to God."
Across the country, more than 10 million people live in areas contaminated by explosive hazards, the UN says.
Explosives planted in fields, along roads or even in buildings by all sides in Syria's conflict killed 15,000 people between 2015 and last year, UN figures showed.
Abdullah said that collecting truffles is like playing a game of cards.
"Sometimes you win, sometimes you lose," he said. "It's a gamble that I have accepted."
Comments will be moderated. Keep comments relevant to the article. Remarks containing abusive and obscene language, personal attacks of any kind or promotion will be removed and the user banned. Final decision will be at the discretion of the Taipei Times.