Kura Sushi Asia shares plunge on weak profits
Kura Sushi Asia Co (亞洲藏壽司), a Taiwanese subsidiary of Japanese sushi chain Kura Sushi Inc, yesterday saw its stock dive by the daily limit after posting lackluster fourth-quarter results.
Shares of Kura Sushi Asia closed down 9.83 percent to NT$183.50, after the company on Thursday reported modest earnings of NT$1.16 per share for the October-to-December period on revenue of NT$1.02 billion (US$33.07 million), its second-highest on record, Taiwan Stock Exchange data showed.
Earnings were affected by foreign-exchange losses, as the Japanese yen's rebound prompted investors to cut their holdings in the sushi chain, analysts said.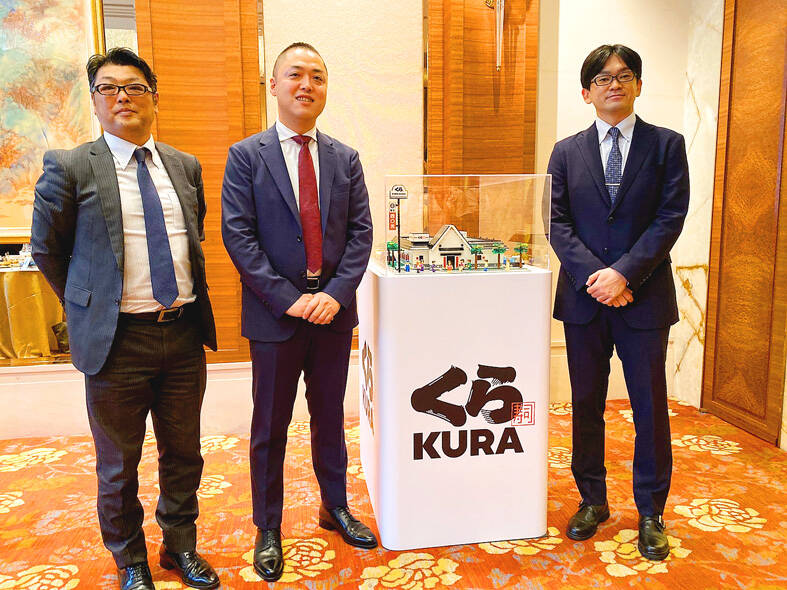 Executives from Japan's Kura Sushi Asia Co attend a news conference in Taipei on Aug. 12, 2020.
Photo: Amy Yang, Taipei Times
Still, net income for the full year gained nearly 10 percent to a record NT$240.09 million, or earnings of NT$5.21 per share, company data showed, as the restaurant chain benefited from consumption after the government eased COVID-19 restrictions and people grew less afraid of contracting the virus.
The phenomenon explained why revenue for last year surged 52.26 percent to NT$3.85 billion, it said.
Kura Sushi Asia operates 50 restaurants across Taiwan, mostly in conveniently located shopping malls and department stores that feature Japanese sushi, pasta, desserts, drinks and other products. The company also markets its products worldwide.
Revenue last month jumped 18.74 percent year-on-year to NT$320 million, helped by the long 228 Memorial Day holiday, the company said.
Cumulative sales for the first two months rose nearly 40 percent to NT$838 million, it added.
Kura Sushi Asia said it plans to open a new outlet in Kaohsiung after meeting its goal of operating 50 stores in Taiwan.
The company's board yesterday approved a plan to invest 30 million yuan (US$4.3 million) in China later this year.
There is no leading conveyor belt sushi bar brand in the Chinese market, which is favorable to Kura Sushi's plan to expand across the Strait, the company said.
The company will slow down its pace of expansion in Taiwan, which is to serve as the springboard for its ventures into China and Southeast Asia, it said.
Shanghai will be the next focus of revenue growth, aided by Kura Sushi being one of Japan's top three sushi operators, with more than 400 outlets in the North Asian country, it said.
In other news, Kaohsiung-based Hi-Lai Foods Co (漢來美食) said it is to step up efforts to stimulate sales after revenue last month weakened 37.33 percent from January to NT$365 million, as the holiday effect faded.
The restaurant chain said it is to offer assorted discounts and promotion campaigns to woo customers.
Comments will be moderated. Keep comments relevant to the article. Remarks containing abusive and obscene language, personal attacks of any kind or promotion will be removed and the user banned. Final decision will be at the discretion of the Taipei Times.