Hon Hai signs green energy MOU
Hon Hai Precision Industry Co (鴻海精密) yesterday said it has inked a memorandum of understanding (MOU) with CDIB Capital Group (中華開發資本) to create a green energy venture with initial capital of NT$6 billion (US$194.74 million), with an aim to help supply chain partners gain better access to clean energy.
The newly created Kai-Hong Energy Co (開鴻能源) would invest in renewable energy projects in Taiwan, such as solar and wind energy, and energy storage facilities, catering to the growing demand for green energy as major technology companies in the US and Europe join zero carbon emission plans, and have asked their local partners to follow suit, the MOU says.
Hon Hai and CDIB Capital would each hold an insignificant stake in Kai-Hong Energy, allowing their supply chain partners to secure a share of the new venture, it says.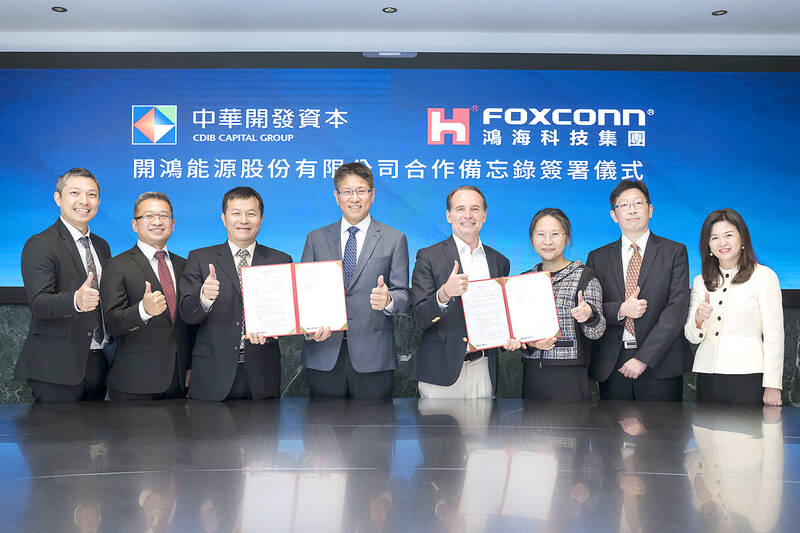 Hon Hai Precision Industry Co spokesman James Wu, fourth left, CDIB Capital Group vice chairman Lionel de Saint-Exupery, fourth right, CDIB Capital acting president Melanie Nan, third right, and other executives pose for a photograph at a signing ceremony in Taipei yesterday.
Photo courtesy of Hon Hai Precision Industry Co
The two firms are to meet with executives from companies in their supply chain today to discuss details about how to invest in Kai-Hong Energy, it said.
"Kai-Hong Energy is the first green energy investment platform jointly created by companies from the technology and financial sectors," Hon Hai spokesman James Wu (巫俊毅) said in a joint statement. "The venture would help the local industry's transition to green energy by securing more clean energy sources."
CDIB Capital has expertise in renewable energy, as the private equity fund has been handling investment and financing arrangements for private power plants since Taiwan in 1995 deregulated the industry, the statement said.
In the long run, the venture aims to generate substantial returns, and create a win-win situation for local companies, financial institutions and green energy developers, it said.
In a separate statement, Hon Hai said it has signed an agreement with We Energies to install 2,000 solar panels at its manufacturing campus in Wisconsin. The one-megawatt project is capable of producing enough energy to power 300 homes.
We Energies is a Wisconsin-based utility company of WEC Energy Group.
The solar installations are to supply 1.5 megawatts per hour to production lines there, Hon Hai said.
We Energy Group plans to seek approval from the Wisconsin state government to install solar panels this spring, it said.
Hon Hai has invested more than US$1 billion in the Wisconsin plant and hired more than 1,000 employees. The plant produces servers and motherboards.
Comments will be moderated. Keep comments relevant to the article. Remarks containing abusive and obscene language, personal attacks of any kind or promotion will be removed and the user banned. Final decision will be at the discretion of the Taipei Times.