HD Renewable eyes long-term growth in TIB debut
EXPANDING: Solar power made up more than 90 percent of its revenue over the past two years, as it seeks to focus on building over fisheries this year, it said in a TWSE filing
HD Renewable Energy Co Ltd (泓德能源), which on Monday debuted its shares on the Taiwan Innovation Board (TIB), aims to secure long-term growth by investing in solar power, developing charging systems and expanding its trading of renewable energy, it said.
"It is our goal to become a smart electricity company, to make renewable energy more available and accessible for the public," HD Renewable chairman Hsieh Yuan-yi (謝源一) told a news conference at the Taiwan Stock Exchange (TWSE).
The company, with paid-in capital of NT$850 million (US$27.78 million), focuses on the construction of solar power facilities, the trading of renewable energy and the development of storage systems for renewable energy.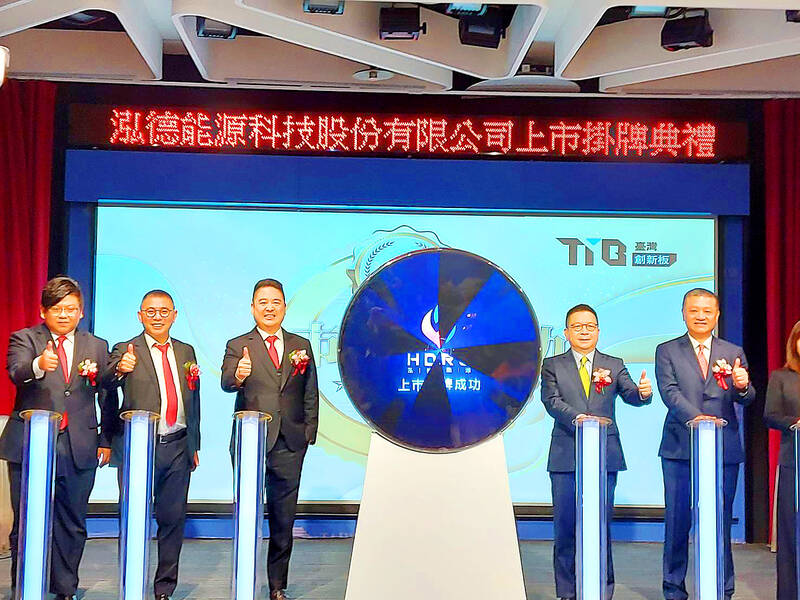 From left, HD Renewable Energy Co chief financial officer Liao Yen-kai, general manager Jason Chou, chairman Hsieh Yuan-yi, Taiwan Stock Exchange chairman Sherman Lin and SinoPac Securities Co president Chang Lee Chang-lung pose for a photograph at the Taiwan Stock Exchange in Taipei on Monday.
Photo: Chen Yung-chi, Taipei Times
HD Renewable has worked with several life insurance companies to invest in and develop solar power with a total capacity of more than 100 megawatts, the company said.
Last year, the firm helped suppliers of solar power sell electricity to domestic buyers, including small and medium-sized companies, and partnered with Taiwan FamilyMart Co (全家便利商店) to provide charging services for electric scooters, Hsieh said.
Revenue from the solar power plant business — through which it offers engineering procurement and construction services — made up more than 90 percent of its revenue over the past two years, its prospectus filed with the Taiwan Stock Exchange showed.
The company also obtained revenue from maintenance services and power trades. It sells electricity through its subsidiaries Star-renewables Corp (星星電力) and Star Charger (星舟快充), the prospectus showed.
This year, the company is to focus on a fishery-and-electricity symbiosis project, in which solar panels are installed over fish ponds, as a way to expand solar capacity despite land availability issues and tight regulations, it said in the prospectus.
In the long term, the company would concentrate on renewable energy trades to meet rising demand to lower carbon emissions among local firms, it added.
HD Renewable reported record revenue of NT$5.06 billion for last year, up 88 percent from a year earlier, with net profit of NT$650 million, or earnings per share of NT$8.18, the highest since its establishment in 2016.
HD Renewable became the first company to list on the Taiwan Innovation Board this year and the second after micro-LED supplier PlayNitride Inc (錼創科技), which started trading its shares on the new board in August last year.
The Taiwan Stock Exchange launched the TIB for start-ups in July 2021. Several companies in the electric scooter, renewable electricity, biotech and cloud technology businesses are planning to submit their applications for listing on the board later this year, Taiwan Stock Exchange chairman Sherman Lin (林修銘) said on Monday
The exchange aims to seek 10 applicants for the new trading board this year and more than 10 next year, Lin added.
Comments will be moderated. Keep comments relevant to the article. Remarks containing abusive and obscene language, personal attacks of any kind or promotion will be removed and the user banned. Final decision will be at the discretion of the Taipei Times.