Demand is high for British scones in Zimbabwe, despite its colonial history
A sweet doughy treat from Britain has become a beloved part of Zimbabwe's national cuisine, where despite the country's colonial past, mothers and chefs alike claim the pastry as their own.
The scone, which Brits normally enjoy with afternoon tea, is ubiquitous in Harare, the southern African country's capital. A breakfast favorite in these parts, it can be found everywhere from high-end eateries to the market stalls of impoverished townships.
"We love scones. They are not British, they are ours, our local scones," rights activist Nyari Mashayamombe said, as she left an upmarket restaurant in Harare's Belgravia district, its garden dotted with open umbrellas.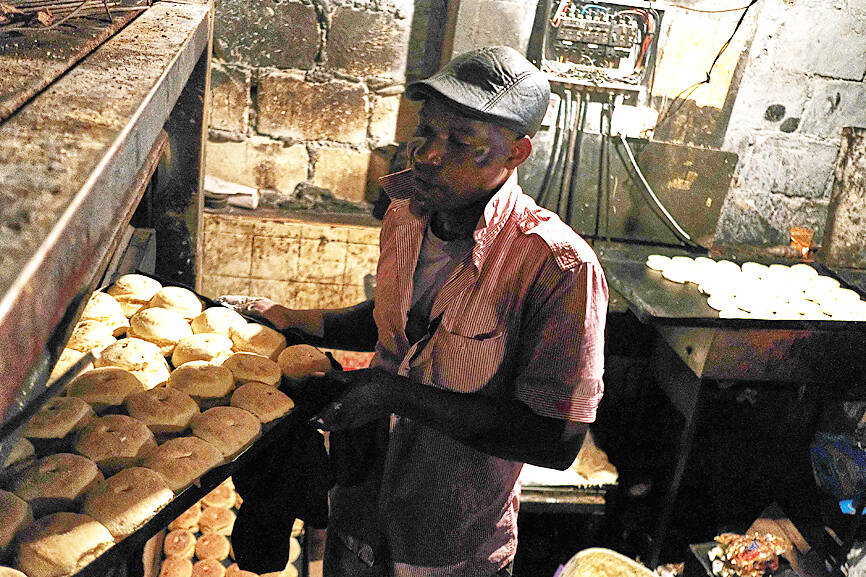 Baker Tawanda Mutyakureva inspects a tray full of hot scones in the bread oven at a communal bakery in Harare, Zimbabwe, on Feb. 16.
Photo: AFP
Dense yet airy, Zimbabwean scones are the result of the intercultural mix that came with colonization, said Mashayamombe, a red-haired 42-year-old who is also a singer and media personality.
In "fancy places like here... a beautiful scone goes as high as six bucks," she said, referring to the US dollars that have become Zimbabwe's parallel and preferred currency. "It's worth it."
A few kilometers away at a market in Harare's oldest township of Mbare, scones are impossible to find after midday.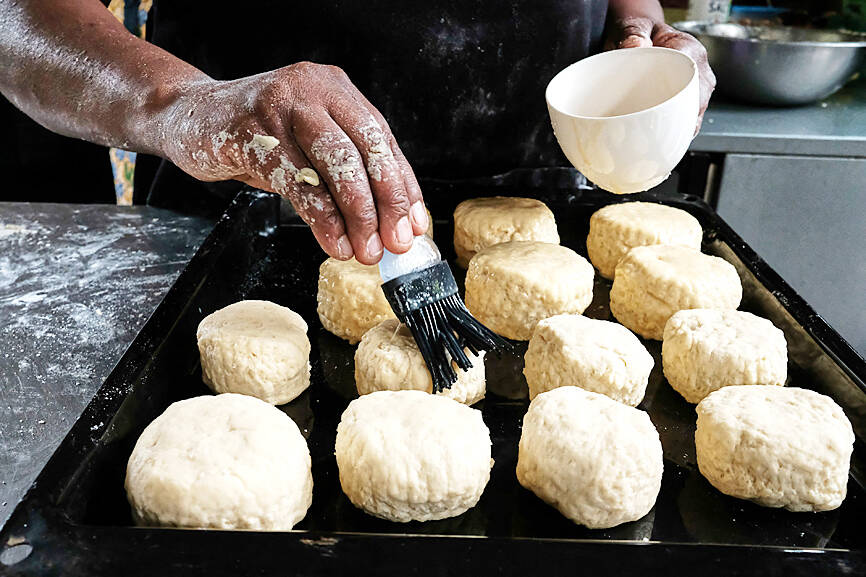 Veronica Makonese brushes beaten egg on scone dough at the Bottom Drawer restaurant in Harare, Zimbabwe, on Feb. 16.
Photo: AFP
"We sold them all this morning. They move quickly," one vendor said
The main communal bakery in Mbare, a bustling working-class district, opens at dawn.
Tawanda Mutyakureva, 26, arrives at about 5am to his work station, measuring 2m2, where he has to bend over to spread the dough on a knee-height countertop.
Every day he cranks out about 200 scones in an overheated room with cinder-block walls, lit by two bulbs hanging from a wire. Brandishing a cookie cutter, he works quickly to whip out one batch after another, with each scone selling for US$0.25.
In the hot, humid atmosphere redolent of yeast, his wife — with their baby strapped to her back — helps him with buttering the pastries and clearing plates. Resellers come in to buy 10 or 20 pieces to be sold at small grocery stores.
Memory Mutero, 46, was at the bakery to buy bread, as she makes her own scones at home.
"I make scones for my three kids. It takes about 45 minutes," she said.
Her ingredients are simple: flour, salt, yeast, sugar, butter and milk.
At the Bottom Drawer, an upscale tearoom in Harare, cook Veronica Makonese is unimpressed after tasting a scone brought back from the township.
"There is no milk in those, they used water," the 46-year-old cook said.
A white kerchief on her head, Makonese said she makes her own buttermilk for her scones, to control temperature and acidity levels, and uses only real butter to ensure the proper taste and softness.
Her boss, Sarah Macmillan, a 53-year-old Zimbabwean, said she longs for the scones she would eat as a child.
Back then, two shops in the center of Harare, now closed, competed for the crown of best scone in the country, and Macmillan wanted her tearoom to make some that are "just as good."
The secret of the little cake's enduring success, in a country struggling with endemic poverty, is simple, Macmillan said.
"It's very filling and affordable," she said.
Comments will be moderated. Keep comments relevant to the article. Remarks containing abusive and obscene language, personal attacks of any kind or promotion will be removed and the user banned. Final decision will be at the discretion of the Taipei Times.