Lazard backs TSMC after Buffett sells stake
Lazard Asset Management LLC said it has been scooping up shares of Taiwan Semiconductor Manufacturing Co (TSMC, 台積電), the chipmaker that Warren Buffett's Berkshire Hathaway Inc abruptly unloaded last month without explanation.
Berkshire's reversal on TSMC was an uncharacteristic move for the world's most famous buy-and-hold investor. The Omaha, Nebraska-based conglomerate on Feb. 15 said that it had slashed its stake by 86 percent, sending the company's shares tumbling as investors tried to figure out why.
Just three months earlier, Berkshire's stake was worth about US$5 billion, Bloomberg calculations showed.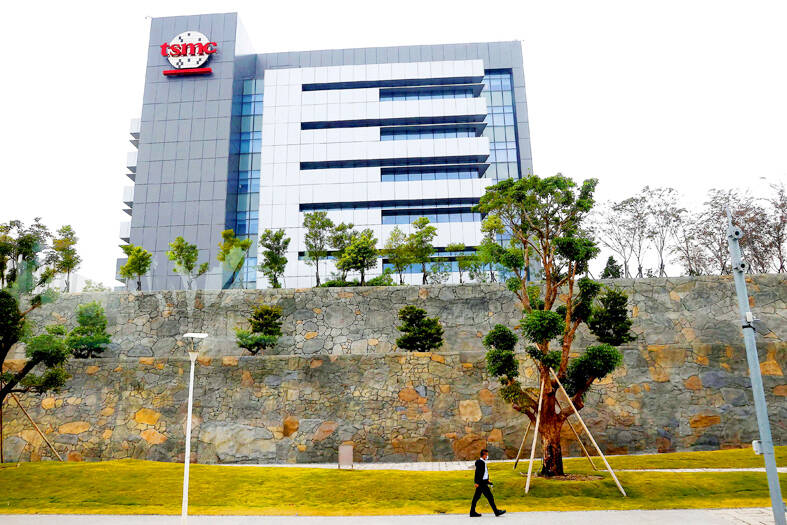 A person walks pass a Taiwan Semiconductor Manufacturing Co building in Tainan on Dec. 29 last year.
Photo: Ann Wang, Reuters
A representative for Berkshire did not respond to a request for comment on the sale.
Lazard declined to say whether it had added to its TSMC stake since the Berkshire filing, but at the portfolio management unit of Lazard, one of the world's best-known investment and advisory firms for emerging markets, TSMC is now the second-biggest holding in its emerging-markets equity portfolio by value, data compiled by Bloomberg showed.
James Donald, the US$184 billion fund's New York-based head of emerging markets, told Bloomberg a week after the Berkshire news that TSMC is one of his top stocks and he has been buying more lately because it is "much more of a mispriced security today than it was before."
He cited the company's price-to-earnings ratio, which has dropped to about 13 from more than double that, compared with a return on equity of more than 30 percent.
Lazard started buying the stock in 2006 and Donald said he nearly exited it, too, when valuations started to look too frothy a couple years ago.
"We were very close to selling our entire position, we still had some upside, but not a lot, and then the stock derated over the course of last year," he said. "Since then we have been adding to our positions."
The stock has 30 "buy" ratings out of 33 analyst recommendations on Bloomberg, with no "sell" calls. That makes Berkshire's decision to exit appear to be even more of an outlier.
Lazard's US-listed emerging-markets equities fund is up 6.9 percent so far this year, outperforming more than 90 percent of peer funds and the MSCI index, which is up 2.5 percent, data compiled by Bloomberg showed.
While Berkshire has not elaborated on the reasons for its reversal on TSMC, Charles Munger, the company's 99-year-old vice chairman, talked about the company at an annual shareholders' meeting for news publisher Daily Journal Corp last month.
TSMC is "the strongest semiconductor company on Earth," he said, but the business is difficult, there is no guaranteed long-term winner and competing in semiconductors requires enormous amounts of spending.
"The semiconductor industry is a very peculiar industry. In the semiconductor industry, you have to take all the money you've made, and with each new generation of chips, you throw in all the money you've previously made, so it's a compulsory investment of everything you want to stay in the game," Munger said. "Naturally, I hate a business like that."
For Donald, though, TSMC's ability to generate return on lavish capital expenditure is a positive.
"They have spent substantially on capital expenditure, but they have been one of the relatively few companies that have done that and still made very, very good profits," he said. "It is a rare thing in our opinion to see companies to spend heavily on capex, but be able to get a very good return on that."
Comments will be moderated. Keep comments relevant to the article. Remarks containing abusive and obscene language, personal attacks of any kind or promotion will be removed and the user banned. Final decision will be at the discretion of the Taipei Times.