PMI ends 7 months of declines
SHORT FEBRUARY: More working days last month than in previous years was a factor in the 11-point gain in PMI value, despite seasonal adjustments, an official said
The official manufacturing purchasing managers' index (PMI) last month rebounded to 51.4, ending seven months of declines, as most sectors reported improvements, the Chung-Hua Institution for Economic Research (CIER, 中華經濟研究院) said yesterday.
CIER president Yeh Chun-hsien (葉俊顯) said that the manufacturing industry's operating conditions appear to be in the process of bottom-building, although it is premature to speculate on a solid recovery, as visibility remained poor and a holiday effect was lingering.
"More working days in February this year was a factor in the advance of 11 points in the latest PMI value, despite seasonal adjustments," Yeh said.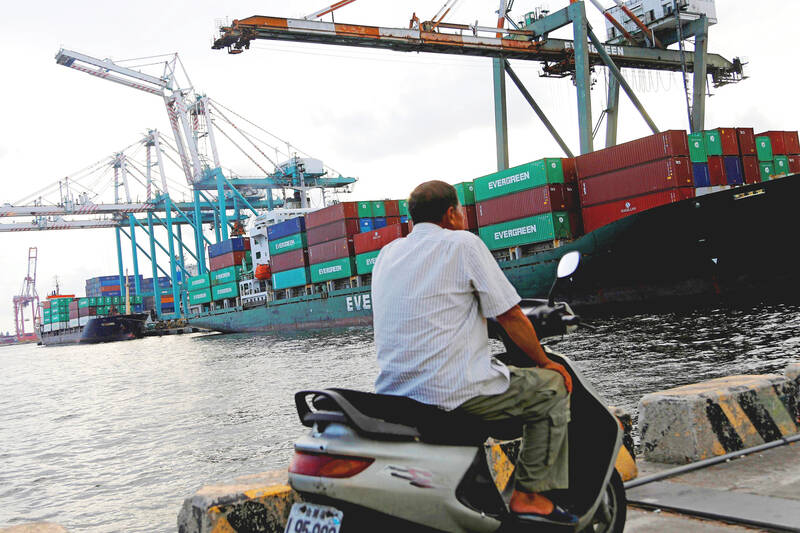 A man sits on a scooter in front of an Evergreen Marine container ship at Kaohsiung Port on Aug. 7, 2017.
Photo: Tyrone Siu, Reuters
PMI data aim to measure the health of the manufacturing industry, with values of 50 and higher indicating expansion and scores lower than the threshold signifying contraction.
Taiwan is home to the world's major contract suppliers of electronics used in smartphones, notebook computers, servers and high-performance computing for US technology titans.
A sustained recovery depends a lot on global inflation and the US Federal Reserve's monetary policy stance, Yeh said, adding that the Fed sounded dovish early last month, judging from its moderate rate hike of 0.25 percentage points.
However, the Fed faces pressure to tighten more after latest US inflation data proved stronger than expected, he said.
The subindex for new business orders gained 16.7 points to 51.1, while the reading on industrial output soared 30.3 points to 62.4, the CIER's monthly survey found.
Last month had more working days than a typical February because the Lunar New Year holiday fell entirely in January, Yeh said.
The subindices on employment, delivery times and customer inventory levels gained ground, although they remained in the contraction zone, the survey showed.
The six-month business outlook gained 5.8 points to 44.7 as firms recovered some confidence, CIER researcher Chen Shin-hui (陳馨蕙) said.
The outlook improvement helped bolster prices for raw materials, with the measure rising 8.1 points to 62.6, reversing eight months of downturns, the survey showed.
The increase in prices for raw materials helped drive the PMI rebound, suggesting little improvement in demand, Yeh said, adding that the result would add to inflationary pressure.
It is better to wait for data from this month and next month to gain a better understanding of markets, he said.
The Taipei-based think tank said that firms should build inventory of critical raw materials and closely monitor economic twists in China.
The non-manufacturing index edged up 0.1 points to 50.2, expanding for the fourth consecutive month, the institute said.
Business activity gained momentum in the construction and property sectors, as well as at non-school education providers, it said.
Service providers such as restaurants, hotels and retailers remained upbeat about their operations six months ahead, while other sectors were relatively conservative, it said.
Comments will be moderated. Keep comments relevant to the article. Remarks containing abusive and obscene language, personal attacks of any kind or promotion will be removed and the user banned. Final decision will be at the discretion of the Taipei Times.