Taiwan ranks fourth in economic freedom index
Taiwan was among the only four countries that made it into the "Free" category in the Index of Economic Freedom released by the US Heritage Foundation this week.
Taiwan's score rose 0.6 points from last year to 80.7, clearing the 80 threshold to enter the "Free" category for the second consecutive year, at fourth place among 186 countries on the index. It was in the sixth place in the 2021 listing.
Singapore topped this year's index, followed by Switzerland and Ireland.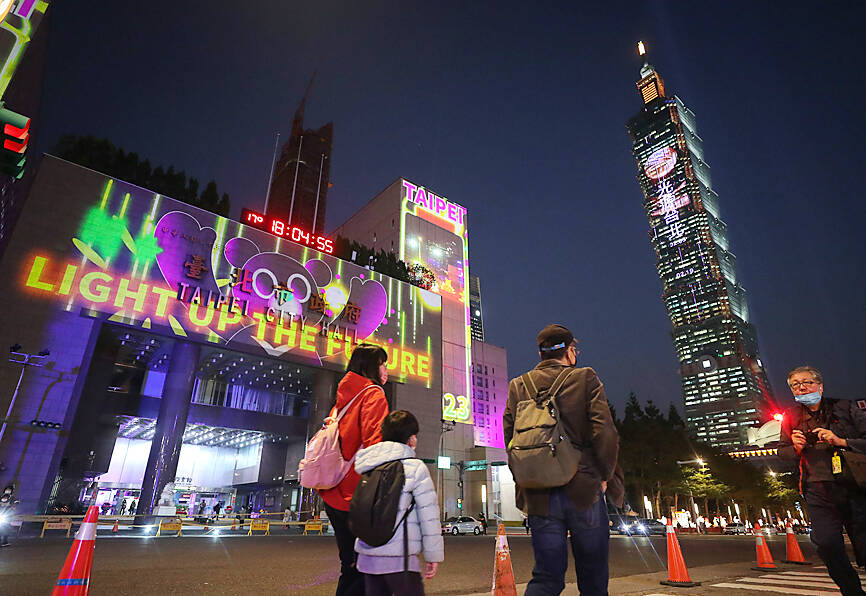 People walk past Taipei City Hall in Xinyi District on Jan. 31. Taiwan has been ranked fourth in the Heritage Foundation's global economic freedom index.
Photo: CNA
New Zealand, Luxembourg and Estonia, which were in the "Free" category last year, dropped to the "Mostly Free" category this year in the fifth, sixth and seventh spots respectively.
The US also entered the "Mostly Free" category in the 25th spot, with a score of 70.6.
Taiwan ranked second among 39 Asia-Pacific economies, second only to Singapore, which had a score of 83.9.
The index measures economic freedom based on 12 indicators in four categories — rule of law, government size, regulatory efficiency and open markets. It gauges whether individuals can control their own labor and property in a free regulatory environment.
Taiwan scored above 80 in seven of the 12 indicators, including judicial effectiveness, government spending and trade freedom.
However, it had a relatively poor performance in "labor freedom" and "financial freedom," scoring 69.1 and 60 respectively.
"The labor market lacks flexibility, and the minimum wage has been rising since 2017," the report said.
Taiwan's "strong commitment to the rule of law and openness to global commerce have enabled it to become a global leader in economic freedom," it said.
Taiwan's economy has "benefited from a well-developed institutional framework, a tradition of private-sector entrepreneurial dynamism, and open-market policies that facilitate the free flow of goods and capital," it added.
South Korea entered the "Mostly Free" category in 15th place with a score of 73.7 and Japan ranked 31st in the "Moderately Free" category with a score of 69.3, while China ranked 154th in the "Repressed" category with a score of 48.3.
The index had a global average score of 59.3, the lowest in the past two decades, down 0.7 points from last year and slightly below the 60-point threshold for the "Mostly Unfree" category.
Comments will be moderated. Keep comments relevant to the article. Remarks containing abusive and obscene language, personal attacks of any kind or promotion will be removed and the user banned. Final decision will be at the discretion of the Taipei Times.