Luxury vehicles drive new car sales, data show
New vehicle sales last month soared 35 percent year-on-year to 33,819 units, driven mainly by robust sales of luxury cars, data by market researcher U-Car showed yesterday.
On a monthly basis, new vehicles sales contracted 5.7 percent last month, the data showed.
Hotai Motor Co (和泰汽車), which distributes Lexus and Toyota models in Taiwan, said Lexus sales jumped 58.3 percent annually to 2,870 units last month, making it the best-selling luxury car brand last month.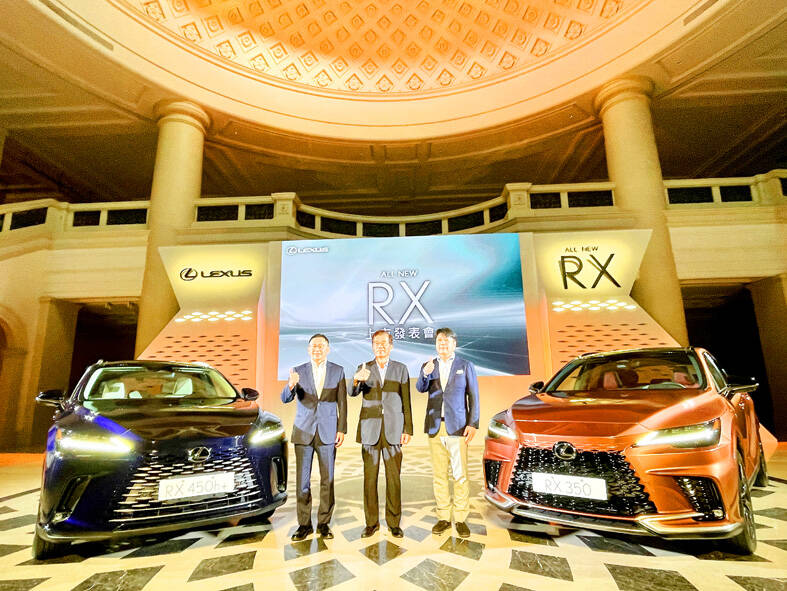 Hotai Motor Co chairman Huang Nan-guang, center, and company executives pose next to new Lexus RX models at a news conference on Nov. 23 last year.
Photo: Amy Yang, Taipei Times
"Overall, some imported vehicle brands posted sales increases, thanks to the arrival of new vehicles. That gave a boost to overall sales of imported vehicles," U-Car said.
"Bolstered by Lexus' robust sales of 2,870 units, overall imported vehicle sales expanded 1.6 percent month-on-month, outpacing sales of locally made vehicles," it said.
Sales of domestically manufactured vehicles contracted 12.9 percent month-on-month, but rose 25.2 percent annually to 12,726 units last month, while sales of imported vehicles surged 49.2 percent year-on-year to 14,253 units.
With consumer confidence recovering, Hotai said it expects new vehicle sales to expand to 40,000 units this month, up 1 percent from a year earlier, or 18.3 percent from last month.
Government subsidies to help consumers buy new models with lower carbon emissions would help fuel replacement demand, Hotai said.
Affected by component shortages, sales of Toyota vehicles last month retreated 32.4 percent sequentially to 8,018 units, Hotai said.
However, aided by Lexus' outperformance, the company still held 33 percent of the domestic market, U-Car data showed.
Honda Taiwan Co (台灣本田) reported that sales soared 34 percent year-on-year and 33 percent month-on-month to 2,265 units last month, benefiting from improved supplies of chips and other components, U-Car said.
Hyundai Motor Co also saw a positive impact from an easing of the component crunch.
Nan Yang Industries Co (南陽實業), which distributes Hyundai vehicles in Taiwan, saw sales rise 4.5 percent to 1,711 units last month from January, or 71.4 percent from a year earlier, U-Car data showed.
Comments will be moderated. Keep comments relevant to the article. Remarks containing abusive and obscene language, personal attacks of any kind or promotion will be removed and the user banned. Final decision will be at the discretion of the Taipei Times.