Consumer confidence rises for second month: poll
Consumer confidence rose for the second consecutive month last month, indicating higher optimism over the economy, a National Central University survey released yesterday showed.
The consumer confidence index (CCI), compiled monthly by the university, rose 2.74 points from a month earlier to 62.47 last month.
It had fallen to 59.12 in December, its lowest level since hitting 56.45 in September 2009, but rebounded to 59.73 in January.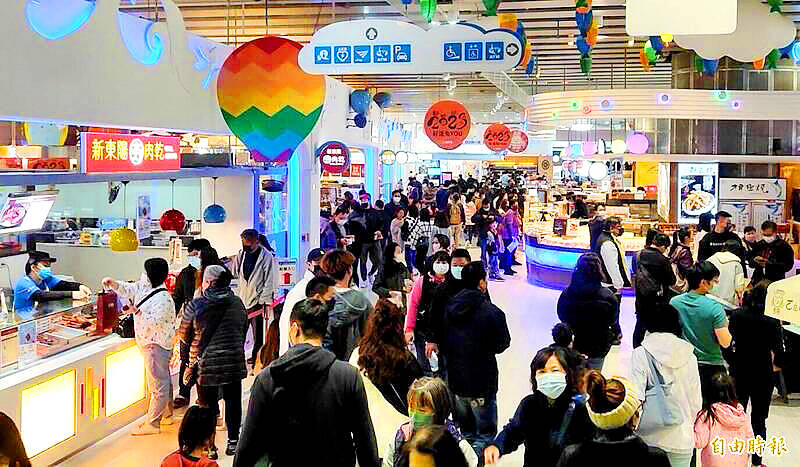 People visit Taichung's Cingshuei Service Area on the Formosa Freeway (Freeway No. 3) during the 228 Peace Memorial Day holiday on Tuesday.
Photo: Hsu Tzu-ling, Taipei Times
Compared with the small rise in January, the bigger gains in last month's index suggested a significant increase in consumer confidence, said Dachrahn Wu (吳大任), director of the university's Research Center for Taiwan Economic Development.
The index gauges people's confidence in the local economy, household finances, employment prospects, the stock market and consumer prices, as well as their confidence in making durable goods purchases over the next six months, the center said.
Last month's survey — which polled 2,894 people over the age of 20 nationwide from Feb. 18 to Tuesday last week — showed improvements in all six subindices.
Among them, interest in durable goods purchases over the next six months gained the most, rising 7.45 points from a month earlier to 108.05.
It was followed by the subindex for confidence in the stock market, which rose 3.2 points to 24, and in employment prospects, up 2.05 points to 63.4.
A CCI index or subindex score of 0-100 indicates pessimism, while a score of 100-200 shows optimism, the university said.
The nation's overall CCI has never reached 100, peaking at 92.93 in April 2015.
Despite the improvement, Wu said that with inflation still high in Western countries, and the US Federal Reserve and European Central Bank likely to raise interest rates, affecting global demand, Taiwan's exports could be negatively affected and erode confidence in household finances and employment.
Last month's survey had a confidence level of 95 percent and a margin of error of plus or minus-2 percentage points.
Comments will be moderated. Keep comments relevant to the article. Remarks containing abusive and obscene language, personal attacks of any kind or promotion will be removed and the user banned. Final decision will be at the discretion of the Taipei Times.