Taiwan not at risk of stagflation: Yang
GROWTH PATH: Taiwan's economy would expand by over 2% this year unless global economic conditions deteriorate faster than expected, the central bank governor said
Taiwan is not at risk of stagflation as the nation's economy would grow at least 2 percent this year with inflation expanding by a similar rate, rendering current monetary policies appropriate, central bank Governor Yang Chin-long (楊金龍) said at a meeting of the legislature's Finance Committee yesterday.
Taiwan's GDP growth, projected at 2.12 percent this year by the Directorate-General of Budget, Accounting and Statistics (DGBAS), would receive a further boost from the government's plan to distribute NT$6,000 to all citizens later this year, Yang said.
The stimulus program would lift this year's economic growth to about 2.5 percent, he added.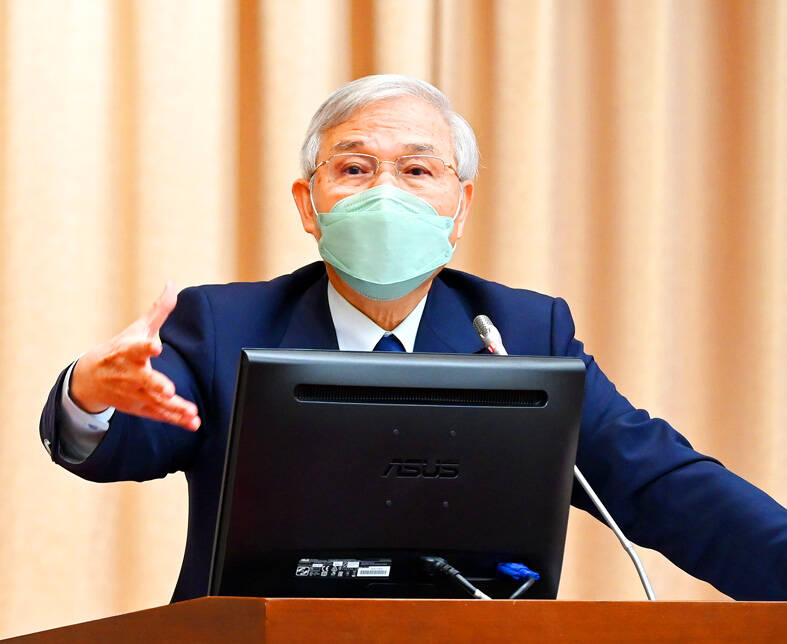 Central bank Governor Yang Chin-long speaks at a meeting of the legislature's Finance Committee in Taipei yesterday.
Photo: Wang Yi-sung, Taipei Times
Yang's statements came after lawmakers cited central bank Deputy Governor Chen Nan-kuang (陳南光) as questioning whether the bank should act more aggressively in fighting inflation.
In an article in last month's edition of Taiwan Banker magazine, Chen said the central bank should have adopted a more aggressive monetary policy to fight inflation as the country could slip into stagflation.
Stagflation refers to a period of rapid price increases, accompanied by low or negative growth and high unemployment.
Yang dismissed the concern, saying that Taiwan's GDP would expand by more than 2 percent this year unless global economic conditions deteriorate faster than expected.
The first half of this year would be fairly weak as inventory corrections are likely to continue hounding exporters, Yang said.
However, the situation should improve in the second half of the year on the back of inventory restocking and the holiday season, he said.
Taiwan's low unemployment rate should further lend support to the governor's cautiously optimistic view.
The central bank is looking at inflation of 2 percent and would update its forecast at the next board meeting on March 23, Yang said.
Most board members rallied behind the decision in December to hike policy rates by 12.5 basis points, a move Yang called "appropriate" given Taiwan's moderate inflation.
Since March last year, the central bank has raised rates by 62.5 basis points, while the US Federal Reserve has increased rates by 450 basis points.
Growth in Taiwan's consumer price index (CPI) climbed above the 3 percent mark in January, but this was mainly due to the Lunar New Year holiday effect, and likely eased last month and possibly beyond, the governor said.
Inflationary pressures remain, and the central bank would review policy rates after considering geopolitical tensions, commodity price trends, climate change, and economic movements at home and abroad, he said.
International research bodies expect Taiwan's CPI to expand between 1.4 percent and 2.6 percent this year, compared with the DGBAS' projection of 2.16 percent, Yang said.
The wide range highlights the uncertainty that makes forecasting difficult, he said.
The governor said he welcomed a bill sponsored by US lawmakers advocating IMF membership for Taiwan, which he said would bring plenty of benefits and no negative effects.
IMF officials assisted the central bank in drawing up its duties and responsibilities, and guided it in how it should operate to maintain the financial market's stability, Yang said.
However, Yang said he understood that UN membership is a precondition for pursuing IMF membership.
Comments will be moderated. Keep comments relevant to the article. Remarks containing abusive and obscene language, personal attacks of any kind or promotion will be removed and the user banned. Final decision will be at the discretion of the Taipei Times.