Vietnam shoemaker for Nike, Adidas to slash jobs
BUYING POWER PLUNGING: With about 50,000 staff, PouYuen is Ho Chi Minh City's largest employer, but due to a lack of orders, it is cutting its head count by 6,000
One of Vietnam's largest shoe manufacturers for major brands such as Nike Inc and Adidas AG plans to cut thousands of jobs at the end of the month due to a slump in orders, according to local authorities.
PouYuen Vietnam Co Ltd, a unit of Taiwan-based Pou Chen Group (寶成), is to lay off 3,000 factory workers and not renew the contracts of 3,000 others, because of "very few production orders in 2023," a Ho Chi Minh City labor department document obtained by Agence France-Presse yesterday showed.
Vietnam, one of the world's largest exporters of clothing, footwear and furniture, has been badly affected by the cost of living crisis in major markets in Europe and the US, with the buying power of worldwide consumers plunging.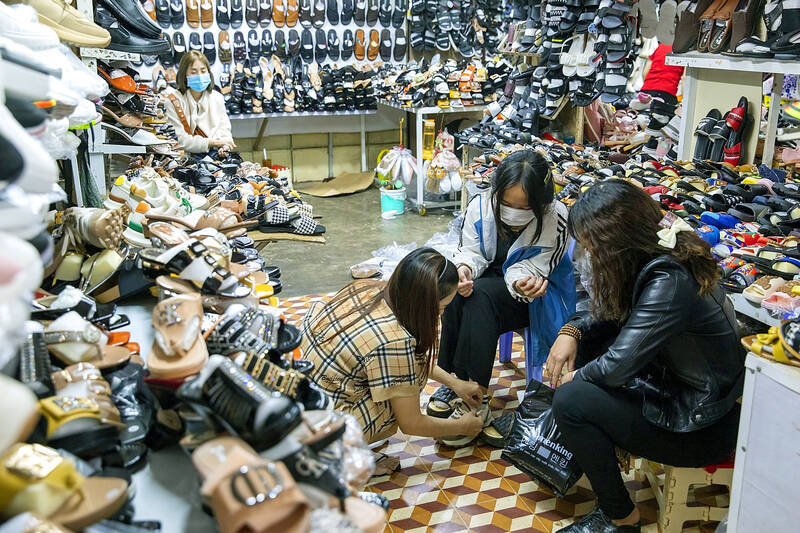 Women shop for shoes in a store at a market in Pleiku, Vietnam, on Jan. 2. Shoe manufacturer PouYuen Vietnam Co Ltd is planning to cut thousands of jobs at the end of the month.
Photo: Bloomberg
PouYuen is commercial capital Ho Chi Minh City's largest employer, with about 50,000 staff.
"The company has told the workers' union that in February it plans to cut 3,000 workers ... and it will expect to make an announcement to those workers on 25 February," the document said.
Factory workers would continue to be paid until they receive unemployment benefits, it said.
The layoffs come after PouYuen put 20,000 of its workers on paid leave in rotation at the end of last year.
More than 630,000 workers lost their jobs or had their hours cut in Vietnam last year, the Vietnamese Ministry of Labor, Invalids and Social Affairs said.
In the final quarter of last year, orders were down 30 to 40 percent year-on-year from the US and 60 percent from Europe, the Vietnam General Confederation of Labor said.
Comments will be moderated. Keep comments relevant to the article. Remarks containing abusive and obscene language, personal attacks of any kind or promotion will be removed and the user banned. Final decision will be at the discretion of the Taipei Times.