Onshore yuan-denominated deposits experience largest drop since 2013
Onshore yuan-denominated deposits last month dropped for the sixth consecutive month to 186.047 billion yuan (US$6.12 billion), a 4.69 percent decline from a month earlier and the lowest in nearly nine years, data released by the central bank on Wednesday showed.
The monthly decrease of 9.158 billion yuan from 195.205 billion yuan in December last year also marked the largest decline since local banks began accepting yuan deposits in 2013, an indication that investors have lost interest in the Chinese currency.
Onshore yuan deposits include those at local banks' domestic banking units (DBUs) and those at offshore banking units (OBUs) in Taiwan.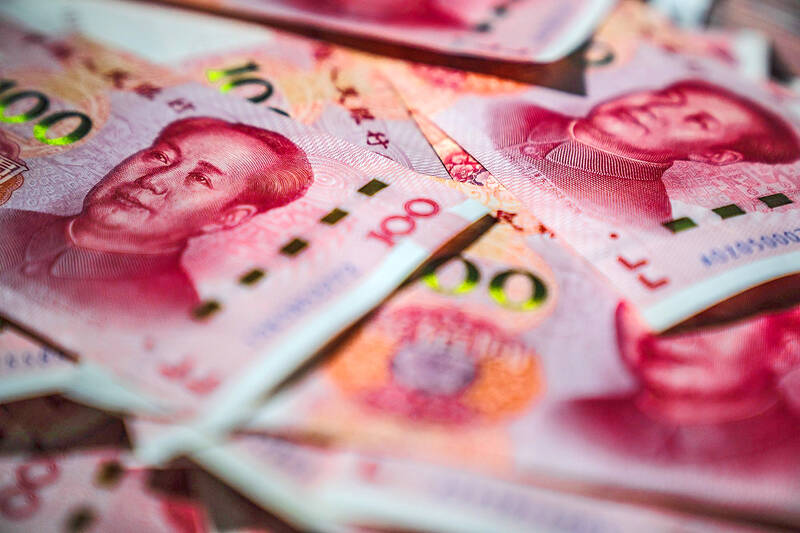 Chinese 100 yuan banknotes are pictured in Hong Kong on Oct. 18 last year.
Photo: Bloomberg
Central bank data showed that yuan deposits at DBUs decreased 5.3 percent from the previous month to 157.693 billion yuan, while those in OBUs fell 1.14 percent to 28.354 billion yuan.
The central bank said the monthly drop of 8.83 billion yuan deposited at DBUs last month came as some companies remitted money to Taiwan and deposited in US dollars after recovering previous investments in yuan-denominated equity bonds or receiving dividend income, the Chinese-language Liberty Times (sister newspaper of the Taipei Times) reported last week.
Additionally, some local manufacturers wired money abroad to repay yuan-based loans or make new investments, which also helped reduce the overall balance of yuan deposits last month, the Liberty Times said.
A decrease of 328 million yuan in OBU deposits from the previous month was due to some companies wiring money abroad for external financing, it added.
The US Federal Reserve's interest rate hikes have led to US dollar deposits gaining appeal over yuan deposits for institutional and individual investors given the widening interest spreads, the Liberty Times reported, citing the central bank.
Bank SinoPac (永豐銀行) is offering Taiwan's highest interest rate on one-month yuan time deposits, at 3.15 percent, while Jih Sun International Bank (日盛銀行) provides the highest for three-month yuan time deposits, at 2 percent, central bank data showed.
The highest interest rate for six-month, nine-month and one-year yuan time deposits are 2.28 percent at SinoPac, 1.4 percent at Taiwan Business Bank (臺灣企銀) and 2.2 percent at Sunny Bank (陽信銀行) respectively, the data showed.
Hua Nan Commercial Bank (華南銀行) is offering interest rates above 4 percent for three-month and six-month US dollar time deposits, First Commercial Bank (第一銀行) offers 3.88 percent for one-month US dollar time deposits and Bank of Taiwan's (臺灣銀行) nine-month to one-year US dollar time deposits pay 4.288 percent, the data showed.
Comments will be moderated. Keep comments relevant to the article. Remarks containing abusive and obscene language, personal attacks of any kind or promotion will be removed and the user banned. Final decision will be at the discretion of the Taipei Times.