Manufacturing output drops 4 percent
WEAK CONSUMPTION: The decline ended eight quarters of annual increases, a drop caused by poor market conditions in traditional industries, the government said
Taiwan's manufacturing output last quarter fell 4.01 percent year-on-year to NT$4.14 trillion (US$136.14 billion), as high inflation and interest rate hikes, in addition to ongoing inventory adjustments, affected end-market demand, while the comparison base a year earlier was relatively high, the Ministry of Economic Affairs said in a statement on Saturday.
Last quarter's decline in manufacturing output ended eight consecutive quarters of annual increase, compared with an increase of 3.75 percent in the previous quarter, which the ministry attributed to poor market conditions in traditional industries.
In traditional industries, producers of chemical materials and base metals last quarter posted an output decline of 30.62 percent and 26.83 percent respectively to NT$375.9 billion and NT$370.5 billion from a year earlier, while suppliers of metal products and machinery equipment saw output decrease by 12.96 percent and 4.21 percent to NT$229.4 billion and NT$200.3 billion respectively, the ministry said.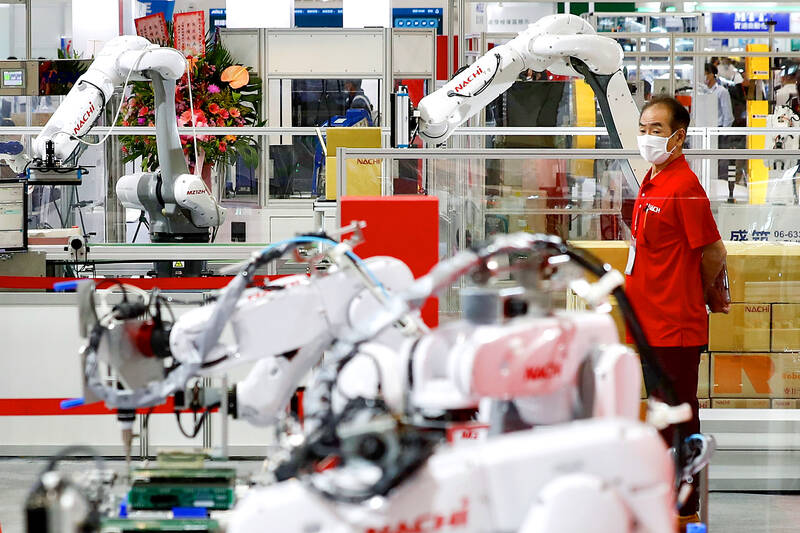 A worker observes robotic arms being demonstrated at the Intelligent Asia show in Taipei on Aug. 24 last year.
Photo: Ritchie B. Tongo, EPA-EFE
"With weakening consumption in the end market and continued inventory adjustments throughout the supply chain, firms in those industries reduced production to cope with the adverse market conditions," it said.
Suppliers of petroleum and coal products saw their output increase 13.34 percent to NT$253.4 billion as global crude oil prices remained high, although last quarter's growth slowed in comparison with an annual increase of 47.52 percent to NT$317.3 billion in the third quarter of last year, the ministry said.
The automobile and vehicle parts industry's output grew 8.08 percent annually last quarter, as some new car models sold well and a shortage of components had eased, it said, adding that the increase paled in comparison with an 11.76 percent growth the previous quarter.
In the electronic components industry — the manufacturing sector's most important segment — output expanded 7.76 percent to NT$1.37 trillion last quarter. In the third quarter, the industry posted a jump of 11.9 percent to NT$1.39 trillion, the highest quarterly level on record, ministry data showed.
In the electronic components sector, chip producers saw their output increase 33.51 percent to NT$786.9 billion last quarter, the highest for a single quarter, as orders remained robust due to rising demand for chips used in 5G, high-performance computing and automotive electronics, the ministry said.
However, LCD panelmakers continued to register declining output due to weakening demand for consumer electronics and inventory depletion in the supply chain.
Their production value last quarter decreased 48.24 percent to NT$114.7 billion following an annual drop of 54.58 percent to NT$110.6 billion in the previous quarter, it said.
Suppliers of computer, electronics and optical components continued to expand production last quarter on the back of robust demand for cloud-based, data center-related equipment, while major improvement in key components boosted production of servers and networking equipment, the ministry said.
Their output grew 17.32 percent year-on-year to NT$296.6 billion, compared with an expansion of 26.54 percent to NT$301.5 billion in the third quarter, it added.
Looking ahead, the ministry said it remains positive about growth momentum in the manufacturing sector, which is expected to be buoyed by business opportunities in emerging technology applications and digital transformation, while the shortage of components is alleviated.
However, global inflation and monetary tightening by central banks, as well as the conflict between Russia and Ukraine and US-China technology disputes, could continue to weigh on global economic growth and affect local manufacturing output, the ministry said.
Developments need to be closely watched and prudently responded to, it added.
Comments will be moderated. Keep comments relevant to the article. Remarks containing abusive and obscene language, personal attacks of any kind or promotion will be removed and the user banned. Final decision will be at the discretion of the Taipei Times.