US dollar reaches six-week high on Fed hike forecasts
The US dollar hit a six-week high against a basket of currencies on Friday as traders ramp up bets that the US Federal Reserve would hike rates higher than previously anticipated, and hold them there for longer, as it battles still-high inflation while the employment picture also remains strong.
Two Federal Reserve officials on Thursday said the US central bank likely should have lifted interest rates more than it did early this month and warned that additional hikes in borrowing costs are essential to lower inflation back to desired levels.
Major banks are also raising their rate hike forecasts.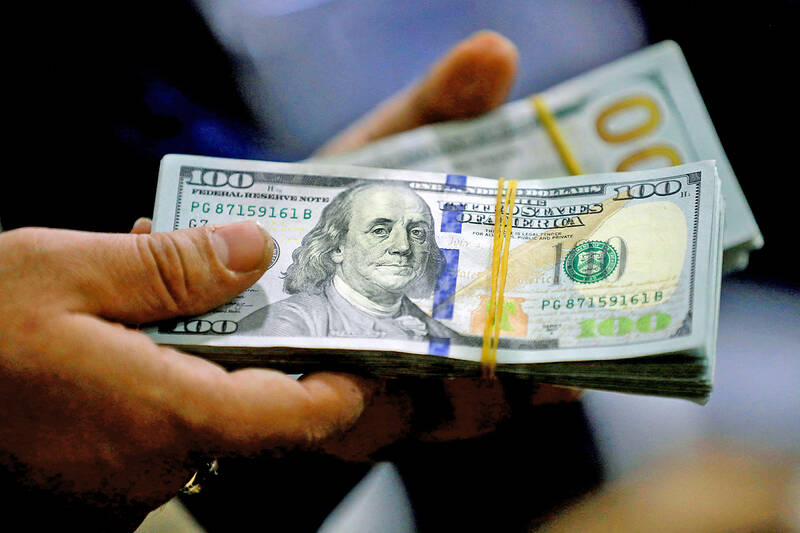 A person counts US dollars at a currency exchange shop in Baghdad on Tuesday.
Photo: AFP
Goldman Sachs Group Inc said it was expecting the Fed to hike rates three more times this year, by one-quarter of a percentage point each time, after data this week pointed to persistent inflation and resilience in the labor market.
"Right now the markets are having a major reset with Fed rate hike expectations," Oanda Corp senior market analyst Edward Moya said. "It seems this current wave of inflation is proving to be troubling for policymakers everywhere and we could start to see monetary policy globally become much more restrictive."
US data on Thursday showed monthly producer prices increasing by the most in seven months last month, as the cost of energy products surged, while the number of Americans filing new claims for unemployment benefits unexpectedly fell last week.
Concerns about the effects of higher rates on the economy is also weighing on risk sentiment, giving a further boost to the US currency.
"We're starting to see risk aversion take over, and that's also triggering some safe-haven flows for the dollar," Moya said.
The dollar index rose 0.02 percent to 103.88, after earlier reaching 104.67, the highest since Jan. 6.
The New Taiwan dollar yesterday fell 0.02 percent to NT$30.410 against the US dollar. Turnover totaled US$79 million during the trading session. The NT dollar was down 0.9 percent from last week's NT$30.136.
The euro rose 0.22 percent to US$1.0696, after earlier falling to US$1.06125, the lowest since Jan. 6.
European Central Bank (ECB) officials have also made clear that they expect euro zone rates to keep rising.
"There is a risk that inflation proves to be more persistent than is currently priced by financial markets," German ECB executive board member Isabel Schnabel told Bloomberg on Friday.
The dollar gained 0.12 percent against the yen to ¥134.1, after reaching ¥135.12 earlier, the highest since Dec. 20.
Sterling rose 0.46 percent to US$1.2043, after earlier falling to US$1.19150, its lowest since Jan. 6. Data on Friday showed that British consumers unexpectedly increased their shopping last month.
Additional reporting by staff writer, with CNA
Comments will be moderated. Keep comments relevant to the article. Remarks containing abusive and obscene language, personal attacks of any kind or promotion will be removed and the user banned. Final decision will be at the discretion of the Taipei Times.